Huawei MateBook X Pro laptop finally available in USA at insanely low price


For Apple fans, buying an elegant laptop is a very simple affair. After all, the company's entire line of MacBooks are well-designed and gorgeous. For Windows users, unfortunately, this is a much more difficult task. Many notebooks running Microsoft's operating system are low quality in more ways than one -- deficient display, plastic chassis, and horrific trackpad to name a few. That's not to say all Windows laptops are bad -- the great ones are just fairly rare.
Today, one of the most exciting Windows 10 laptops finally makes its way to the USA. The ultra-premium Huawei MateBook X Pro can be purchased immediately in either Space Gray or Mystic Silver colors, and despite its beautiful design and impressive specifications, it is priced very aggressively. Seriously, folks, you will be shocked by the affordability.
There are two models of Huawei MateBook X Pro being brought to the USA. One features an 8th gen Intel Core i5 processor, 8GB of RAM, a 256GB NVMe SSD, and Intel UHD 620 graphics. The better model has a Core i7, 16GB of RAM, a massive 512GB NVMe SSD, and NVIDIA GeForce MX150 grapics.
Those specs are where they differ, but what do they have in common? Both models come with a 3K 13.9-inch touch (ten point) display that features a 91 percent screen to body ratio. In other words, there are almost no bezels. In fact, the bezels are so slim, that there is no room for a webcam at the top. Instead, there is a hidden cam on the keyboard. Disguised as one of the top row of keys, it pops up to reveal an upwards-facing camera. This is nice for security too. You can see that in the image below.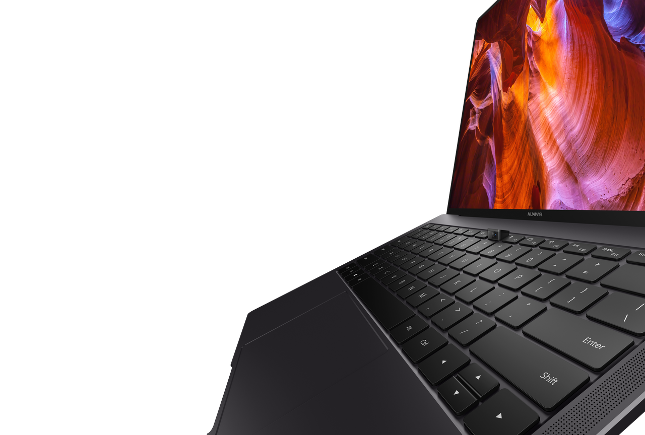 The display is only part of enjoying media, with the other aspect being audio. Huawei has equipped both models with four premium speakers and second-gen Dolby Atmos sound. Battery life when watching movies, listening to music, or doing work should be very long thanks to the 57.4Wh model packed inside.
Both are "Signature Edition" laptops, meaning they have no third-party bloatware -- it is a very pure Windows 10 experience. For security, you get a Windows Hello-compatible fingerprint reader. Unfortunately, the camera is not compatible with Windows Hello face unlock. Regarding ports, you get two USB-C (one is Thunderbolt 3) and believe it or not, a USB Type-A port too. Yes, there is a 3.5mm audio jack.
So, how much do they cost? The base model which features the Core i5 is a steal at just $1,199. Shockingly, jumping up to the Core i7 model is a mere $300 more -- $1,499 is an unreal price for all you are getting, including high-end NVIDIA graphics. To sweeten the deal, if you buy the Huawei MateBook X Pro from Amazon, the Microsoft Store, or Newegg before June 10, 2018, you will be given a $300 gift card for that store. Keep in mind, the card can only be used for future purchases -- not on the MateBook X Pro itself.