Trend Micro launches Zero Browser for iOS -- a web browser that protects your privacy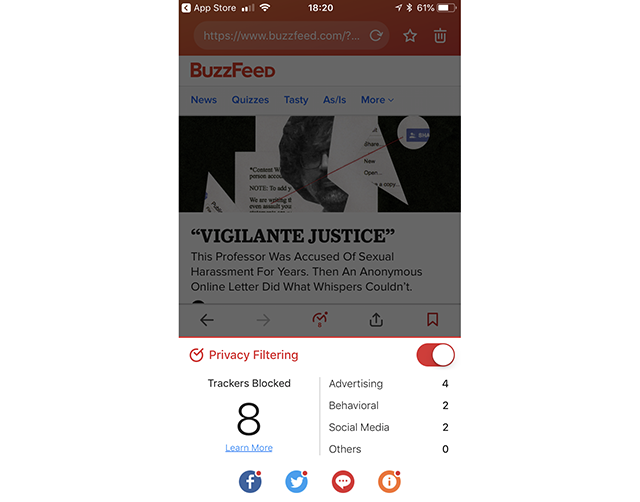 Trend Micro has a new privacy-focused mobile browser for iOS users called Zero Browser. It has been designed specifically to block a range of tracking techniques, including the invasive activity-recording "session replay" method.
The company says that the browser was created to overcome the shortcomings of existing "incognito" browsing modes and brings an extra level of privacy to iPhone, iPad and iPod touch users.
See also:
Zero Browser requires iOS 11.0 or newer, and Trend Micro stresses that it helps to maintain user privacy in relation to ISPs as well as other users of the same device. It is more than just a case of hiding browsing history and the like.
As you use the browser, it can provide you with real-time feedback about all of the tracking components it is blocking -- everything from ad trackers to behavioral analytics and cryptomining malware.
The company says, however:
Note that you can turn off Privacy Filtering for any site you wish. In addition, Trend Micro Zero Browser lets you share website URLs with others and you can also save your bookmarks, as with other mobile browsers, adding the option to lock them away from prying eyes with your device password or Fingerprint ID.
Trend Micro explains the reason for the naming of Zero Browser is down to its zero-tolerance for privacy invasion:
Zero analytics -- Trend Micro does not track any of your activities, and so has no data to sell or share with anyone else.
Zero leftovers -- The app does not keep any usage history or data once you close it.
Zero leaks -- Automatic blocking of session replays, visitor recordings, cryptojacking, and social media tracking systems means you can open any website or search for anything with total peace of mind.
Zero risk -- Trend Micro has decades of security experience and a sterling reputation in the security field.
Zero Browser can be downloaded free of charge from the App Store.