Logitech releases R500 Laser Presentation Remote and updated Spotlight software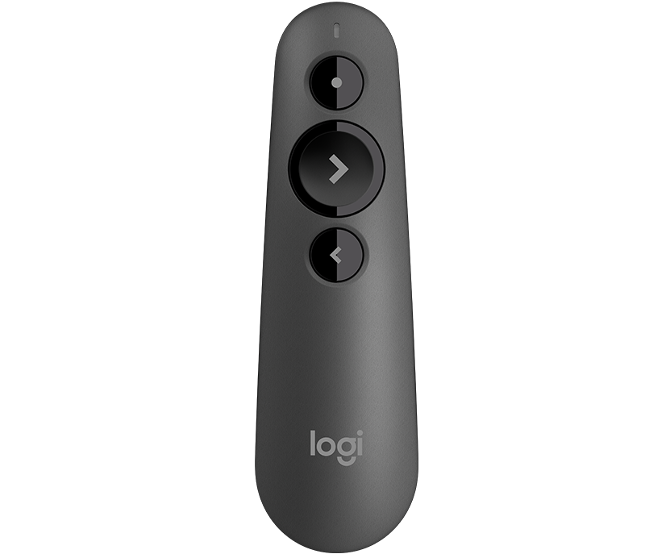 If you are planning to do professional presentations, you must have a remote. I can't stress enough just how important it is to have the right tools for a job. The success of a PowerPoint, for instance, has less to do with the slides and more to do with the energy and personality of the presenter. If you sit in one place tapping on a mouse to move slides along, people are going to get bored. Instead, you should walk around the room while using a remote to change slides. You'll be amazed at how much more attentive your audience will be.
Logitech's Spotlight remote is the best such product I've ever used for presentations, and today, the company announces updated software to make it even better. In addition, Logitech is releasing a more affordable and basic device called R500 Laser Presentation Remote. This new device runs on a single AAA battery and is compatible with Windows, macOS, and even Linux!
"The Logitech R500 Laser Presentation Remote works best in physical presentation environments with a traditional projector screen, flip charts or 3D models. It is designed with a natural, contoured shape and soft rubber surface that fits comfortably into the palm of your hand. It features an easy-to-use red laser pointer to help direct your audience, a scratch-resistant soft rubber case to protect it on-the-go and gives you the freedom to present from up to 65 feet (20 meters) away," says Logitech.
This new R500 remote is available immediately from Logitech here for a reasonable $59.99. This is significantly less expensive than the Spotlight, although it does not have the same elegance and innovative features. Still, it looks like a solid option.
As previously mentioned, the popular Spotlight remote is getting new functionality thanks to a software update. The most significant being "Highlight Freeze" which allows you to quite literally freeze the spotlight on a specific section of your slide. This will create a more focused experience for the audience. In addition, the timer feature is getting enhanced customization options, helping the presenter to better manage time. You can download the update here.