Toshiba launches affordable RC100 NVMe SSD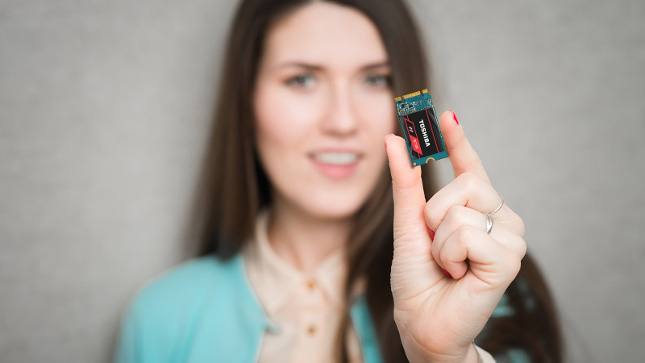 Solid state drives keep dropping in price, but unfortunately, they are still too expensive for many consumers. This is a shame, as moving from an HDD to an SSD can provide a huge performance boost. Heck, in some cases, it can make your aging PC feel like a brand-new computer! NVMe variants in particular are blazing fast.
Toshiba is aiming to make NVMe solid state drives more affordable with the launch of its latest such product. Called "RC100," it is available in three capacities -- 120GB, 240GB, and 480GB.
"While the performance advantages of first-generation NVMe drives are well known, this high performance has come at an equally high cost -- until now. By leveraging its state-of-the-art 64-layer, 3-bit-per-cell TLC (triple-level cell) BiCS FLASH technology and an in-house-developed controller, Toshiba Memory Corporation was able to fit an entire SSD within a single BGA package. The RC100 Series balances cost and performance and bridges the gap between SATA and enthusiast-grade NVMe SSDs. A compact design also enables the RC100 to fit onto an M.2 2242 (22x42mm) PCB, making it one of the smallest SSDs commercially available," says Toshiba.
ALSO READ: Toshiba launches 240GB XS700 Portable Solid State Drive with USB 3.1 Gen 2 Type-C
Alex Mei, Marketing VP, explains, "With the RC100 Series, we set out to address a major complaint that users have with NVMe drives -- their expense. Not only are our new SSDs more affordable than the enthusiast NVMe drives on the market, they are more compact and power efficient as well. With the RC100 Series, we're opening the door for mainstream adoption of the M.2 NVMe standard -- and all of the benefits it brings."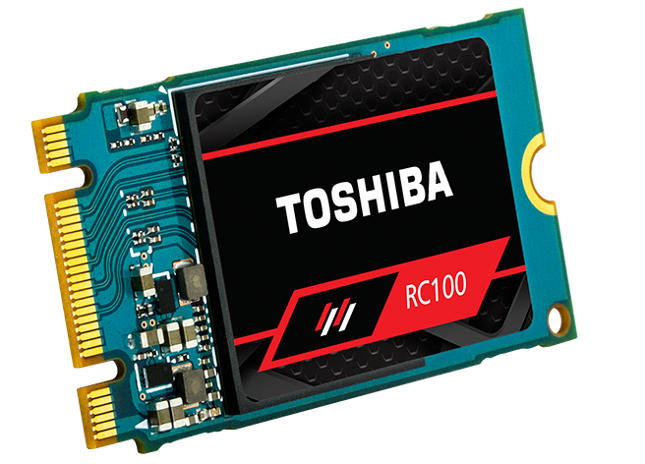 Toshiba shares the following significant specifications.
Capacities: 120 GB, 240 GB, 480 GB
NAND: Flash Memory Type 64-layer 3D BiCS TLC
Interface: PCI Express Base Specification Revision 3.1a (PCIe)
Form Factor: M.2 Type 2242-S3-B-M
Sequential Read/Write
120GB: Up to 1350/700 MB/s
240GB: Up to 1600/1050 MB/s
480GB: Up to 1600/1100 MB/s
Random Read/Write (4KiB, QD32)
120GB: Up to 80,000/95,000 IOPS
240GB: Up to 130,000/110,000 IOPS
480GB: Up to 150,000/110,000 IOPS
TBW (Total Bytes Written)
120GB: 60 TB
240GB: 120 TB
480GB: 240 TB
Daily Usage Guideline
120GB: 55 GB/day
240GB: 110 GB/day
480GB: 219 GB/day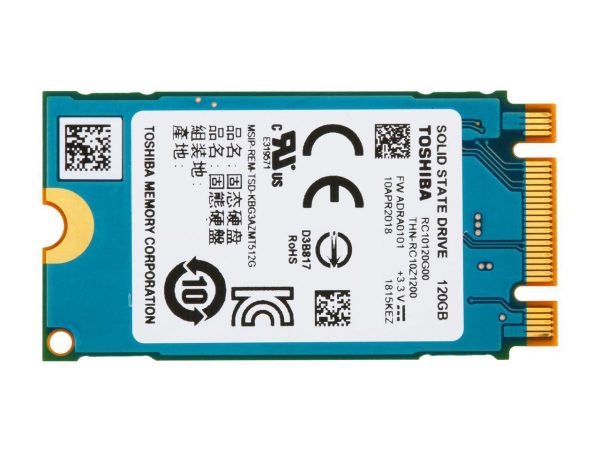 ALSO READ: Toshiba unveils CANVIO PREMIUM, ADVANCE and BASICS USB external hard drives
While these NVMe drives are hardly the fastest on the market, pricing is very reasonable. The 120GB, 240GB and 480GB variants of the RC100 are available now from Amazon for [amazon_link asins='B07DD7L5TM' template='PriceLink' store='betanews02-20' marketplace='US' link_id='252c6658-6e91-11e8-9020-69992c2ecfde'], [amazon_link asins='B07DD4FWRL' template='PriceLink' store='betanews02-20' marketplace='US' link_id='5c755e23-6e73-11e8-ac2a-870d7260a2c9'] and [amazon_link asins='B07DD3D7H3' template='PriceLink' store='betanews02-20' marketplace='US' link_id='da1dc4d1-6e90-11e8-9708-5113ef08d29c'] respectively.