The Firefox-powered Cliqz web browser puts your security first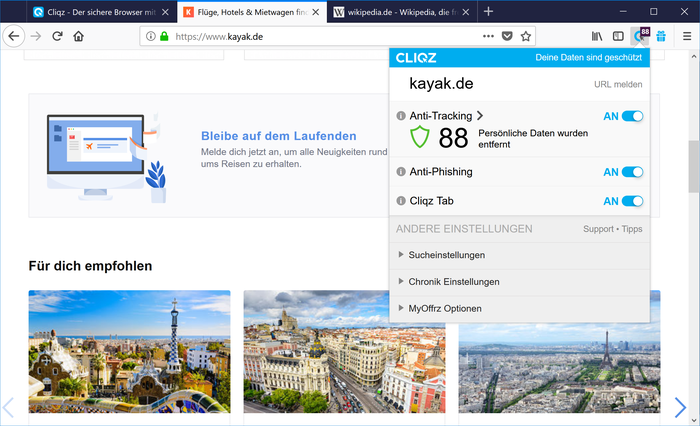 People are worried about their personal security. Who do you trust? Facebook recently admitted it tracks just about everything you do whilst using its network, whereas one of the biggest technology companies in the UK, Dixons Carphone, announced a huge data loss.
You have to ask yourself, if a technology company can't safeguard your data, who can you trust? On top, do you trust your web browser? What's it storing, what information does it pass to the manufacturer and to the website you are browsing?
With this in mind, Cliqz decided it can do this all much better. The German development team took the regular Firefox web browser and put security at the forefront.
Upon starting Cliqz, you immediately notice it looks like Firefox. The primary difference is the addition of a toolbar icon which drops down a menu where you can quickly see the anti-tracking feature which stops the website from monitoring your movements,  an anti-phishing tool which will safeguard your personal data, whilst it also gives you quick-fire access to your search engine options and the ability to clear your browser history with a click.
But the advantages stop there. On a Mac, Cliqz doesn't use the Firefox themes, so you're stuck with a strange bright blue user-interface. More importantly, although Cliqz is based on Firefox, it can't enable you to login to your Firefox account, so you lack some the cross-device synchronization such as having your login information, without having to enter the details on each device. You can send/receive your browser tabs between editions of Cliqz, but that's the limit of the synchronization options.
If you want to keep Firefox but receive the benefits of Cliqz, then there's a Cliqz extension for the regular Firefox, which adds the drop-down menu with the above functionality. What it also does, however, is change Firefox to a custom Cliqz homepage (although you can always change this back) without asking.
Download the Cliqz browser or simply add the Cliqz extension to Firefox.