Microsoft has a patent for a folding dual-screen, dual-camera device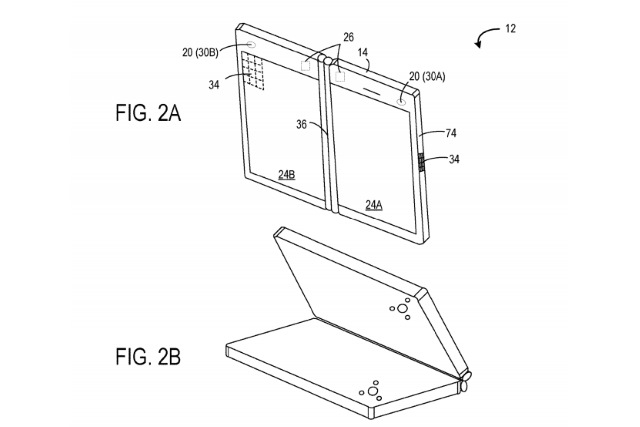 Although Panos Panay has dismissed rumors that Microsoft is working on a Surface Phone, we have already seen some evidence that the company is working on some form of "pocketable" folding Surface device codenamed Andromeda. Now a Microsoft patent has come to light that reveals more about the form this device could take.
The patent -- entitled "Three-way video calling on hinged multi-screen device" -- shows a foldable, dual screen device with multiple cameras. It bears a marked similarity to the renders we saw recently of the rumored foldable Surface device.
See also:
The patent is dated July 3 of this year, and it shows a foldable, multi-camera device being used to conduct a three-way video chat. It describes how the device could be used by two people in the same location to conduct a video chat with someone elsewhere -- overcoming the problem of having two people sharing the same webcam.
In the abstract of the patent, Microsoft describes the device as follows:
A mobile computing device is provided that includes a processor, as accelerometer, and a housing with two parts. The first part including a first camera and a first display device, and the second part including a second camera and second display device. When a predetermined trigger condition is satisfied, the processor is configured to cause the first and second display to simultaneously display image data captured by the second camera, and image data received from a remote computing device.
The size of the proposed device is not entirely clear, but Microsoft explains how two people can use the same device in various configurations. Two people sitting opposite each other, for instance, can open the device completely and fold it back on itself so each can see a screen and a camera. It would also be possible for the same two people to sit next to each other and us the device with the hinge at right angles so they can both still appear in their respective frames.
You can check out the patent -- first noticed by Windows Latest -- on the FPO website.