Businesses overestimate consumers' level of 'digital trust'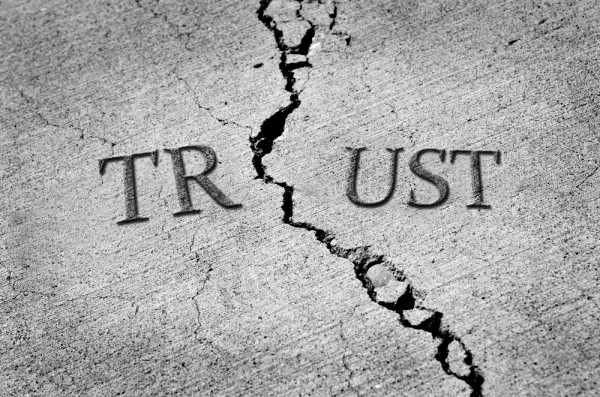 How much do you trust businesses with your data? A new report from CA Technologies reveals 48 percent of consumers have stopped using the services of an organization because of a data breach.
Yet the study, conducted by analysts Frost & Sullivan shows varying attitudes to data stewardship among businesses, with nearly half admitting to selling customer data, while claiming that data protection is paramount.
This is highlighted by a 14-point gap between the Digital Trust Index of consumers (61 percent) and the perceptions by business decision makers and cybersecurity professionals (75 percent), showing mismatched perceptions among these audiences in a measurement of perceived consumer trust versus actual consumer trust.
"We are at a crossroads in the information age as more companies are being pulled into the spotlight for failing to protect the data they hold, so with this research, we sought to understand how consumers feel about putting data in organizations' hands and how those organizations view their duty of care to protect that data," says Jarad Carleton, industry principal, cybersecurity at Frost & Sullivan. "What the survey found is that there is certainly a price to pay -- whether you're a consumer or you run a business that handles consumer data -- when it comes to maintaining data privacy. Respect for consumer privacy must become an ethical pillar for any business that collects user data."
Only half of consumers surveyed (49 percent) say they are willing to provide their personal data in exchange for digital services. On the other side of the fence, 90 percent of organizations claim that they are very good at protecting consumer data, showing a high level of self-confidence, despite the fact that nearly half (48 percent) of business executives admit that their organization has been involved in a publicly disclosed consumer data breach in the last year.
In addition 43 percent of business executives admit to selling consumer data that includes personally identifiable information, while only 15 percent of cybersecurity professionals surveyed knew that their company was selling data containing PII.
"In today's digital world, consumers expect security and privacy to go hand-in-hand with a great user experience. The study clearly shows that trust is fleeting if organizations don't do their due diligence to protect consumer data from getting into the wrong hands," says Mordecai Rosen, general manager, security at CA Technologies. "Now, more than ever, organizations need to understand that success in the digital economy requires that they embrace a security-first mindset -- a key tenet in our Modern Software Factory model. A loss of digital trust has implications on all aspects of a business and brand perception, so organizations owe it to their customers and shareholders to get it right."
You can find out more in the full report which is available from the CA website.
Image Credit: Lane V Erickson / Shutterstock