The Surface Go is here, and people just don't know what to make of it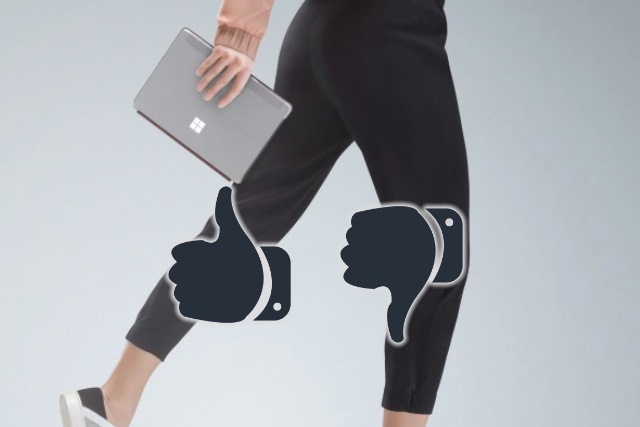 After much excited build up, Microsoft launched its latest Surface device yesterday -- the Surface Go. While many have suggested this is Microsoft's attempt to compete with Apple iPad, there's no getting away from the fact that this is a budget Surface, and compromises have been made.
If you're not sure whether this is the tablet for you, you may well start to seek out Surface Go reviews -- and you'll find that they are an incredibly mixed bag of opinions. It looks as though the Surface Go could be one of Microsoft's most divisive products ever. Is it "painfully slow" or "practically perfect"?
See also:
Microsoft claims that the Surface Go offers "portable power", but the dual-core Intel Pentium Gold 4415Y would suggest otherwise -- this is far from being a new processor and many would argue that it is underpowered. Speed is further hampered by the fact that storage is of the eMMC variety. It's hardly surprisingly in a cheap tablet, but it certainly doesn't fall under the heading of "power".
This is not something that has gone unnoticed by reviewers. Mashable slams the Surface Go as being "barely better than a netbook", criticizing its "sluggish performance" and reviewer Raymond Wong saying "I can't say I really enjoyed using the device".
The 10-inch screen is criticized by many for being too small, but there are mixed feelings about its touchscreen capabilities. While VentureBeat feels it is "very responsive, works with the Surface Pen just fine, and is plenty bright", Mashable feels the large bezels make it look very dated and describes the touch controls as "janky".
Ed Bott thinks Microsoft "finally got it right" with the Surface Go, praising Windows Hello support, and the " downright zippy" performance, while knocking the cramped keyboard. The claimed battery life of 9 hours was found to be something of an overestimate, but Bott concludes that this is a "real PC in a highly portable package". The Verge noted the shrunken keyboard, but found that it didn't present a problem.
But it's the performance that really seems to divide opinion. While Windows Central says that this is a "high-performing mini-tablet PC", Engadget found that it struggled with multi-tasking. The Verge says it is "better than you expected", describing it as an "overachiever" which the reviewer found "runs much faster than I expected". But even Gizmodo -- which says the Surface Go is "practically perfect" -- concedes that "the CPU is still pretty underwhelming".
Could this be the device for you? It's impossible to say -- this is not a one-size-fits-all tablet/laptop. Early reports are a complete mix-bag of people who love it, people who hate it, and people who feel kind of 'meh' about it. The only real way to know for sure is to try to get yourself down to a Microsoft store to test it out in person; this is the only way you'll be able to tell if you can live with the compromises that have been made to reduce the price of this latest addition to the Surface range.
The Surface Go is available to buy from Amazon here.
Image credit: TOP VECTOR STOCK / Shutterstock