Banned Windows Timeline Support extension returns to the Chrome Web Store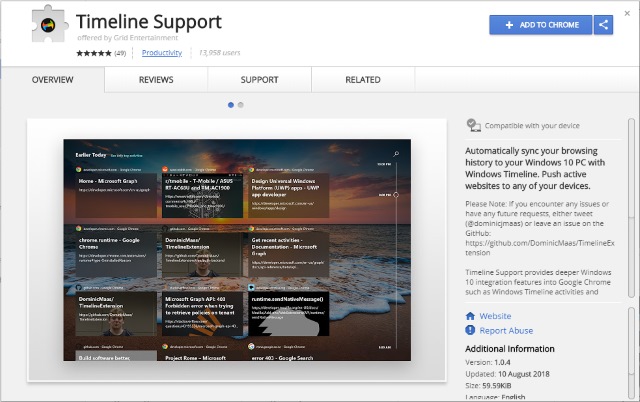 We recently wrote about a browser extension which added Windows' Timeline support for Chrome and Firefox -- the aptly-named Windows Timeline Support.
While we loved the addon for making Windows 10's Timeline rather more useful, the use of the word "Windows" in its name meant that the extension was taken down due to copyright violation. Now it's back with a new name.
See also:
As it was the use of the Windows name that was considered problematic, the developer has taken the simplest route and just removed this word from the name of the extension; Windows Timeline Support has become just Timeline Support. As before, the description reads: "Automatically sync your browsing history to your Windows 10 PC with Windows Timeline. Push active websites to any of your devices."
Developer Dominic Maas tweeted about his extension's reappearance:
The extension has been re-published. Yay! https://t.co/dAWPbr0efh

— Dominic Maas (@dominicjmaas) August 10, 2018
You can grab Timeline Support for Chrome from the Chrome Web Store, or the Firefox version from the Firefox Add-ons page (where the URL still makes use of the original name!).