HyperX Predator DDR4 RAM kits get increased speeds and capacities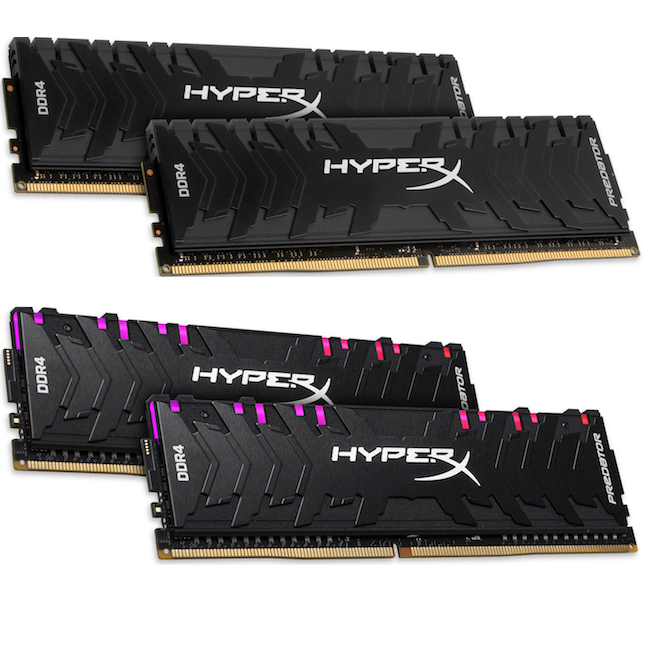 When building a desktop gaming PC, there are many brands of RAM from which to choose. If you think "RAM is RAM" and the company producing it doesn't matter, think again. Cheap RAM can lead to some serious headaches -- for system builders, nothing is worse than an unstable computer that experiences random crashes. In other words, the cost savings by going with a no-name brand of memory simply isn't worth the aggravation.
There are a some specific brands of RAM by which I swear, such as G.SKILL and HyperX. Speaking of the latter, today, the Kingston gaming brand announces that its Predator DDR4 and DDR4 RGB RAM kits are getting both increased frequencies and storage capacities.
ALSO READ: HyperX launches affordable Pulsefire FPS Pro RGB gaming mouse
"The Predator DDR4 RGB is now available in speeds up to 4000MHz and the HyperX Predator DDR4 memory now features expanded speed and capacities up to 128GB and frequencies up to 4133MHz. HyperX memory is designed for PC builders, enthusiasts and system integrators that need fast, high density memory," says HyperX
ALSO READ: HyperX releases gaming microSD cards
The Kingston brand further says, "The new Predator DDR4 RGB and Predator DDR4 meets the memory needs for gaming systems using the latest Intel or AMD processors. The Predator DDR4 and Predator DDR4 RGB feature Intel XMP-ready profiles optimized for increased performance. The HyperX Predator DDR4 RGB also comes equipped with a LED light bar with fluid RGB lighting effects. The memory is compatible with lighting control software from a range of motherboard vendors ASUS Aura Sync, Gigabyte RGB Fusion, MSI Mystic Light Sync and Asrock Polycom RGB."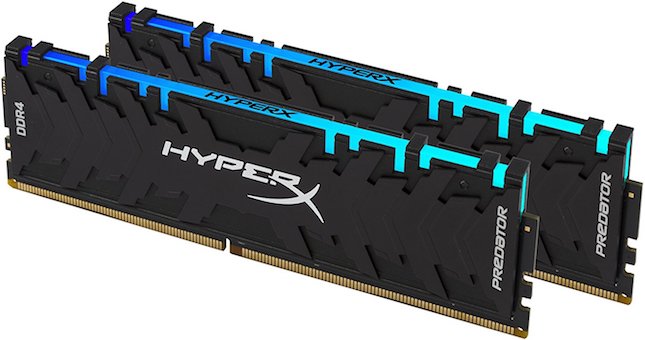 HyperX shares the following specifications.
Predator DDR4 RGB
Capacities: 8GB (Singles), 16GB (kits of 2), 32GB (kits of 4)
Frequencies: 2933MHz, 3200MHz, 3600MHz, 4000MHz
Latencies: CL15, CL16, CL17, CL19
Voltage: 1.35V
Operating Temperatures: 0°C to 70°C
Dimensions: 133.35mm x 42.2mm
Predator DDR4
Capacities: 8GB, 16GB (singles), 8GB, 16GB, 32GB (kits of 2), 16GB, 32GB, 64GB (kits of 4), 128GB (kits of 8)
Frequencies 2400MHz, 2666MHz, 3000MHz, 3200MHz, 3333MHz, 3600MHz, 4000MHz, 4133MHz
Latencies CL12, CL13, CL15, CL16, CL17, CL19
Voltage 1.35V
Operating Temperatures: 0°C to 85°C
Dimensions: 133.35mm x 42.2mm
ALSO READ: HyperX launches 'Cloud for PS4' gaming headset with PlayStation branding
If you are an enthusiast or gamer that wants to purchase these new Predator DDR4 packages, they be found at the typical retailers, such as Newegg and Amazon. You can buy the standard DDR4 RAM on Amazon
here, while the RGB variant can be had
here. If the new speeds and capacities aren't yet available, just try the links again later.