As Fortnite comes to Android, HyperX releases gaming microSD cards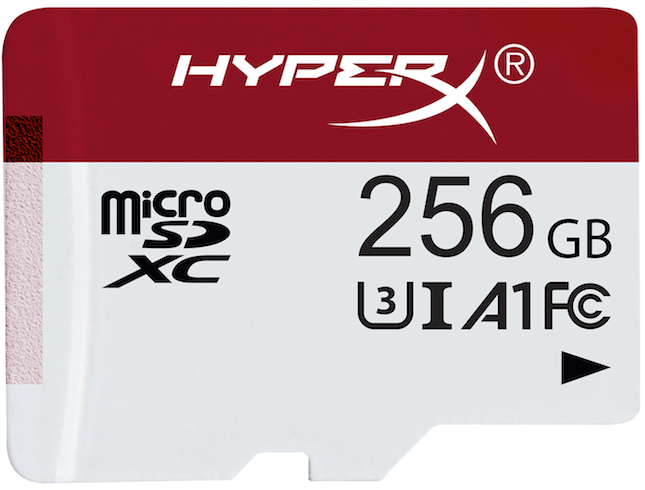 Fortnite is a gaming phenomenon like the world has never seen before. Sure, there have been plenty of popular games before it, but Fortnite is a different beast -- its fans are extremely passionate about it. It generates insane amounts of money for its developer, Epic Games, too.
The game is coming to Android as a temporary Samsung exclusive, but then, it will become available to other devices too. Apparently, fans cannot wait, as they are searching for the game anyway, and sadly, installing fake versions. For phones that support expandable storage via microSD, HyperX today releases new gaming cards -- perfectly timed for Fortnite. Of course, it is also a great option for Nintendo Switch.
ALSO READ: HyperX launches 'Cloud for PS4' gaming headset with PlayStation branding
"The HyperX Gaming microSD Card is compatible with Nintendo Switch, mobile phones, tablets and other portable gaming devices that have a microSD slot for extended storage. Due to the limited internal storage on the Nintendo Switch, users need a microSD card to expand the storage space to install and play multiple games. The demand for more memory will continue to grow as more games with large amounts of content become available," says HyperX.
ALSO READ: HyperX launches affordable Pulsefire FPS Pro RGB gaming mouse
The company further says, "HyperX Gaming microSD Cards meet the needs of on-the-go gamers who download games and downloadable content (DLC) and don't want to carry multiple cards or wait for long load times. Designed and manufactured to meet UHS-I, CL10, Speed Class (U3), A1 performance requirements. HyperX's goal is to meet or exceed customer expectations with every memory product, gaming headset, keyboard, mouse or mousepad it designs."
HyperX shares the following specifications.
Capacity: 64GB (HXSDC/64GB), 128GB (HXSDC/128GB), 256GB (HXSDC/256GB)
Performance: 100MB/s Read and 80MB/s Write, UHS-I, CL10, Speed Class (U3), A1 App
Dimensions: 11mm x 15mm x 1mm
Format: exFAT (SDXC 64GB-256GB)
Operating Temperatures: -25°C to 85°C
Storage Temperatures: -40°C to 85°C
Voltage: 3.3V
Is it disingenuous to call these "gaming" cards? I suppose. I mean, look, there are already cards of this speed on the market. Ultimately, yes, it is more of a marketing thing. Still, HyperX and its parent company Kingston are known for producing high-quality products. Whether you buy them for gaming purposes or general use, they are sure to be reliable. Hell, HyperX is even offering a lifetime warranty!
If you want to buy your own, pricing starts at $49.99 for the 64GB variant and increases to $199.99 for 256GB. For some reason, the price of the 128GB model is not yet known -- I would guess $99.99, though. We will update the article once we know for sure. HyperX says the cards will be available on Amazon, but they are currently not yet showing on the site.