YouTube alternative Facebook Watch rolls out globally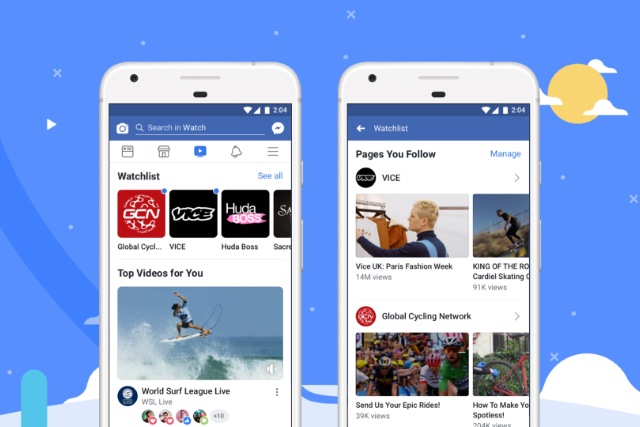 Following a successful launch in the US a year ago, Facebook is launching its Watch service globally. Competing directly with the likes of YouTube, Facebook Watch is the social network's platform for original video content, including Major League Baseball games and entertainment news.
Just 12 months after launching in the US, the service enjoys 50 million monthly viewers and Facebook will be hoping to continue this success in other parts of the world. The company is pushing the social aspect of Facebook Watch as a major draw.
See also:
Announcing the global launch of Facebook Watch, the company's head of video, Fidji Simo, says: "We launched Watch in the US a year ago to give people a place on Facebook to find shows and video creators they love and to start conversations with friends, other fans, and even creators themselves. Over the past year, we've made the experience more social -- like making it easier to see which videos your friends have liked or shared, creating shows that have audience participation at their core, and opening Watch to videos from Pages".
For creators, Facebook is trying to make Watch appealing by allowing for monetization. Through the use of its Ad Breaks service, users in the UK, Ireland, Australia, New Zealand and US can make money from their videos; more countries will be added in due course. Product management directors Maria Smith and Paresh Rajwat explain:
Starting today, ad breaks are now fully launched across four markets and open to eligible Pages, with a range of additional countries coming soon. We had been testing ad breaks with a limited set of publishers and creators, but now every publisher or creator in these countries that meets the eligibility criteria below will be able to make money from their videos.
They go on to reveal the eligibility criteria for ad breaks:
Pages are eligible for ad breaks if they have been creating 3-minute videos that have generated more than 30,000 1-minute views in total over the past two months, have 10,000 Facebook followers, meet our Monetisation Eligibility Standards and are located in a country where ad breaks are available. Publishers and creators can check their eligibility and get started here.
On your mobile device, you'll find Watch in the shortcuts bar or under the More bookmark, and it's also available on Apple TV, Samsung Smart TV, Amazon Fire TV, Android TV, Xbox One, and Oculus TV. Facebook shares details of what you can expect from Watch:
A place to discover new videos: Find the latest videos spanning entertainment, sports, news and more -- all in your personalized Watch feed.
A way to catch up with creators and publishers you love: At the top of your Watch feed you'll see your Watchlist, a collection of recent videos from Pages you follow. Customize this section by following more Pages or removing Pages from your follow list within Watch.
A home for your saved videos: If you see a video in News Feed but don't have time to watch it right away, you can save it to watch later in Watch.
Videos you can participate in: We're building new video experiences that put people at the center, giving them the ability to shape the direction of the content. Over time you'll be able to find new video experiences in your Watch feed, like Watch Parties, Premieres, and videos focused on audience participation -- like the new trivia game show, Confetti. And we'll make it easier to find live videos so you can discuss the big moments as they're happening.