Microsoft and Canonical release Ubuntu Linux virtual machine image for Hyper-V Quick Create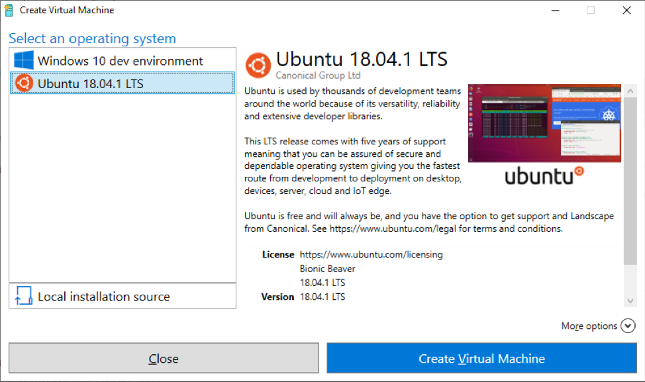 Linux may be the future of computing, but Windows is the present -- on the desktop, at least. For now, both business and home users are wise to stick with Microsoft's operating system. With that said, tech savvy users might be better served by, say, Linux Mint or Ubuntu. While Windows 10 is riddled with privacy and user interface issues, it is still the least stressful way to use your computer -- you are less likely to have hardware or software compatibility issues.
If you are interested in Linux but need to use Windows 10, there are many ways to also run operating systems based on the open source kernel, such as dual-booting or running a virtual machine. Not to mention, with Windows Subsystem for Linux, you can even download and install distros directly from the Microsoft Store! Today, the Windows-maker and Canonical announce a new way to run Ubuntu on Windows 10 -- a special "Hyper-V Quick Create" VM image
ALSO READ: Opera web browser for Linux available as a Snap -- install on Ubuntu, Fedora, Mint, and more!
"Today, we've made running Linux even easier on Windows 10. With the Hyper-V Quick Create feature added in the Windows 10 Fall Creators Update, we have partnered with Ubuntu and added a virtual machine image so in a few quick minutes, you'll be up and developing. This is available now – just type 'Hyper-V Quick Create' in your start menu," says Clint Rutkas, Senior Technical Product Manager, Windows Developer Team.
"On top of running Ubuntu in a virtual machine, you can use Windows Subsystem for Linux. WSL is a Windows 10 feature that enables you to run native Linux command-line tools directly on Windows. WSL is an extremely easy to install feature on Windows 10, and you can run Ubuntu, Suse, Debian and other distros as well. And if you want to build your own distro and use that, you can too."
ALSO READ: UBports Foundation releases Linux-based Ubuntu Touch OTA-4
There you have it, folks -- running Ubuntu on Windows 10 couldn't be simpler. However, to run this new image, you must enable Hyper-V and have compatible hardware. If you aren't sure that your computer is capable, you can simply read the page here to learn more.