O&O Defrag 22 Professional will keep your SSD fully optimized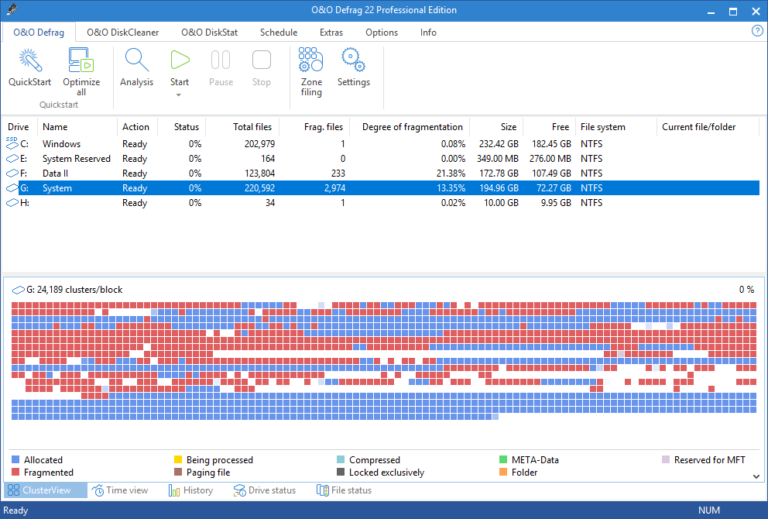 It wasn't so long ago, you bought a brand new computer, installed your favorite applications, only to find a few months later it was clearly operating more sluggishly.
There were various reasons for this, but the primary reason was a defragmented hard drive. The more you write data to the drive, the more scattered the contents and the physical head spent far longer retrieving the data. We know people who would systematically simply wipe their drive and start again just to regain the speed of their original PC.
The other (and far easier solution) was to buy a disk defragmentation toolkit such as O&O DiskImage 22 Professional and run a full drive scan and overnight defrag process. Defragmentation software rearranges the drive content into sequential order, making the drive head do far less work when loading data.
In 2018, this scenario is less essential as most people have an SSD in their laptop, with no moving parts. But, SSDs do get fragmented and do need to be optimized. SSDs have a finite life span and this based on the number of write cycles made to the drive. The more frequently the SSD is accessed, the likelihood of your drive reaching it's end-of-life more swiftly. By keeping your SSD optimized, data will be accessed less frequently and the drive lifespan lengthened. Plus the drive should be marginally quicker, too. Bonus.
Windows 10 has basic TRIM support built into the operating system, meaning you can keep your SSD optimized automatically. Simply launch the "Optimize Drives" module and this will list the drives connected to your system and show the amount of fragmentation. You can turn on the automatic drive optimization process and Windows 10 will do a reasonable job -- usually monthly -- of keeping your drive fragmentation-free, but what happens if you want more control?
Step up the brand new O&O Defrag 22 Professional with optimized support for keeping your SSD in top form using the new O&O-developed SOLID mechanism for keeping your SSD defragmented. SOLID will distribute file parts systematically, so in future significantly fewer memory cells have to be read out and also written to when changing, updating or accessing a file. You also are offered full control over this process, such as scheduling your defrag process so it runs overnight or when you're away from your computer.
What else is new? O&O Defrag 22 will now display a counter showing the moved bytes on your SSD, whilst a live display will highlight any file or folder change made by a third-party process.
O&O Defrag 22 Professional is available right now for $29.95 (or €29.90)