Ubiquiti Networks launches 'AmpliFi Instant' mesh Wi-Fi system with '2-Minute Setup'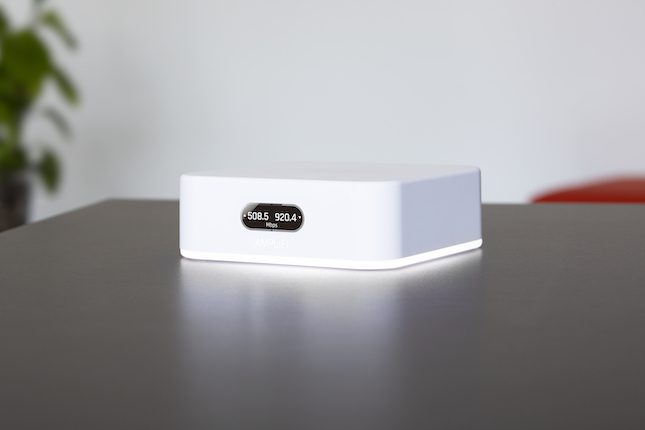 If you are knowledgeable about home networking, and you have experience with wireless routers, I am sure you are not scared by setting one up. If you have never done it before, or aren't tech savvy, configuring a Wi-Fi router can be quite the daunting task. Sure, they are easier these days than they were years ago, but still, they can be rather overwhelming to the average consumer -- especially mesh.
Famed company Ubiquiti Networks has been trying to make setting up a home wireless network a simpler task, and it has largely succeeded with its excellent AmpliFi mesh router system. The company is not ready to rest on its laurels, however, as today, it launches a new affordable mesh router that makes configuration even easier. In fact, according to Ubiquiti Networks, the "AmpliFi Instant," as the new product is called, can be configured in less than two minutes. Seriously, folks, that is not a typo -- the average consumer can set up quality 802.11ac (aka Wi-Fi 5) mesh wireless in under 120 seconds using an Android or iOS device!
"AmpliFi Instant maintains the AmpliFi brand's high standard of networking technology, utilizing 802.11ac Wi-Fi with both 5 GHz and 2.4 GHz radios. The AmpliFi Instant Router features dual-band radios, a WAN port, and a Gigabit Ethernet port, while the MeshPoint features a Gigabit Ethernet port. Its simple and compact design can seamlessly blend into your home decor and be set on any flat surface for optimal Wi-Fi coverage. AmpliFi Instant also utilizes the intuitive AmpliFi app for instant setup, configuration, powerful reporting metrics, parental controls, remote access, and easy guest access," says Ubiquiti Networks

The company further says, "As homes become increasingly connected, Wi-Fi systems must be able to handle the increased traffic from a growing number of devices. AmpliFi Instant is designed to handle these demands yet still maintain a very attractive price point.​ ​AmpliFi Instant is made by Wi-Fi experts, designed for everyday consumers, and is an accessible mesh Wi-Fi system that anyone can use."

This new easier-to-configure AmpliFi Instant has a capacitive touch screen like the normal AmpliFi, albeit much smaller and without color. Believe it or not, I think I prefer the smaller screen as it will look more subdued in a living room. It also the retains the glowing LED on the bottom like the prior model, which you can, of course, turn off if you want. And yes, it uses USB-C for power!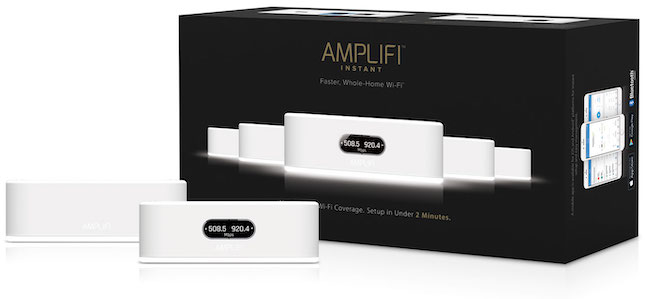 The AmpliFi Instant has a big advantage over the regular AmpliFi -- the MeshPoint features Gigabit Ethernet. Don't get me wrong, I like how the previous generation's MeshPoints could mount onto an AC outlet, but there was no way to hardwire devices into it. As you can see above, there is a single Ethernet port on the rear of the Instant's MeshPoint -- good for connecting things without Wi-Fi, such as a desktop computer. Sadly, the Instant router only has one LAN port while the standard AmpliFi had four.
You can see full AmpliFi Instant specifications below.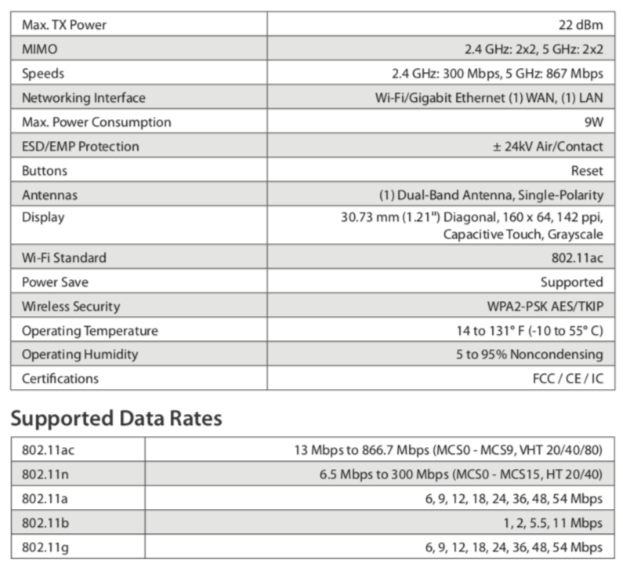 It is worth noting, Ubiquiti Networks tells me the less expensive AmpliFi Instant will not replace the normal AmpliFi -- both will be sold side by side. In other words, if you prefer the bigger touch screen, sleeker MeshPoints (without Ethernet), and additional router LAN ports, there is no need to panic!
ALSO READ: Wi-Fi gets brilliant new naming scheme
So, how much does AmpliFi Instant cost, you ask? Well, there are two packages from which to choose. For just $99.99, you can buy the Instant router alone with no MeshPoint. For $179, however, you get the Instant Kit, which includes the router and a MeshPoint -- this is what most homeowners should buy. The router on its own would be better for those in small apartments. Both options will be available to purchase from Best Buy and Amazon very soon.
Please note: The Instant MeshPoint will not be sold separately, but you can use multiple Instant Routers as MeshPoints.
If you are interested in learning more, stay tuned to BetaNews for a review, as we just got one into our lab yesterday for testing.