Dear Apple, I don't need a fancy iPad Pro for sitting on the toilet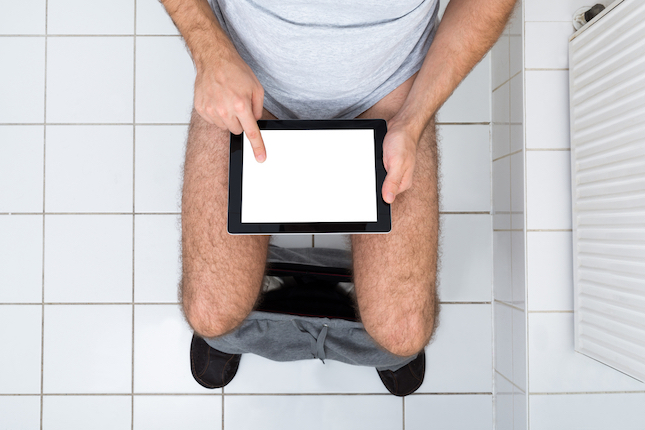 Apple makes very elegant products that help people get work done every day. As an example, my MacBook Pro and iPhone are what I often use to both be creative and keep in contact with friends, family, and colleagues. My iPad is a different story though. I'm not going to beat around the bush here, folks -- I frequently use it while going "number two."
Look, if I am going to be sitting on the toilet for a while, I take my 2017 iPad with me for surfing the web, watching videos, listening to music, playing casual games, and checking social media. Before you look at me with disgust, let's be honest, you probably bring a tablet into the bathroom too. It's time Apple acknowledges this fact and gives us redesigned iPads that focus on consumption. The current non-Pro iPad is simply too big, thick, and heavy.
Tomorrow is Apple's big event in New York City, and there are rumors that new iPad Pro models will be revealed with thinner bezels and Face ID. While I am sure they will be great tablets, these Pro products are focused on people that create with their iPads. And that just isn't most people.
These new iPad Pro models will undoubtedly be very expensive too. If you use your iPad on the toilet -- or sitting on the couch -- Pro tablets will be more than you really need. It would be silly to spend $500 or more for a way to watch videos in the bathroom.
I am sure Jony Ive and Tim Cook have visions of people drawing masterpieces with Apple Pencil and creating musical symphonies using iPad, but the reality is, most of us just want to watch YouTube on the toilet. That's why it is so frustrating that Apple has seemingly abandoned the iPad mini -- the perfect toilet tablet. Consumers loved iPad mini -- why take it away?
Strangely, as Apple began ignoring true "professional" users with its non-upgradeable MacBook Pro line and laughably outdated Mac Pro, it began losing focus on the true iPad buyer -- casual media consumers. It's almost like the company mixed up its priorities between tablet and laptop. Sigh.
Anyway, if you are reading this, Apple, please deliver a quality iPad mini for those that just relax and consume. It's what the people want. You've lost your way, but you can get back on track... if you care.
Do you think Apple will reveal new low-price consumption iPad models tomorrow? Will the iPad mini finally get a refresh? Do you use iPad on the toilet? Please tell me in the comments below.
Photo credit: Andrey_Popov / Shutterstock