Apple reveals new iPad Pro with USB-C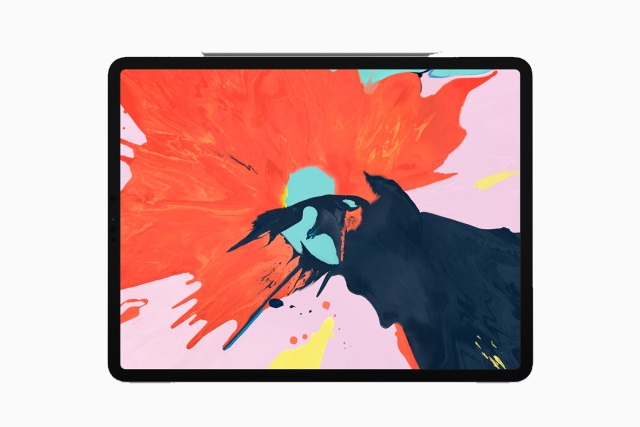 In addition to its new MacBook Air and Mac mini, Apple today launched the new iPad Pro. The most immediately-noticeable change is the death of the home button, but there's much more to this new model than just that.
The screen of the smaller iPad Pro has jumped from 10.5 to 11 inches without changing the overall size of the body, while the 12.9-inch model is available in a dramatically smaller casing. Both are thinner than before (just 5.9 mm), Face ID has been added, and there's more going on under the hood.
See also:
The A12X Bionic chip at the heart of the iPad Pro is described by Apple as a "monster" -- 7nm technology with a 7-core GPU and an 8-core CPU. Apple says it is 35 percent faster than its predecessor, and multicore tasking is up to 90 percent faster.
Apple has -- at last -- introduced USB-C to the iPad Pro, opening up not only the possibility of using a wide range of accessories and displays, but also the option of charging your iPhone. There's the second-generation Apple Pencil which attaches magnetically to the iPad Pro and charges wirelessly. If you want to use your iPad Pro as a laptop, look no further than the Smart Keyboard Folio, which also attaches magnetically
The loss of the Home button not only allows for the larger screen, but also means that iPhone gestures are now used on iPad Pro to navigate iOS.
The LTE version of the iPad Pro features eSIM technology, and all models feature a four-speaker audio system. Apple is making a big deal of the gaming capabilities of the tablet, insisting that it now rivals consoles, using NBA 2K as a demonstration.
But the iPad Pro is primarily about creativity, so it's no wonder that we heard from Adobe at the event showing off Photoshop on the tablet, complete with augmented reality -- but you will have to wait until next year for Photoshop CC on iPad.
Speaking about the new device, Apple's Philip Schiller said:
The new iPad Pro is a huge step forward for powerful, creative, mobile computing; it has an all-new thinner design, speeds through projects with the super-fast A12X Bionic chip and unlocks with a glance using Face ID in any orientation -- while you're sitting or standing, with iPad Pro on your desk or lap, with the new Smart Keyboard Folio and new Apple Pencil. There has never been a mobile device anything like the new iPad Pro; it has a gorgeous edge-to-edge Liquid Retina display that curves into the corners, breakthrough performance that outperforms most laptops, Face ID, support for the new Smart Keyboard Folio and new Apple Pencil, advanced new cameras and sensors for the best AR experiences ever in any device, a high-speed USB-C connector, louder speakers, faster wireless and more, all packed into a thinner device that has all-day battery life and is 25 percent smaller in volume.
The 64GB 11-inch iPad starts at $799, and is available with storage of up to 1TB. The 12.9-inch model starts at $999. Ordering is open now, and the devices will be available on 7 November.