Google is working with iRobot to map the inside of your home and share data with smart devices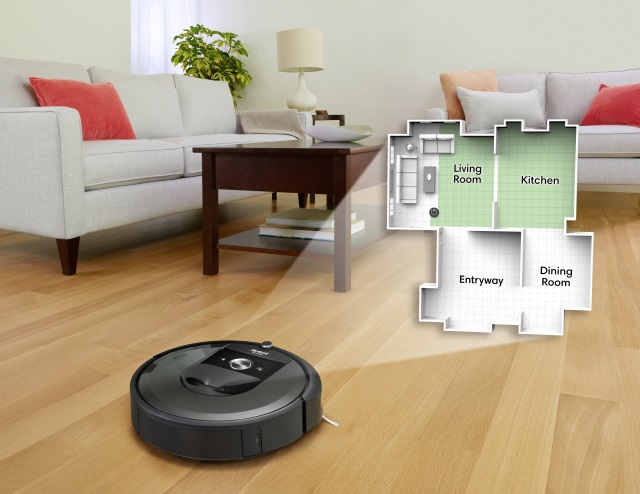 Google is all about data, and there have long been concerns about how the data it collects is used and the associated privacy issues. As such, the company's latest collaboration is likely to raise a few hackles. Google and iRobot are joining forces to use data collected by smart vacuum cleaners like the Roomba i7+ to create maps of the inside of people's homes -- and then share that data with other smart devices.
The partnership is described by iRobot as "a collaboration with Google to integrate robotic and smart home technologies that will advance the next-generation smart home". What this means in practice is that devices other than your vacuum cleaner will not only know the layout of your house, but will know what you mean when you refer to specific rooms -- and devices will be better able to interact with each other.
See also:
At the moment it is not clear exactly what iRobot and Google are looking for, nor exactly what they intend to do -- for now things are being kept pretty broad. iRobot CEO Colin Angle says: "iRobot is delivering products that help people keep a cleaner and smarter home. Robots with mapping and spatial awareness capabilities will play an important role in allowing other smart devices in the home to more seamlessly work together. We're looking forward to working with Google to explore new ways to enable a more thoughtful home".
Google is similarly light on specifics, with Michele Turner, the company's director of Smart Home Ecosystem, saying:
Over the past year, we've been working hard to make it easier to control all the devices and appliances in your home with the Google Assistant with just your voice. We're excited to be exploring with iRobot how its unique spatial awareness technology can work with the Assistant to offer customers a more intuitive and personalized experience in their homes.
There will be obvious privacy concerns voiced about this, but Google issues assurances that there is nothing to worry about:
Much like assigning smart lights or other smart devices to rooms in the home, the Assistant only learns what names people have given to areas of their homes, so that it can then deploy the iRobot i7+ to that area. We do not receive any information on the layout of the home or where the areas are, respectively.
In an interview with the Verge, Turner stressed that any data gathered would not be used for advertising purposes, saying: "This data doesn't help current Google products. This data is not getting fed into some larger morass of Google information".