Your Time On Facebook rolls out, revealing how much time you waste in the social network's mobile apps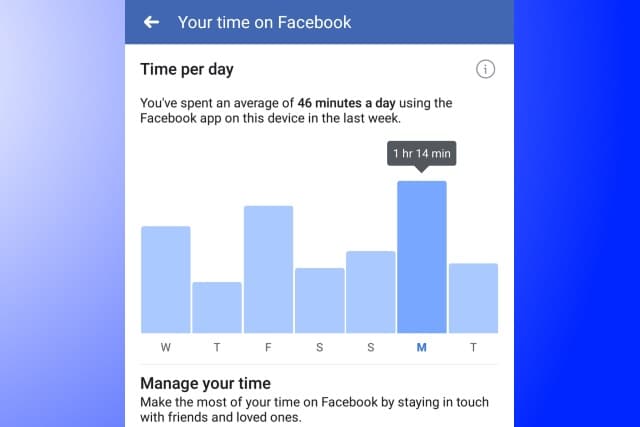 It is a little while -- over three months, in fact -- since Facebook said that it was planning to launch a tool that would give users some insight into the amount of time they spent using the social network. This tool is now rolling out.
Unimaginatively called Your Time On Facebook, the tool offers a dashboard that gives a very basic overview of how long you spend using Facebook each day. But going beyond this, it can also be used to set daily reminders to help you to cut down your usage. Trying to kick your Facebook habit? Maybe this could help.
See also:
Your Time On Facebook is only available in its mobile apps -- quite why Facebook has not opted to include web-based activity is not clear -- and information is not collated if you access the social network using two or more devices. If you use a phone and a tablet, for instance, you will be able to see stats for each device on the respective device, but not an overall usage figure.
You can access Your Time On Facebook by tapping the menu option in the Facebook app, and then tapping Settings & Privacy, followed by Your Time On Facebook. The graph that appears shows your daily usage for the past week and there are links below this to help you "manage your time". These are mostly just links to help you tweak your notification settings so you are not bothered by pointless message all of the time, and change your friend settings.
The option to set a daily reminder to curb your usage is unlikely to have much effect on people, but it gives Facebook the chance to appear to be doing something to fight the problem of social media addiction.