ADATA unveils 'Ultimate' SU750 SATA SSD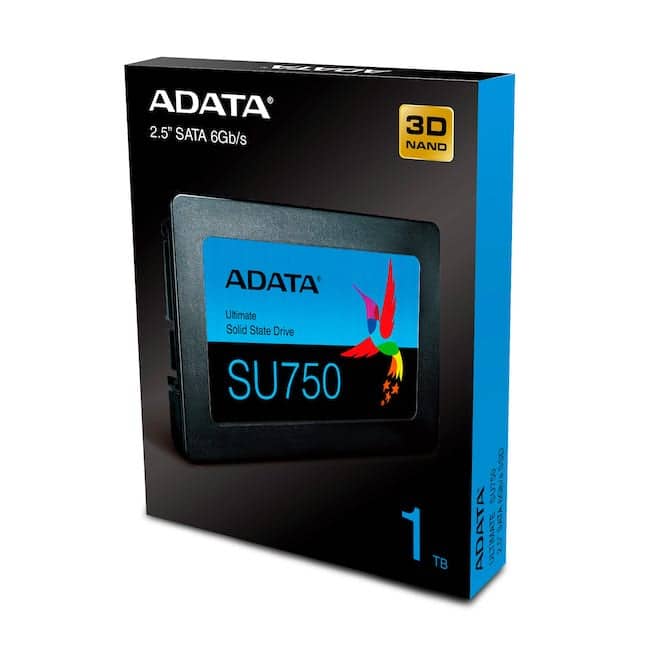 SATA solid states are hardly exciting to tech enthusiasts and hardcore PC builders these days. After all, NVMe SSDs are much faster and getting more affordable all the time. The problem? Many consumers simply don't own a computer with the NVMe-compatible m.2 slot needed to accommodate the speedier drive. With that said, many computer users do own machines with the ubiquitous SATA. If they want to replace an aging mechanical hard drive -- or even an existing 2.5-inch solid state drive -- a SATA variant is an affordable and easy drop-in upgrade.
ADATA has a new SATA solid state drive that is designed for upgraders. Called "SU750," it is a 2.5-inch SSD that utilizes 3D TLC NAND Flash with capacities up to 1TB. Performance is exactly what you would expect from such a SATA drive, as all of them are pretty much the same speed these days. Despite being a fairly unremarkable SSD, ADATA is dubbing it "Ultimate" for some reason -- marketing, I suppose.
ALSO READ: ADATA announces extremely rugged HD830 external HDD
"Implementing 3D NAND Flash, Ultimate SU750 SSDs features higher storage capacities of 256GB, 512GB, and 1TB. With SLC Caching, the drives can achieve read/write speeds of up to 550/520MB per second to accelerate PC performance. Users will revel in not having to wait around to access files and for programs to load. What's more, with no mechanical components, SU750 SSDs are more resilient than HDDs. They are more resistant to shock and vibration (1500G/0.5ms), therefore providing better protection of data. Also, SSDs also run silently and consume less power than HDDs," says ADATA.
ALSO READ: ADATA announces svelte and speedy UE700 Pro USB 3.1 flash drive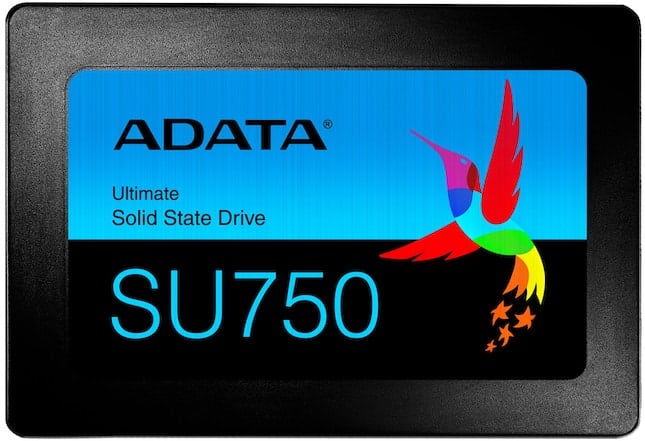 The company further says, "Support for LDPC (Low-Density Parity-Check) error correcting code technology allows SU750 SSDs to detect and fix errors to ensure data integrity and thus enjoy extended lifespans. With the purchase of an SU750 SSD, users qualify to download ADATA's SSD Toolbox and Migration Utility free of charge. SSD Toolbox allows users to monitor and manage SU750 SSDs, with drive status, wear level, and lifespan information. The Migration Utility is especially helpful for users making the move from HDD to SSD, as it allows for simple and straightforward backup and migration of data, including the operating system."
ALSO READ: Plugable launches tool-free NVMe SSD USB-C enclosure for Windows, macOS, and Linux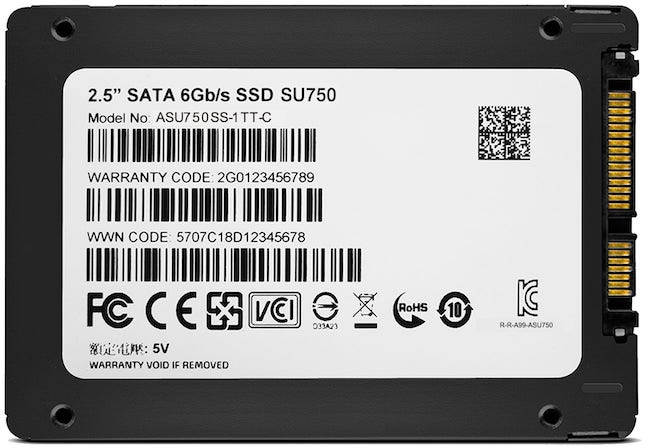 ADATA shares the following specifications.
| | |
| --- | --- |
| Capacity | 256GB / 512GB / 1TB |
| Form Factor | 2.5-inch |
| NAND Flash | 3D TLC |
| Dimensions (L x W x H) | 100.45 x 69.85 x 7mm |
| Weight | 47.5g |
| Interface | SATA 6Gb/s |
| Sequential R/W performance (max.) | Up to 550/520MB/s |
| Operating Temperature | 0°C - 70°C |
| Storage Temperature | -40°C - 85°C |
| Shock Resistance | 1500G/0.5ms |
| MTBF | 2,000,000 hours |
| Warranty | 3 years |

Should you consider buying the ADATA "Ultimate" SU750 SATA SSD? Well, that depends. If you need a 2.5-inch SATA drive, then yeah, ADATA is a high-quality brand that deserves your attention. With that said, pricing will be the true deciding factor if it'll be a worthwhile purchase.
Samsung, for instance, makes some [amazon_textlink asin='B07K28KWXW' text='very dependable class-leading drives' template='ProductLink' store='betanews02-20' marketplace='US' link_id='c0b86e86-4df2-4f98-8f0c-01b534cdda6f'], so for ADATA's offering to be chosen instead, the cost would need to be significantly lower. Sadly, despite ADATA saying the drive is "a great performance upgrade without breaking the bank," the company is mum on both pricing and availability at this time.