Save resources by pausing open Chrome tabs using The Great Suspender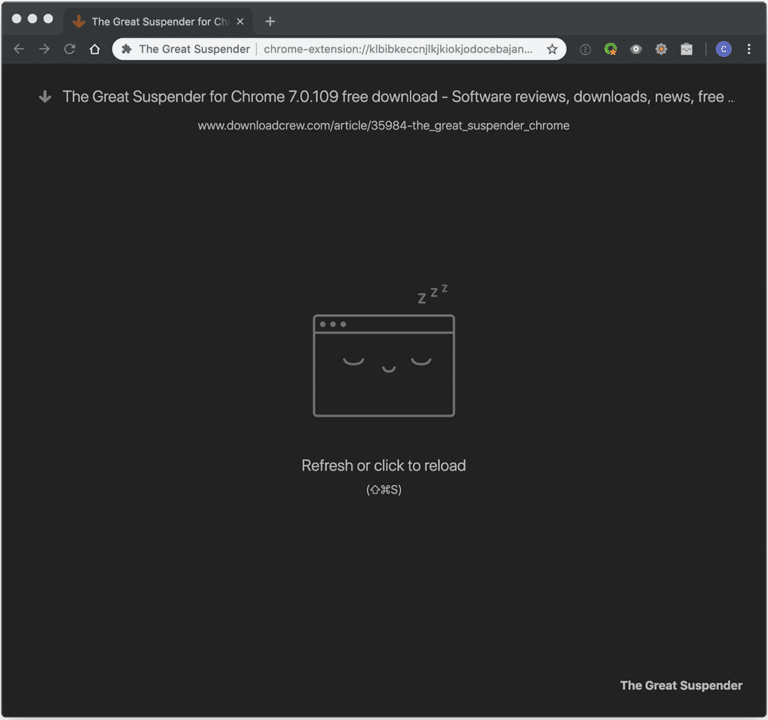 If you're anything like us, you tend to remind yourself to follow-up a website by keeping a tab open. This often remains open indefinitely though, and over time, one tab quickly becomes many and you then move on by opening new browser windows.
But there's a problem with this behavior. Have you noticed the system resources required to keen a browser tab open? Each tab can easily run at up to 150MB, as they contain images and dynamic content to host the web page. You only need ten open tabs and you're allocating over 1GB of RAM to web pages to follow up at a later date. There must be a better alternative.
The Great Suspender for Chrome is an extension which offers a simple function in that it will suspend open tabs, after a period of time, therefore removing all the web page content and saving precious system resources.
The extension includes a number of options that offer some flexibility. For example, you can set it up so tabs playing audio are not automatically suspended. If you want to open a tab to stream audio or listen to a podcast, the extension can avoid suspending these tabs. You can stop it from suspending pinned tabs and the set amount of time you want before it pauses each tab, from seconds through to weeks.
You don't lose the URL associated with the tab, just the page content. If you're saving some shopping cart information, for reference, bear in mind that an open tab with similar content would not load after suspension with the same information. You can also export a live session (open Chrome windows with suspended tabs) just in case something does go wrong and you can't resume a web page.
All in all, this is a powerful and useful extension for Chrome users who like to keep open windows and tabs running for hours, days or even weeks.
Download The Great Suspender for Chrome.