Promise Technology Pegasus32 Series offers both Thunderbolt 3 and USB 3.2 Gen 2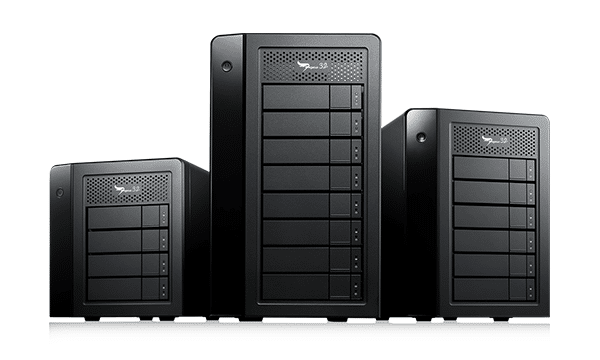 Cloud storage is great. Seriously, folks, storing important files online is a great way to protect them from disasters, such as theft, fire, or flooding to name a few. When people tell me they have their own "cloud" at home with an internet-connected NAS, I simply sigh. Yeah, that's cool, but you are still lacking offsite redundancy. Ideally, you should be using both an online cloud service, such as Dropbox, while also storing your files locally on an encrypted drive.
Of course, the cloud isn't a realistic option for all industries. Media creators, for instance, often need fast local storage with large capacities. Especially with 4K and 8K video editing, you are looking at enormous file sizes. Today, Promise Technology unveils an excellent storage solution for the media editors. Its new Pegasus32 Series offers connectivity for both Thunderbolt 3 and USB 3.2 Gen 2 (aka USB 3.1 Gen 2). In other words, it is compatible with both standards (each uses USB-C). Believe it or not, its DisplayPort can push an 8K display at 60Hz!
ALSO READ: Lexar Professional SL100 Pro Portable SSD is 'world's fastest'
"The Promise Pegasus32 Series has the same great features and performance as the Pegasus3 product lines that customers are used to and depend on, but now enables connectivity and versatility with the ability to connect at maximum allowed bus speeds via the same port to either Thunderbolt 3 enabled hosts at up to 40Gbps or USB 3.2 Gen 2 enabled hosts at 10Gbps," says Promise Technology USA.
ALSO READ: Samsung unveils extremely affordable 860 QVO 4-bit MLC SATA SSD with big capacity options
The company further says, "The Pegasus32 Series, using Intel's latest TitanRidge Thunderbolt 3 chip, works on 8K monitors via the full size 4-lane DP1.4 port, powers your hosts up to 85W with Thunderbolt 3 and USB  3.2 Gen 2 port and has up to 112TB of raw capacity with the R8. Additionally, the line features rock-solid HW RAID5+ protection, hot-swap 7200 rpm HDDs, and dual Thunderbolt 3 ports to daisy chain."
Promise Technology USA shares the following features and benefits.
Supports maximum throughput allowed by Thunderbolt 3 interface and USB 3.2 Gen 2 interface
Supports simultaneous streaming, editing, and backup of 8K video
Support DisplayPort 1.4 with max, resolution 8K (7680 x 3840) @ 60Hz HDR Deep Color
Support Power charging up to 85W
Portable hardware RAID protection for offsite shoots
Essential to PROMISE's end to end 8K workflow environment SSD
The company also lists the following specifications.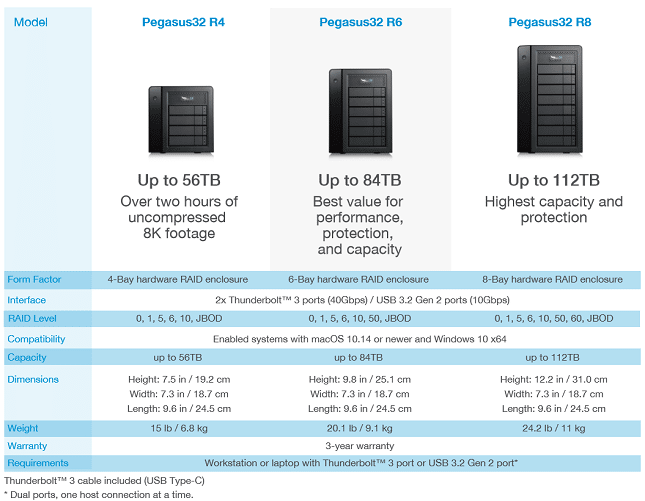 Vijay Char, president, Promise Technology USA offers the following statement.
Promise listens to our end-users and delivers solutions that address key needs while also remaining at the forefront of industry innovation and advancement. With today's launch of the Pegasus32 Series, with a first-of-its-kind dual-compatible host connection, we let users use their Pegasus RAID storage with a wider range of hosts.
ALSO READ: Philips launches a pair of affordable E Series monitors
As per above, there are three models from which to choose -- R4, R6, and R8. If it isn't obvious from the pictures, the number after the "R" represents the number of drive bays. The max total capacity is calculated using 14TB mechanical hard drives. They can be configured with 1TB or 2TB solid state drives too.
Pricing doesn't seem to be available yet, but based on the cost of Promise's other products, it won't be an inexpensive affair. For instance, the Pegasus32 R4 configured with "just" four 3TB  drives (12TB total) will likely cost more than $1,000! A maxed-out Pegasus32 R8 with 112TB (drool) will likely cost close to $10,000 -- if not more. So yeah, Pegasus32 is a hardcore storage product reserved for true professionals.