VisionTek launches VT4500 Dual 4K USB-C Docking Station with Power Delivery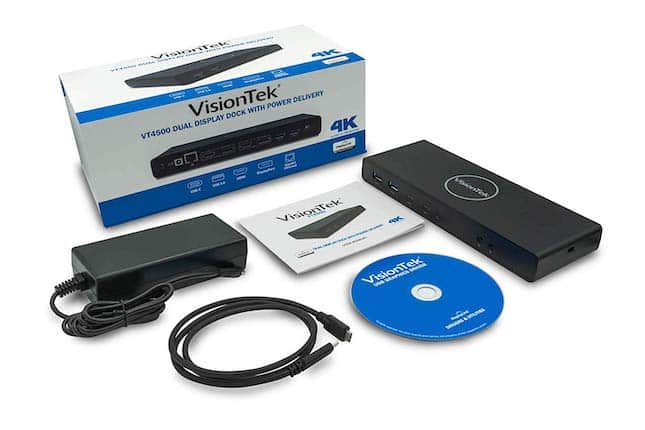 Thunderbolt 3 docking stations, such as this one from IOGEAR, can be a great way to transform your laptop into a makeshift desktop. The problem? Most computers don't have TB3. While that speedy interface is starting to show up on more affordable laptops, it is still, for the most part, reserved for premium machines.
Thankfully, USB-C docking stations exist, allowing more consumers to take advantage of the single-cable dock experience. There are plenty of USB docks on the market, so it can be hard to stand out, but today, VisionTek has done exactly that. Called "VT4500," it is a dual display USB-C Docking station with power delivery. What makes it pretty damn cool is its inclusion of four video outputs on the rear -- 2x DisplayPort and 2x HDMI. Sadly, they can't all be used at once -- you are limited to just two. By offering both connection types for Display 1 and Display 2, VisionTek essentially eliminates the need for adapters. And yes, this thing can push two 4K monitors at 60Hz.
ALSO READ: VisionTek launches 1TB USB 3.0 XT Pocket SSD for Windows, macOS, and Linux
"This all-in-one dock delivers a total of 11 ports in a sleek unit designed to instantly connect and disconnect from your USB laptop through a single high-speed cable. Featuring DisplayPort Multi-Stream Transport, USB Type A and Type C connectivity, HDMI, audio and Ethernet connections, this full-featured USB dock allows your laptop to perform like a desktop. This docking station is ideal for creative professionals such as video producers, graphic designers, engineers, architects, students, gamers, and professionals who work with highly detailed graphics. The ability to scale your desktop across multiple displays also makes this dock perfect for government, finance, medical imagery, marketing, sales and other work environments demanding multitasking," says VisionTek.

The company further says, "The VisionTek USB Dual 4K docking station supports resolutions up to dual 4K HDMI, 4K DisplayPort, 4K HDMI + 4K DisplayPort output in both extended and mirrored modes. In addition to being compatible with both Type-C and Type-A laptop and desktop computers, this docking station also supports microphone input and audio output, USB 3.0 with transfer speeds up to 5Gbps and backward compatible with USB 2.0 and USB 1.1 and USB Type-C. Built in 10/100/1000BASE-T Gigabit Ethernet RJ45 Port."

VisionTek shares the following specifications.
Supports 2x Displays via HDMI or DisplayPort
4x USB 3.0 Ports
2x USB Type-C Ports
2 Chanel Headphone Jack
Audio Line In (Microphone)
Gigabit Ethernet - RJ45 (10/100/1000)
Built-in USB 3.0 GPU, plug and play certified by DisplayLink
Power Delivery up to 60W
Downstream Charging to 40W
Features Kensington Lock Slot
Operating systems: Windows, macOS, and Chrome OS
Warranty: Two Year Limited

Michael Innes, President of VisionTek provides the following statement.
Current generations of laptops have become more powerful and compact. These sleek designs are tailored for travel and by default have less connectivity options required in the workplace environment. The VT4500 supports real world office demands with a true plug & play docking station. The design delivers charging via a single USB-C cable, connects all your external devices, and drives two additional 4K monitors for ultimate work efficiency.
ALSO READ: VisionTek launches Thunderbolt 3 Mini eGFX enclosure -- add a desktop graphics card to your laptop
Damn, y'all! The VisionTek VT4500 Dual 4K USB-C Docking Station with Power Delivery looks like a very neat piece of tech. Between the front and rear, it has plenty of USB ports -- great for connecting several devices at once. The four video-out ports are simply amazing, and the 60 watts of  power delivery makes it extremely useful for charging your laptop. It looks like a real winner. If you want to buy your own, you can grab one from [amazon_textlink asin='B07QBM87KS' text='Amazon here' template='ProductLink' store='betanews02-20' marketplace='US' link_id='bccf756a-ec5f-4757-9cda-c98ef9007483'] now for about $228.