Plugable launches 0.8m Thunderbolt 3 cable with 40Gbps and 100W charging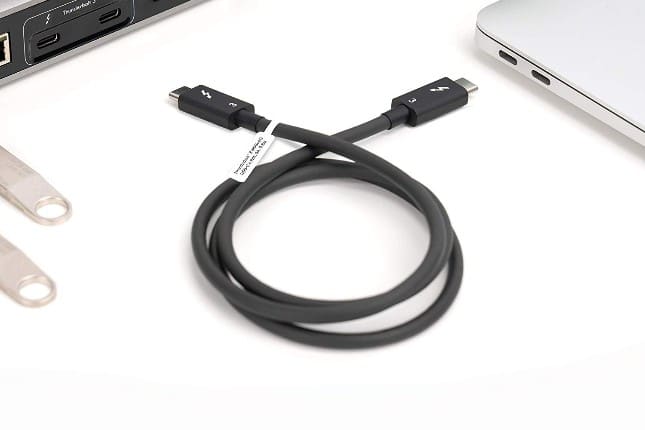 Thunderbolt 3 is excellent technology -- it is fast and allows laptop users to expand the capabilities of their computers. For instance, you could add a TB3 docking station to gain additional ports, or an external GPU enclosure to add a desktop-class graphics card. So, yeah, Thunderbolt 3 rules.
Unfortunately, to get the full performance of Thunderbolt 3, it usually means using a very short cable, like 0.5m. While longer cables are available, they often provide slower transfer speeds (20Gbps) rather than the faster 40Gbps that TB3 can theoretically achieve. Not to mention, longer cables usually provide lesser charging power. Sure, there are some longer cables that provide top charging and data speeds, such as this 0.8m one from Apple, but as you can see, at $40, it is quite expensive. Today, Plugable launches a new cable (TBT3-40G80CM) that matches the performance of Apple's cable but at much more affordable price!
ALSO READ: Promise Technology Pegasus32 Series offers both Thunderbolt 3 and USB 3.2 Gen 2
"The Plugable Thunderbolt 3 Cable reaches the full performance for the technology, including a faster connection at 40Gbps, additional power at 100W charging, and more pixels at 60Hz. The Plugable Thunderbolt 3 Cable allows you to use this amazing new capability when connected to Thunderbolt 3 or USB-C enabled devices such as hard drives, docking stations, NVMe SSD drives, and high resolution external displays. The Plugable Thunderbolt 3 Cable connects to as many as 6 devices, daisy chained, through a single compact port. Plugable's Thunderbolt 3 cable also has the Thunderbolt logo and number 3 etched on the cable, making it easily distinguishable between multiple cables," says Plugable.

The company further says, "Thunderbolt 3's unparalleled performance has had a tradeoff of only short cables being able to reach its maximum capability. However, Plugable's 0.8m/2.6ft cable allows you to take advantage of this new technology, but with a longer cable than before solving the frustration of an overly short cable between your laptop and dock. Plugable's Thunderbolt 3 Cable consolidates data transfer, video output and charging into a single compact connector. It offers data transfer speeds up to 40Gbps and USB 3.1 Gen 2 data transfer speeds of up to 10 Gbps, along with DisplayPort video output (HBR3) and charging up to 100W."
Plugable shares the features of this cable below.
Supports Thunderbolt 3 40Gbps of bandwidth with compatible systems and accessories and all USB generations; USB 1.1, 2.0, 3.0 and USB 3.1 Gen 1/Gen 2 over USB Type-C
Dual [email protected] video outputs (or a single 5120×[email protected] output)
Daisy chain up to 6 Thunderbolt devices including docking stations, external graphics cards, and displays
Wire gauge and electronic marking support up to 5A charging via USB-IF Power Delivery charging standard (5V-20V, 100W max)
Thunderbolt 3 peer-to-peer 10Gbit networking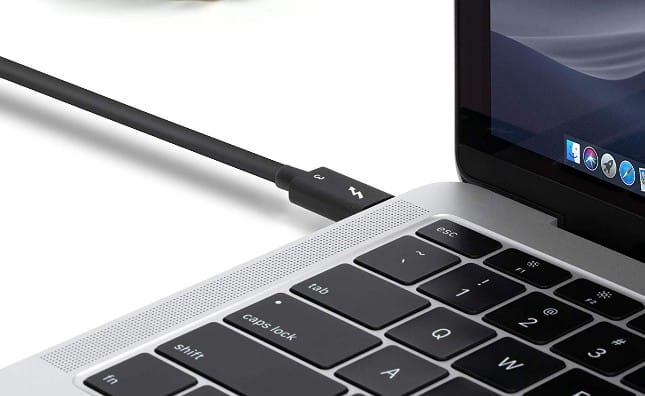 Bernie Thompson, founder of Plugable provides the following statement.
A single Plugable Thunderbolt 3 Cable will provide you with four times the data and twice the video bandwidth of any other cable. We believe high performance should be available and affordable for all users.
Ready to purchase your own 2.6 foot Plugable Thunderbolt 3 cable? You can get the TBT3-40G80CM from [amazon_textlink asin='B07R43LPCX' text='Amazon here' template='ProductLink' store='betanews02-20' marketplace='US' link_id='bef6eaed-b7f8-4a23-9303-67451003d630'] for just $24.99. This is significantly less expensive than Apple's cable, making it a no-brainer.