Windows 10 is getting a screen recorder PowerToys utility called Video GIF Capture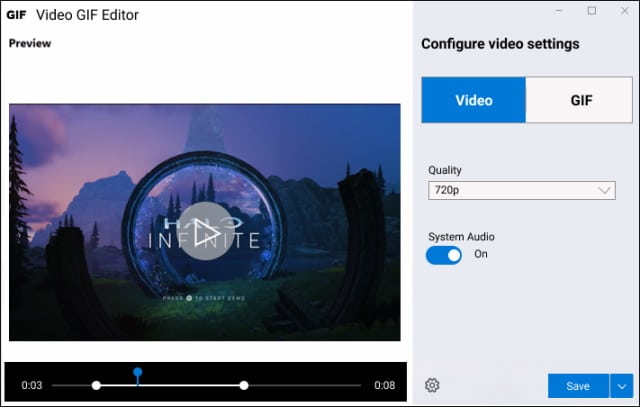 Here on BetaNews, some of our most constantly popular posts relate to Windows 10's 'secret' screen recorder that is part of the Game Bar tool.  Seemingly aware that people are keen to be able to create video of on-screen activity, Microsoft is now working on a dedicated screening recording app.
Currently known as Video GIF Capture, the tool is being created by the PowerToys developers and it promises to give people the ability to record what is happening on their screen and save it as an animated GIF or video file.
See also:
Video GIF Capture is a "tentative name for this PowerToy" which will not only give users the ability to record what is happening on their screens, but also basic editing tools. The team behind the tool envisions it being used to record instructional videos, as well as being a means of easily sharing potentially large content such as 3D models and renders.
The Video GIF Capture utility differs from the Game Bar screen recorder in a number of important ways. As well as enabling users to capture their entire screens, it can also be used to capture a selectable portion of the screen. Additionally, it will be possible to add text overlays to recordings, capture cursor movement, and record keystrokes. It will not, however, record microphone audio, webcam footage or offer frame-by-frame editing.
The tool is described by the PowerToys team as being an alternative to complicated third-party screen recorders:
Users are evolving to need to share more than just static images of their desktop. Given this fact, there becomes a need for a light-weight tool beyond the standard screenshot technologies that allows quick and easy screen recordings. Such tooling can enable an increased range of creative license for users to develop the visual experiences that truly bring their visions to life. While there is 3rd party software that exists for this purpose, these tools tend to provide overly complex functionalities that are excessive for simple use cases. Therefore, this document proposes the development of a lightweight, native Windows alternative to allow for fast and straight-forward screen recording and editing. This would allow for increased productivity and offer a familiar and intuitive UI experience based on similar Windows Shell tooling for easy onboarding.
You can keep up to speed with the latest developments for the screen capture PowerToys utility over on GitHub.