Windows 10 October 2020 Update (20H2) rolling out now -- here's how to get it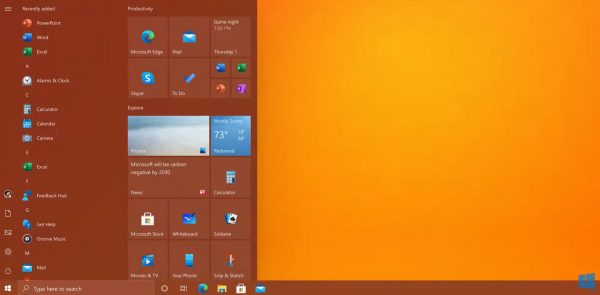 If you've been eagerly awaiting the arrival of the latest feature update for Windows 10, we've got some great news -- it's rolling out to compatible systems now.
The October 2020 Update, or Windows 10 20H2, if you prefer, includes improvements to Microsoft Edge, a refreshed Start menu, new Settings, and better notifications.
SEE ALSO:
Microsoft lists these as the key improvements in the update:
Alt + Tab = The quick way to access your apps and web tabs. With this handy keyboard shortcut not only can you easily access the apps you have open on your desktop, but now you can also access your open tabs in Microsoft Edge.
All the tabs you were looking for. If you're someone who likes the convenience of pinning your favorite websites to the taskbar, you're going to love this new feature. Now when you hover over the website icon, you'll see all the open tabs of that site.
A refreshing Start. The Start menu has a more streamlined design. A uniform, partially transparent background to the tiles creates a beautiful stage for the redesigned app icons like Calculator, Mail and Calendar. This refined Start design looks great in both dark and light themes, but if you're looking for a splash of color, first make sure to turn on Windows dark theme and then toggle "Show accent color on the following surfaces" for "Start, taskbar, and action center" under Settings > Personalization > Color to elegantly apply your accent color to the Start frame and tiles.
Smooth Settings. Settings continues to become a more robust place to access security and device details. Also, now when you go to Settings > System > Display, Advanced display settings, you can change the refresh rate of your display. A higher refresh rate allows for smoother motion of visuals, and depending on what kind of display or monitor you have, you may be able to really crank it up -- makes for a great gaming experience.
2 in 1 toast elimination. 2-in-1 devices now naturally switch by default to the new tablet experience without the notification toast asking you to switch into the tablet mode when you detach the keyboard, helping to keep you in your flow.
Noticeable notifications. New app logos at the top of notifications now make it much easier to identify who they are from. And the new "X marks the spot" lets you quickly click, close and get back at it.
A Taskbar tuned to your liking. Getting a new Windows PC? You will enjoy a cleaner, more personalized, out-of-box experience featuring a taskbar specifically curated for you -- less clutter and more content that you'll love. (This experience is limited to new account creation or first logon scenarios.)
As is usual, the new update won't be made available to all. To begin it will only be pushed out to users of select devices running Windows 10, version 1903 or later, who actively want to install it. If that's you, go to Settings > Update & Security > Windows Update and select Check for updates. If the update appears, select Download and install to get started.
If you need a Windows 10 Professional Retail license you can currently get one from here for just $39.99 -- a saving of 80 percent!