Pixel 5 or Pixel 4a 5G: Which Google phone should you buy when Christmas shopping?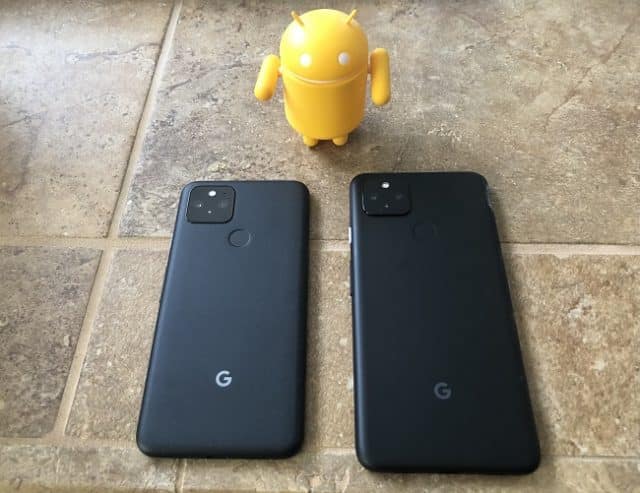 Google's Pixel line of smartphones provides the purest Android experience, but for whatever reason, they aren't huge sellers. For many consumers, it is Samsung or nothing, and that is totally understandable -- that company does make good phones. If you prefer regular and timely Android updates, however, you pretty much have to go with a Pixel.
We are now halfway through November, and Christmas shopping is in full swing. Many people will be buying new smartphones for loved ones -- or themselves. And if you want a Pixel, you have a very hard decision -- do you opt for the Pixel 5 or Pixel 4a 5G? Both are 5G smartphones, yes, but they are not the same.
For instance, there is a $200 difference between the two. But if money is no object and you are wealthy beyond belief, just get the Pixel 5 as it is a better phone. There really is no more discussion needed. Have a great day, and please accept my congratulations on your success.
However, if you are like me, and you are on a budget, then there is much more to be considered. I have been using and testing both phones, and I can confidently tell you whether you should or shouldn't spend the extra $200 on the Pixel 5. Because let's be honest $200 is a lot of money to us normal folks.
First things first, the Pixel 5 has Qi wireless charging while the Pixel 4a 5G does not. This means you cannot drop the 4a 5G on a charging pad before bed and have it top off the battery. Instead, you must plug in a USB-C cable. This is a big deal for me, as I have been using Qi for many years, but you know what's better than wireless charging? Having an extra $200 in your pocket. In other words, while it is a nice feature to have, it is not a deal-breaker by any means.
Another big difference is screen size -- the Pixel4a 5G has a 6.2-inch OLED display while the Pixel 5 has a 6-inch OLED screen. Bigger is better, right? Not necessarily. Since both phones have the same 2340x1080 resolution, the smaller screen size has a higher pixel density. Not to mention, the Pixel 5 has a buttery-smooth 90Hz refresh rate which the cheaper Pixel does not. While the Pixel 5 has a better overall screen, it is also not worth an extra $200. True, 90Hz is really great, but you can't miss what you haven't had. Hell, the expensive Pro iPhones don't even have a high refresh.
As far as internal specs, they are quite similar. Both phones are powered by the Qualcomm Snapdragon 765G and have 128GB storage standard (and no expandable storage). The 4a 5G has 6GB of RAM while the Pixel 5 has 8GB. Does the extra 2GB make a difference? In my testing, no. Apps seem to run the same on both phones. With that said, the Pixel 5 may age better thanks to the extra memory. In other words, in a couple years, after some OS updates, the 4a 5G may end up being a bit more sluggish comparatively. Again, the extra RAM is not worth $200.
Battery size is different, with the Pixel 5 having a bigger 4,000 mAh compared to the 3,885 mAh found on the 4a 5G. You'd think it should be the other way around, since the 4a 5G has the bigger screen, but the 90Hz refresh rate on the Pixel 5 can be quite taxing, so it does make sense. In my testing, however, both phones got me though the day with juice to spare, and there was no noticeable difference with normal usage.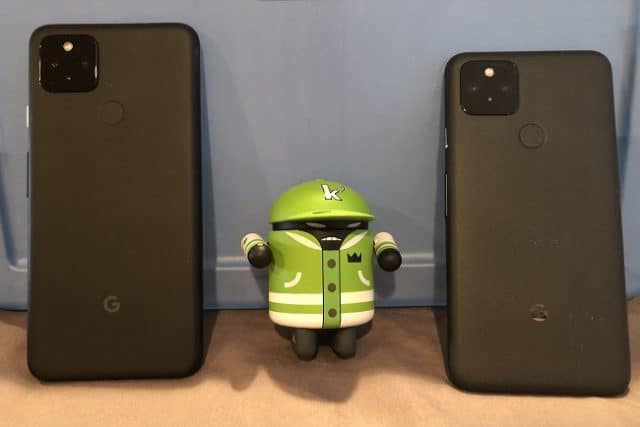 Where they do not differ are the cameras -- they have the same hardware and software -- a 12.2-megapixel standard lens, a16-megapixel ultrawide lens, and an 8-megapixel front-facing camera. Both phones take brilliant photos thanks to the excellent Google-tuned software. Both lack a telephoto lens, sadly. For the front camera, both forgo a centered notch for a punch-hole on the top left of the screen. Whether you like the punch-hole is a personal preference, but I got used to it very quickly.
Unfortunately, they both fall short in the same way -- speakers. Neither phone gets particularly loud, and overall, it's not a great experience for music or movies. Don't get me wrong, it's not terrible, but it is not great either. You will probably want to use headphones. Where the Pixel 4a 5G stands out over the Pixel 5, however, is the inclusion of a 3.5mm audio jack -- the Pixel 5 is limited to USB-C or Bluetooth.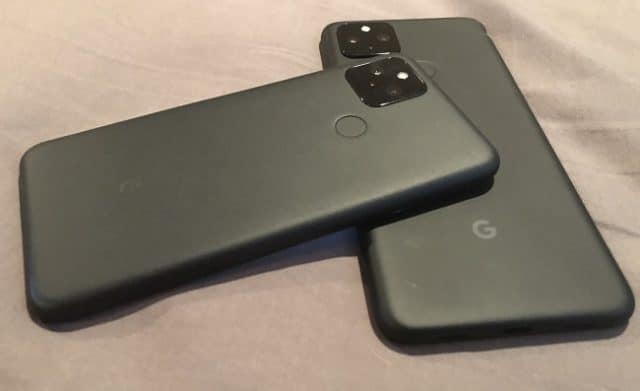 Where the Pixel 5 stands out the most, however, is water resistance. Sadly, the Pixel 4a 5G has none. The Pixel 5 is IP68-rated, meaning it can be temporarily submerged in water and survive, while the 4a 5G will likely become a paperweight in that scenario. This could be an important factor if you live somewhere near water, especially with year-round beach weather, like Florida.
Ultimately, no difference between the phones is worth the extra $200 on its own, but when you add them altogether, maybe they do. The Pixel 5 has a better screen with 90Hz refresh, wireless charging, water-resistance, and more memory. The only benefits of the 4a 5G are it costs $200 less and has a headphone jack.
Despite all the benefits of the $699 Pixel 5 (it is the better phone), I still recommend the Pixel 4a 5G over it for most consumers. Look, times are hard right now, and at $499, the Pixel 4a 5G is just a value that cannot be beat. You will get pretty much the same experience as the Pixel 5, including regular Android updates, but for $200 less. For those needing to buy several phones for their family, that will really add up.
Ultimately, while I love and recommend both phones, you should probably get the Pixel 4a 5G and not look back. You will love it. With that said, you really can't go wrong with either new Pixel. Google has hit two homeruns here.
You can buy the unlocked Pixel 4a 5G here for $499 and the unlocked Pixel 5 here for $699. Both phones are compatible with Mint Mobile's affordable cell plans (which include 5G at no extra charge) starting at just $15 a month. You can sign up with Mint here.
Please note: Some of the above links may be affiliate links, meaning we, or our writers, may receive payment if you purchase one of these items (or other items) after clicking on them.