TEAMGROUP launches T-FORCE ZEUS DDR4 gaming RAM for laptops and desktops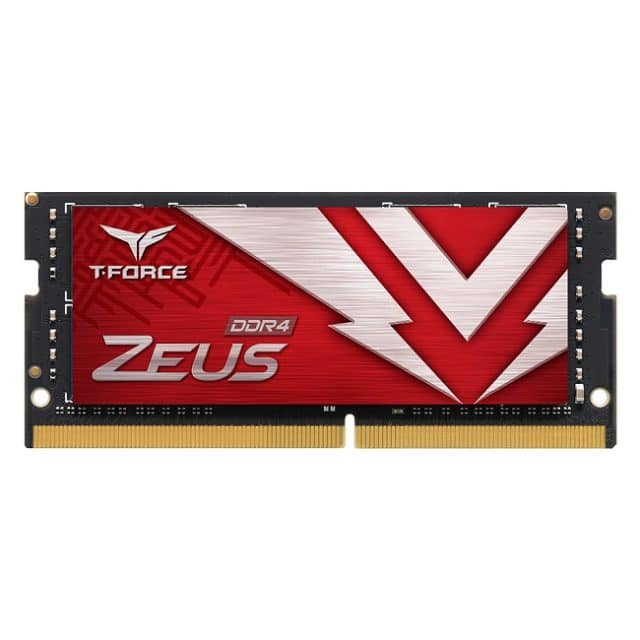 In ancient Greek mythology, Zeus was the god of thunder. With that said, "Zeus" makes a really cool product name for PC gaming components, as gamers are sure to enjoy the rumble of bass coming from their speakers as they set off bombs and fire guns in their favorite games.
And so, TEAMGROUP has selected the aforementioned god's name to represent its new DDR4 gaming memory. Called "T-FORCE ZEUS," there are sticks of RAM available for both desktop and laptop computers. Not only should they perform well, but they are quite attractive too. Keep in mind, while the SO-DIMM sticks are technically designed for laptops, they will also work with mini computers, such as the Intel NUC.
ALSO READ: TEAMGROUP releases affordable MP33 PRO NVMe PCIe Gen3x4 M.2 SSD
"The T-FORCE ZEUS DDR4 U-DIMM Gaming Memory features T-FORCE's iconic logo and a fierce thunderbolt design, symbolizing the awesome power of Zeus backing up the player. Built with a high-end integrated circuit, this memory module comes with up to 32GB of RAM and frequency options ranging from DDR4 2666 to DDR4 3200. Say goodbye to complicated BIOS configuration as it supports overclock profiles, allowing you to switch speeds at a press of a button. You can also upgrade easily regardless of whether you use Intel or AMD processors," explains TEAMGROUP.
The company also says, "Following the release of our VULCAN SO-DIMM Memory, TEAMGROUP announced the T-FORCE ZEUS SO-DIMM DDR4 Gaming Laptop Memory to meet the diverse needs of gaming enthusiasts. One stick features a vast 32GB of memory while providing RAM speeds of up to 32000Mhz. Players do not have to worry about compatibility issues as it is certified to support the latest 11th Gen Intel Core and AMD Ryzen 4000 Series mobile processors."

TEAMGROUP shares specifications below.
Module Type
288 Pin Unbuffered DIMM Non ECC (Desktop)
Capacity
8GB / 8GBx2 / 16GB / 16GBx2 / 32GB / 32GBx2
Frequency
2666
3000
3200
3200
Data Transfer Bandwidth
21,328 MB/s
24,000 MB/s
25,600 MB/s
25,600 MB/s
(PC4 21300)
(PC4 24000)
(PC4 25600)
(PC4 25600)
Latency
CL19-19-19-43
CCL16-18-18-38
CL20-22-22-46
CL16-20-20-40
Voltage
1.2V
1.35V
1.2V
1.35V
Dimensions
32(H) x 134(L)mm
Warranty
Lifetime warranty
Module Type
DDR4 260 PIN SO-DIMM (Laptop)
Capacity
8GB / 16GB / 32GB
Frequency
2666
3200
Data Transfer
21,300 MB/s
25,600 MB/s
Bandwidth
(PC4 21300)
(PC4 25600)
Latency
CL19-19-19-43
CL22-22-22-52
Voltage
1.2V
Dimensions
30(H) x 70(L)mm
Warranty
Lifetime warranty
If you are interested in the TEAMGROUP T-FORCE ZEUS DDR4 gaming RAM for desktops, sticks can be purchased here now. Unfortunately, the laptop variant of the memory does not yet seem to be available. The SO-DIMM models should hopefully hit stores very soon, but you can keep checking here in the interim.
Please note: Some of the above links may be affiliate links, meaning we, or our writers, may receive payment if you purchase one of these items (or other items) after clicking on them.