Lexar launches NQ100 2.5-inch SATA SSD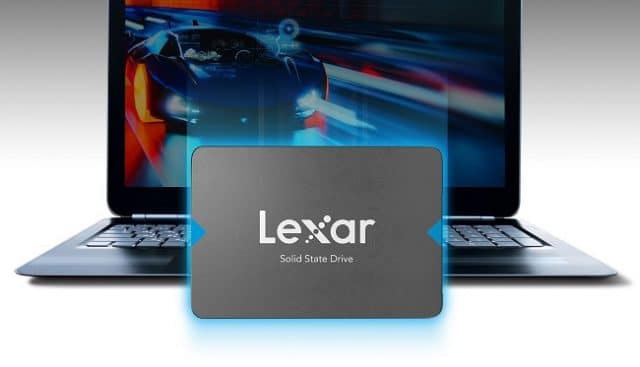 M.2 NVMe solid state drives are much faster than 2.5-inch SATA versions -- the former is clearly the future. And yet, companies continue to manufacture new models of the latter. But why? It is quite simple -- many computers don't have M.2 ports, so those types of drives are of no use to people with older computers. Not to mention, SATA SSDs are still fast enough, making them great drop-in upgrades.
With all of that said, today, Lexar launches a new 2.5-inch SATA SSD. Called "NQ100," it is rather unremarkable, making it just another SATA drive on the market. However, its affordable $36.99 starting price should make it attractive for those on a budget -- especially consumers upgrading from a mechanical hard drive.
"Improve your system's performance and enjoy faster startups, data transfers, and load times for applications. Boasting read speeds of up to 550MB/s, the Lexar NQ100 SSD will refresh your laptop or PC for a faster experience. The NQ100 SSD is also shock and vibration resistant, making it more reliable and durable than a typical hard drive. It is also cooler, quieter, and more energy efficient than traditional HDD," says Lexar.
Joel Boquiren, the company's General Manager says. "Lexar is dedicated to expanding our SSD portfolio and continue to offer high-quality solid-state drives for various computing needs. The new Lexar NQ100 SSD provides customers with an easy yet cost-effective way to boost PC performance, and with capacity options ranging from 240GB-960GB, users can easily expand storage for their content-driven lifestyles."
Lexar shares specifications below.
Color: Gray
Capacity: 240GB, 480GB, 960GB
Interface: 2.5-imch SATA III (6Gb/s)
Speed: Sequential read up to 550MB/s
Operating Temperature: 0°C to 70°C (32°F to 158°F)
Storage Temperature: -40°C to 85°C (-40°F to 185°F)
Shock Resistant: 1500G, duration 0.5ms, Half Sine Wave
Vibration Resistant: 7~800Hz, 3.08Grm, 20G, 1 Oct/min, 30min/axis(X,Y,Z)
TBW: 120GB: 84TB, 240GB: 168TB, 480GB: 336TB
DWPD: 3.2
Dimension (L x W x H): 69.85mm x 100.2mm x 7mm / 2.75" x 3.94" x 0.28"
Weight: 34g
The Lexar NQ100 2.5-inch SATA SSD will be available later this month in two capacities -- 240GB for $36.99 and 480GB for $65.99. They can be had here very soon. Lexar promises a 960GB variant in the future, but pricing and availability for that model are not yet known.
Please note: Some of the above links may be affiliate links, meaning we, or our writers, may receive payment if you purchase one of these items (or other items) after clicking on them.