OWC Envoy Pro FX is a rugged external NVMe M.2 SSD with Thunderbolt and USB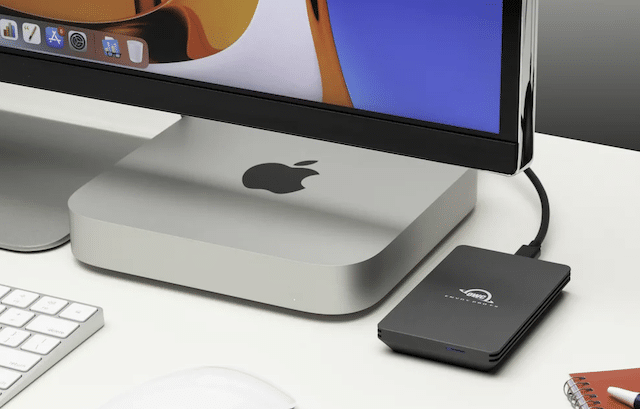 While I am not a "Mac guy," I recently bought a 2020 Mac mini. Why? Well, I was quite intrigued by Apple's new M1 processor, and the $699 starting price was actually reasonably affordable. And so, I went with the base model (8GB RAM, 256GB SSD), as Apple's prices for more memory and storage are a total rip-off. For instance, to go from 8GB to 16GB RAM costs $200. Sorry, but I can't drop two bills on 8GB. Not happening, Apple.
Unfortunately, you cannot upgrade the RAM, so the 8GB decision might bite me in the ass one day, but I'll cross that bridge later. However, since the little computer has two Thunderbolt and two USB ports, I knew I could always add fast storage later on. And now, Other World Computing (aka OWC) has a new rugged drive (for macOS and Windows 10) that is perfect for this.
Called "Envoy Pro FX," it is an NVMe M.2 SSD (with speeds up to 2,800MB/s) housed in an enclosure -- fairly typical. What makes it special, however, is it has two chipsets -- Intel Titan Ridge for Thunderbolt and Realtek RTL9210 for USB. In other words, you get the best of both worlds -- the speed of Thunderbolt when connected to such a computer and the compatibility of USB when a machine doesn't have TB. This alleviates a major pain point of Thunderbolt-only external SSDs -- you won't hit a brick-wall when needing to connect to a USB-only machine.
"The OWC Envoy Pro FX is ideal for everyone and every need for Mac and PC compatibility spanning back to 2010. Fast, tough, Bus-powered (no AC adapter needed) portability. That's a lot of features boxes checked off. The OWC Envoy Pro FX then goes to the next level by being the ideal drive for various uses and ranging from photography, video, and document storage backups to a secondary/portable OS boot drive. The perfect on-set project drive for editing dailies, multi-angled camera shots, utilizing large sample libraries within audio projects, or portable Steam games library," says Other World Computing.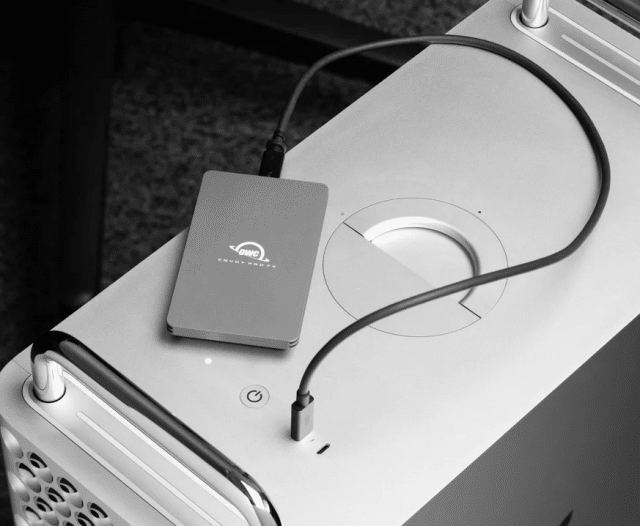 OWC further says, "Its sleek, heat-dissipating charcoal grey aluminum housing is IP67 rated so that you can work in the dirtiest and wettest environments. Take on the urban jungle or a chaotic movie set with supreme confidence that your data is protected by MIL-STD810G certified military-level drop toughness. It's so tough that it was sent into space and back aboard the Blue Origin New Shepard rocket. Whether you're dropping it in a puddle or suspending it in zero-G, the Envoy Pro FX has all the right stuff."
In the box, you get two cables -- one is Thunderbolt and the other is USB-C to USB-A. As you can see from the below image, you simply plug the cable you are using into the USB-C port on the drive. This is pretty nifty, as many such drives have cables that are hardwired in, so if the cable gets damaged, you are pretty much out of luck. Here, if your dog chews on the wire and destroys it, for example, you can just buy another.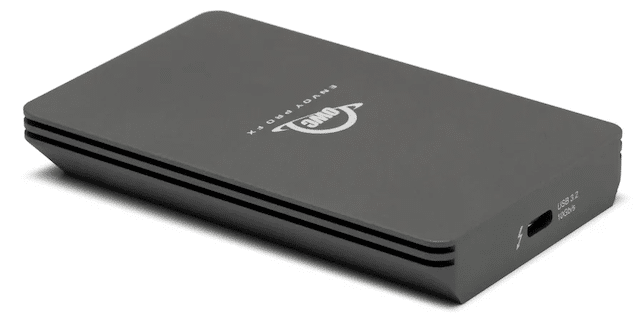 The OWC Envoy Pro FX NVMe M.2 SSD is available for purchase immediately, and comes in four capacities -- 240GB, 480GB, 1TB, and 2TB. They are priced at $169.99, $199.99, $299.99, and $479 respectively. As of now, only the 240GB and 2TB seem to be in stock, however. You can buy those variants here.
Please note: Some of the above links may be affiliate links, meaning we, or our writers, may receive payment if you purchase one of these items (or other items) after clicking on them.