Microsoft ad claims the Surface Pro 7 is a better choice than a MacBook Pro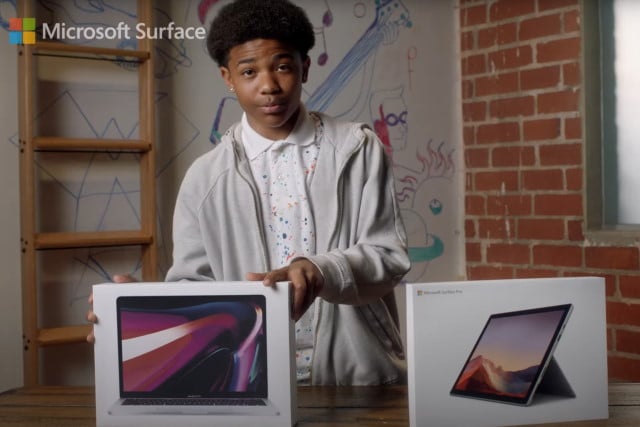 There has always been a healthy rivalry between Microsoft and Apple, and with a new ad, the Windows maker is spoiling for a fight -- a Surface Pro 7 vs MacBook Pro fight.
The ad sees Microsoft making the bold claim that its self-produced Surface Pro 7 is a better device -- and a better choice -- than Apple's MacBook Pro. One of the key arguments Microsoft uses is that its own device is much cheaper, helped by the fact that there is a special deal available at the moment.
See also:
It is, of course, no surprise that in comparing the Surface Pro 7 and MacBook Pro, Microsoft found Apple's laptop to be lacking in certain areas. The company cites a touch screen and pen as reasons to choose the Surface over the MacBook, as well as the fact the keyboard is detachable. Going down this route, it probably would have made more sense for Microsoft to draw comparisons against the iPad Pro.
Microsoft also says that app and game support is far better on the Surface Pro 7, before finally pointing out that the MacBook Pro is more expensive.
You can see the ad for yourself here:
In the description for the video, Microsoft says:
Only Surface Pro 7 has the versatility and portability of both a tablet and a laptop. With features like touchscreen, detachable keyboard and pen, and enough power to run your favorite apps -- you can work or play from anywhere. Microsoft Surface Pro 7 has everything you need to do what you love.
So... which side of the fence do you fall on? Pushed to make a choice, would you opt for a Surface Pro 7 or a MacBook Pro?