Netflix's 'The Trial of the Chicago 7' is free to watch on YouTube for 48 hours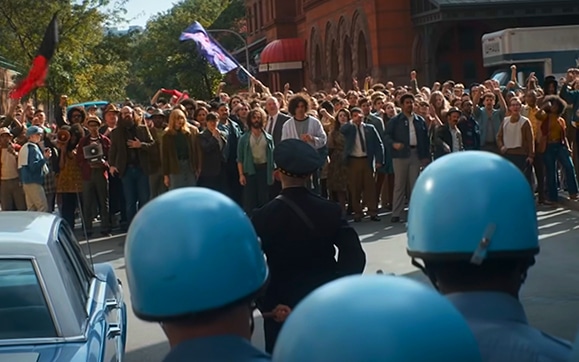 Written and directed by Academy Award-Winner Aaron Sorkin -- whose writing credits also include The West Wing, A Few Good Men, The Newsroom, and Steve Jobs -- The Trial of the Chicago 7 tells the story of the unfair trial that followed an uprising at the Democratic Party Convention in Chicago in 1968.
The film was released last year on Netflix and stars the likes of Eddie Redmayne, Sacha Baron Cohen, Mark Rylance, Joseph Gordon-Levitt and Michael Keaton. It's definitely worth a watch, and the good news is if you haven't already seen it, and aren't a Netflix subscriber, you can watch it for free on Netflix's YouTube channel from Friday. Although you will need to be quick as it will only be available for 48 hours.
Announcing the move, Netflix says:
What was intended to be a peaceful protest at the 1968 Democratic National Convention turned into a violent clash with the police and the National Guard. The organizers of the protest - Abbie Hoffman, Tom Hayden, Jerry Rubin, Rennie Davis, David Dellinger, Lee Weiner & John Froines along with Bobby Seale, the co-founder of the Black Panthers were charged with conspiracy to incite a riot and the trial that followed was one of the most notorious in history.

To commemorate the anniversary of this monumental trial, The Trial of the Chicago 7 will be available globally for 48 hours for free on Netflix US YouTube Channel -- Friday, Feb. 19th at 12am PST -- Saturday, Feb 20th at 11:59pm PST.
You can watch the movie's official trailer below.