OWC Accelsior 8M2 is a PCIe 4.0 x16 SSD with up to 64TB capacity and 26,000MB/s speed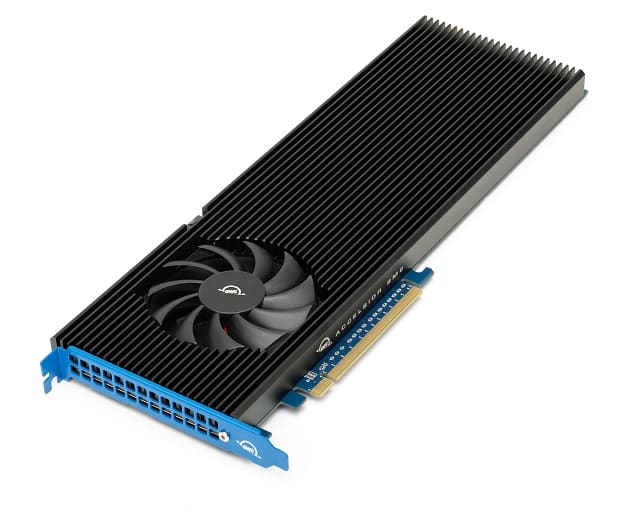 See that graphics card? Actually, it is not a GPU at all! While it does have a x16 PCIe connector, it is a solid state drive -- sort of. Actually, it technically is not a drive itself, but instead, a card that you plug SSDs into. Called "Accelsior 8M2," it can be had with up to 64TB of storage pre-installed with an insane performance of up to 26,000MB/s.
Yeah, the actively cooled OWC Accelsior 8M2 is an absolute beast. In fact, the company claims it is the "world's fastest and highest capacity PCIe SSD." With that said, you will need a pretty modern computer to truly take advantage of the high-end performance. You see, a desktop with a PCIe 4.0 x16 slot will be necessary to achieve the promised top speeds. It will be compatible with previous generation PCIe x16 slots, just not at full speed.
ALSO READ: TUXEDO Nano Pro is a tiny Linux PC that's upgradeable and powered by AMD Ryzen
"Accelsior 8M2 delivers the consistent low latency data throughput required in edge computing applications such as industrial automation, smart city ecosystems, and smart retail solutions. It feeds CPUs and GPUs huge amounts of data lightning-fast for real-time predictive analytics. With 60 percent of storage professionals using NVMe SSDs to process large data sets generated at the edge, OWC Accelsior 8M2 is more than a competitive advantage. And to ensure OWC Accelsior 8M2 keeps running at peak speed for the long haul, there's a quiet cooling fan in the aircraft-grade aluminum heat shield," says OWC.
The company adds, "The OWC Accelsior 8M2 brings impressive speed and storage capacity to 2019 Mac Pros, Windows or Linux computers, and PCIe expansion systems. It utilizes the total bandwidth of the latest PCIe technology and has a highly efficient heat dissipating design to provide ultra-reliable speeds up to 26,000MB/s. Creating the fastest PCIe SSD meant combining bold engineering with the latest technology. Each OWC Accelsior 8M2's eight NVMe M.2 SSD slots can run at their full x4 lanes of data throughput. All that insanely fast speed through an entire PCIe 4.0 x16 lane architecture with up to 64TB of storage."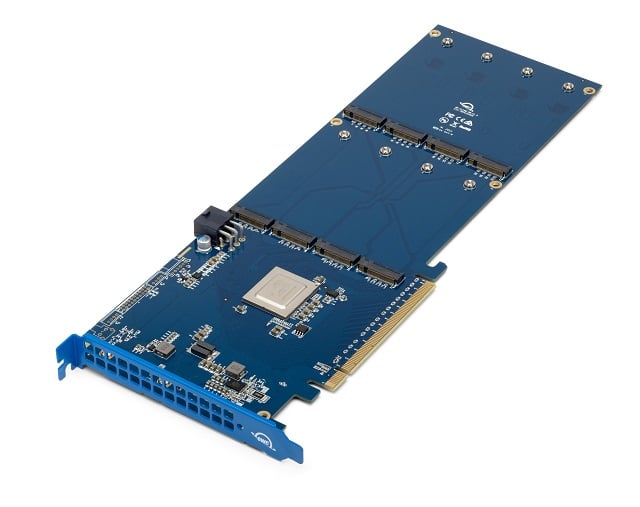 OWC shares specifications of the Accelsior 8M2 PCIe 4.0 x16 SSD below.
STORAGE INTERFACE
CARD INTERFACE
CARD FORM FACTOR
PCIE LANES
PCIE SLOT
PCIE VERSION
RAID FEATURES
MAC OS COMPATIBILITY
macOS 10.13 High Sierra
macOS 10.14 Mojave
macOS 10.15 Catalina
macOS 11.x Big Sur
macOS 12.x Monterey
PC OS COMPATIBILITY
Windows 10 32-bit Edition
Windows 10 64-bit Edition
Windows Server 2016
NUMBER OF BAYS
DRIVE BAYS
8 bays supporting:
M.2 drives
Supports NVMe M.2 2280 "M Key" SSDs via (8) PCIe 4.0 x4 Slots
DIMENSIONS
Height: 12.7 cm (5.0 in)
Length: 32.5 cm (12.8 in)
Width: 2.2 cm (0.9 in)
WEIGHT
AMBIENT TEMPERATURE
Operating: 41°F to 95°F (5°C to 35°C)
Non-Operating: -4°F to 140°F (-20°C to 60°C)
ALTITUDE
Operating: -304.8 m to 3,048.0 m (-1,000 ft to 10,000 ft)
Non-Operating: -304.8 m to 12,192.0 m (-1,000 ft to 40,000 ft)
HUMIDITY
Operating: 8% to 90% non-condensing
Non-Operating: 5% to 95% non-condensing
IDLE (TYPICAL)
SEEK (TYPICAL)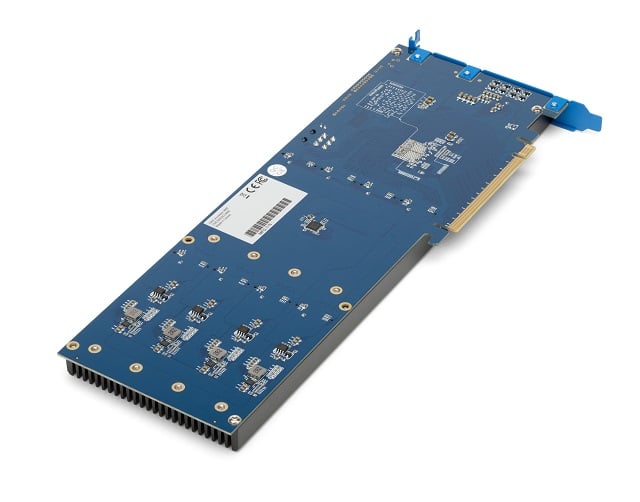 Is the OWC Accelsior 8M2 PCIe 4.0 x16 SSD expensive? Well, yes, but if you truly need this performance it will be well worth the cost. A barebones version of card with no storage (so you can add your own SSDs to it) costs $799; the price goes up from there based on the capacity you choose. For instance, the 2TB (8x 240GB) model will run you $1,299 while the 64TB (8x 8TB) will cost you a sky-high $12,999. You can order the beast here now.