O&O AppBuster updates to make it easy to remove the bloat from Windows 11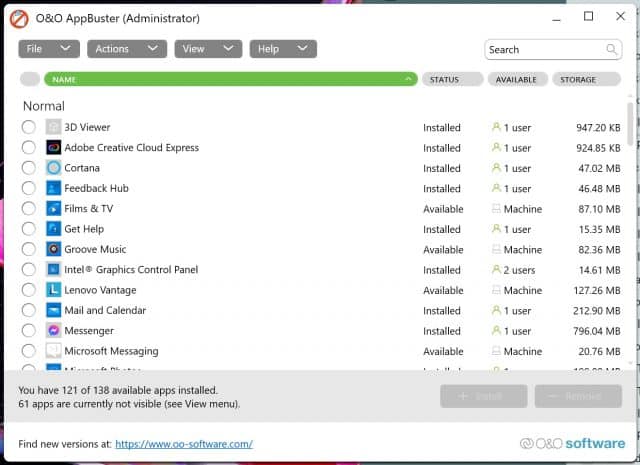 Hard drives may be larger and cheaper than ever, but that's no reason to fill them up with things we don't need. While you may be in the habit of uninstalling software that has outlived its use, when it comes to Windows itself there are probably many elements you not only don't use, but don't know how to get rid of.
And this is where O&O AppBuster can help. Newly updated to support Windows 11, this portable app provides an easy way to remove not only the software you have manually installed, but also the pre-installed components of Windows. In addition to supporting Windows 11, this latest version adds new features and updates the look and feel.
It is already possible to remove some of the pre-installed components of Windows 10 and Windows 11 using the Settings app, but there are plenty of apps that are not listed there. With O&O AppBuster, even these hidden components are revealed and made removable.
The fact that the software is supplied as a portable app and weighs in at just 1Mb means that even if you are really struggling for space, this is a tool that can help you out. In addition to giving you ability to remove apps that have been pre-installed by Microsoft, AppBuster will also weed out apps installed by third-parties.
To make the process of uninstalling software as safe as possible, you are always offered the opportunity to create a system restore point -- and this is handy just in case anything happens to go wrong. AppBuster also categorizes the software it finds so you know what can be safely removed and what is better to leave alone.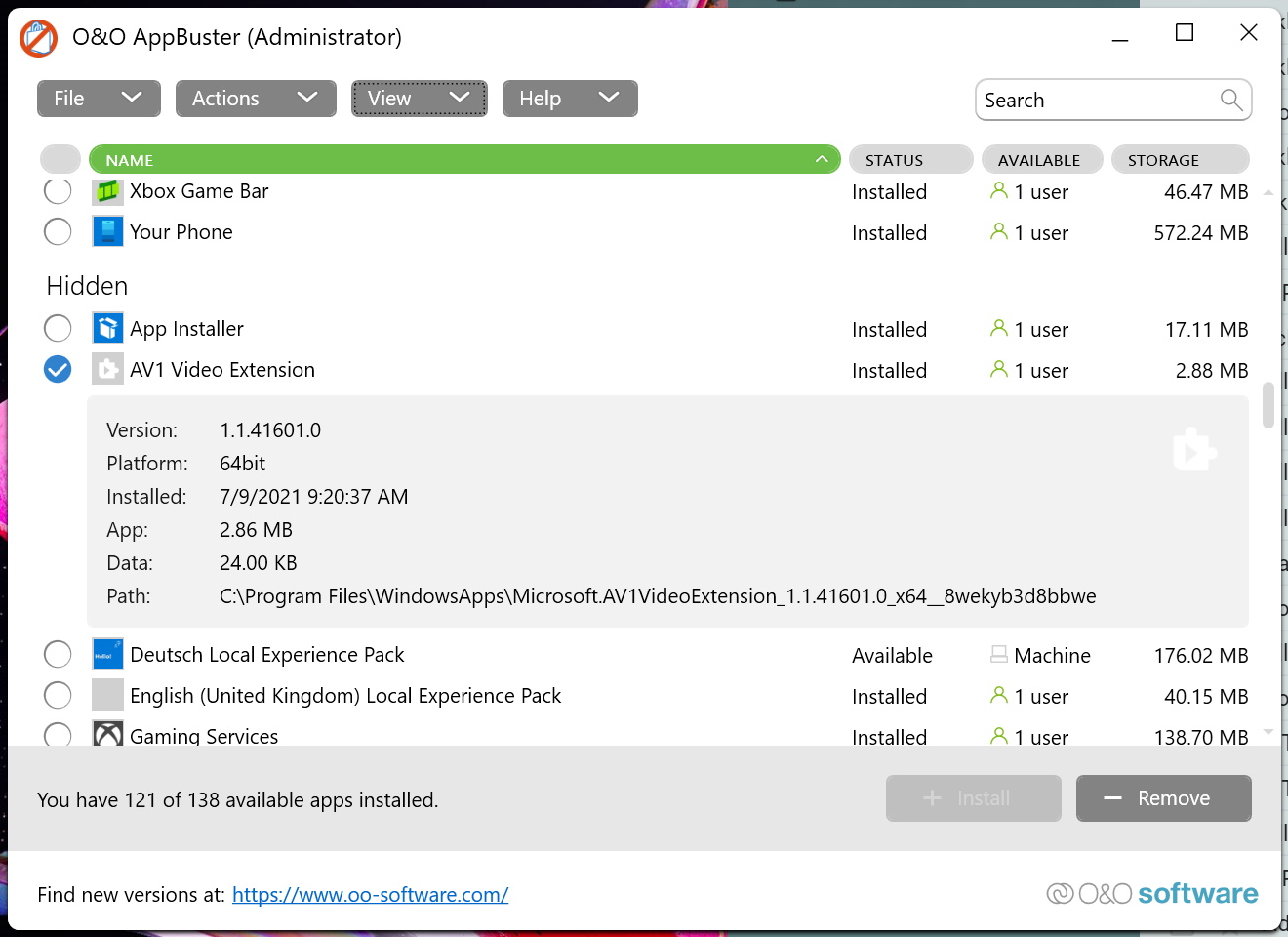 By default, AppBuster will not show you everything that can be removed from your hard drive. To complete the list, you will need to pay a visit to the View menu and make sure that all of the options are checked -- this means that System Apps and Framework Apps will then be made visible and removable.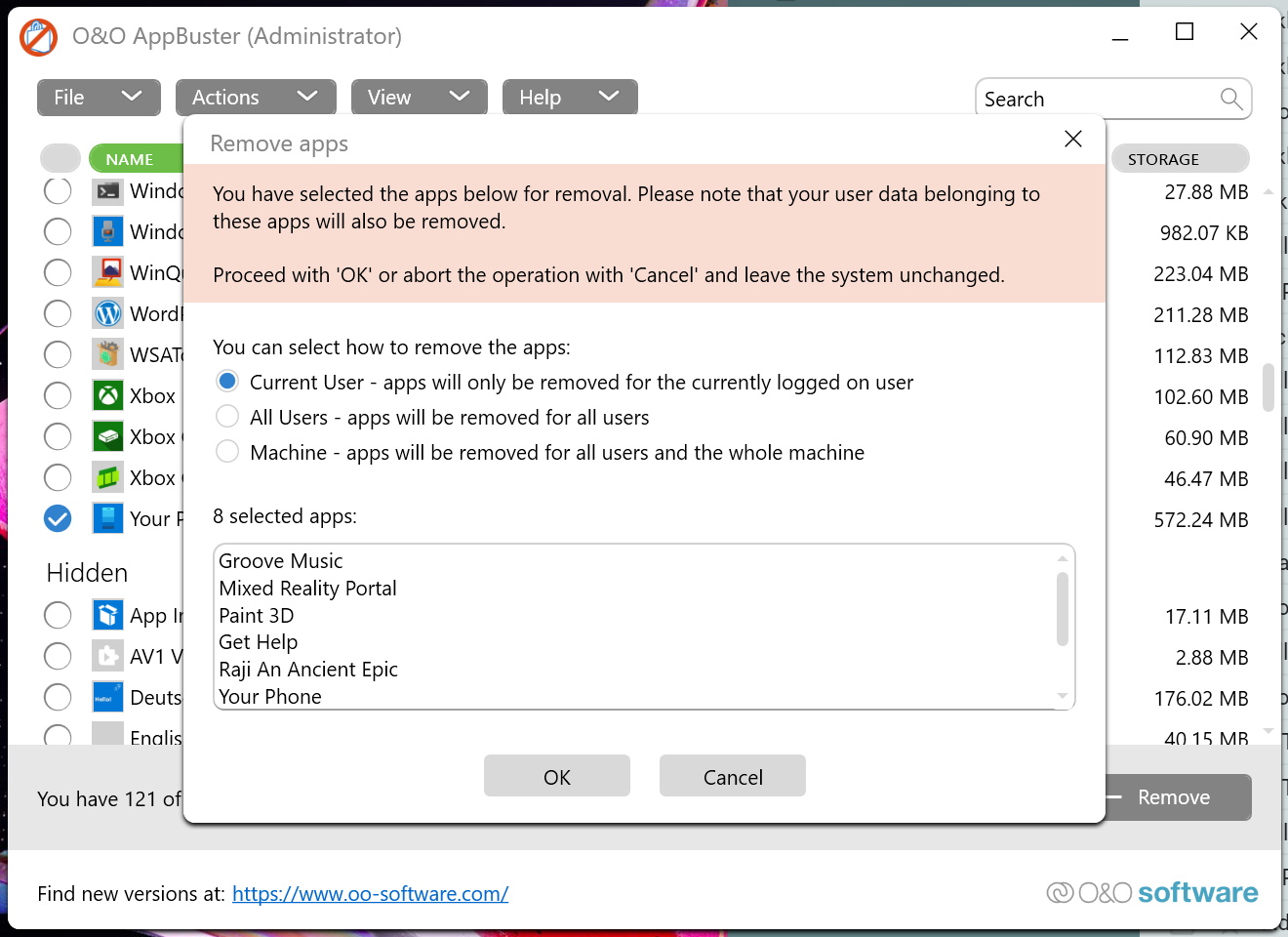 You can remove apps on an individual basis, or you can free up a load of space at once by opting to select several apps and removing them all in one fell swoop. As O&O points out, working through the list of installed software and getting rid of what you don't want is as much about regaining control -- particularly of your privacy -- as it is about reclaiming disk space.
Download O&O AppBuster here.