Satechi ST-UC165GM is an elegant 165W USB-C 4-Port PD GaN Charger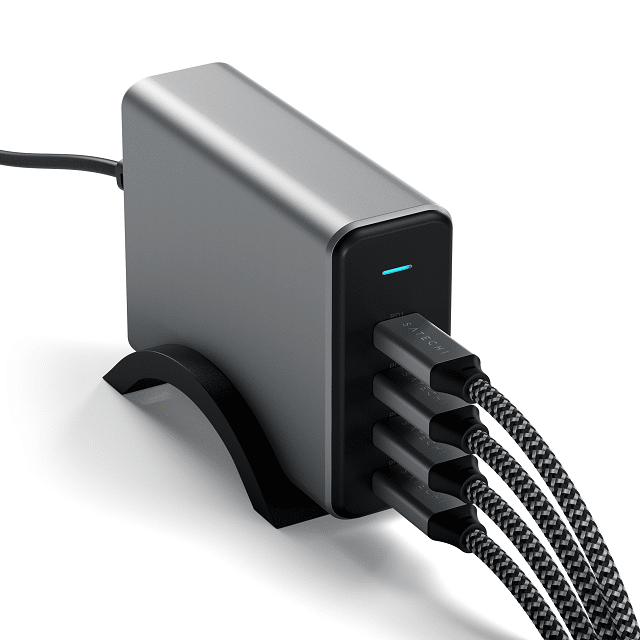 The days of charging just one device are long gone. Back in the day, people just charged their smartphone. Nowadays, they charge their phone, tablet, wireless headphones, smartwatch, and more. And so, things can get quite messy when needing to charge them all at once. You can use multiple individual charging adapters, of course, but outlets are usually installed in pairs. With that said, you can add a power strip to gain extra outlets, but that can be an eyesore. Instead, a multi-charger can help keep things tidy.
GaN chargers are all the rage these days, as they offer a lot of wattage in a tiny package. Today, Satechi launches a new multi-charger that uses GaN technology. It offers four USB-C ports for with a maximum output of 165 watts. It even comes with a removeable stand to hold it vertically. Not only can it charge mobile devices, but laptops too!
ALSO READ: Satechi announces 2-in-1 Headphone Stand with Wireless Charger for Apple AirPods Max
"The new 165W USB-C 4-Port PD GaN Charger features next-gen Gallium Nitride technology to provide faster charger and better power efficiency for MacBook Pro M1, iPad Pro, and more. With four USB-C PD ports, Satechi's GaN charger powers multiple devices at once to ensure desktop devices stay powered while working from home or in office and while on-the-go. Its advanced power distribution automatically adjusts based on the number of ports used and devices connected, resulting in 100W, 100W/60W, 60W/60W/45W or 100W/30W/30W, 60W/45W/30W/30W splits, up to 165W total," says Satechi.
ALSO READ: Satechi launches a trio of multiport adapters for M1-powered Apple Mac computers
The company further says, "As with all of Satechi's chargers, the 165W USB-C 4-Port PD GaN Charger includes CE and ETL certifications to ensure a quick, yet safe charge for connected devices. No need to worry about devices overheating or cords getting tangled. Simply detach the power cord and place the charger on the convenient stand for easy storage and secure placement on any desktop surface."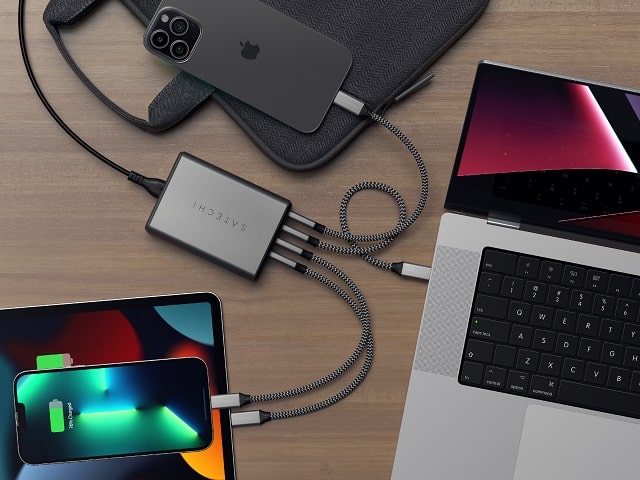 The ST-UC165GM 165W USB-C 4-Port PD GaN Charger can be pre-ordered from Satechi directly here now for $119.99. The company says it should begin shipping next week, on January 14. If the price seems a bit high, I have great news; Satechi is offering 20 percent off if you use code CES20 (expiring soon) at checkout.