iStorage diskAshur M2: An ultra-secure hardware encrypted portable SSD [Review]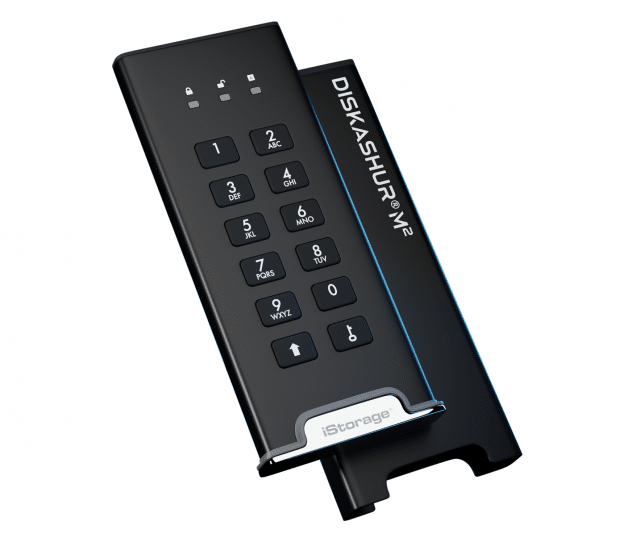 Storing files in the cloud has a lot of benefits, not least making them easily accessible from anywhere. It isn't necessarily the most secure option, however.
If you have private data that you can't afford to fall into the wrong hands, you should definitely consider a PIN authenticated hardware encrypted portable USB SSD like iStorage's excellent diskAshur M2.
It's compact at just 106 x 45 x 12mm (111 x 45 x12mm if you include the protective metal sleeve), and very versatile. You can use it with most operating systems, including Windows, macOS, Chrome OS, iPadOS, Linux and Android, and it comes with both USB-A and USB-C cables, as well as a neat carry case.
The diskAshur M2 secures your personal data using FIPS PUB 197 validated, AES-XTS 256-bit hardware encryption and a Common Criteria EAL 5+ (Hardware Certified) secure microprocessor offers built-in physical protection mechanisms that encrypts both the data and the encryption key.
Before you can use the diskAshur M2, you will need to create an admin PIN. If you plan to share the drive with other people -- such as company employees -- you can create a separate user PIN for them.
Unlocking the drive is just a matter of tapping a PIN into the integrated keypad and then pressing the unlock button. To secure it again, just press the lock button, or eject/unplug the drive. The drive will also automatically lock itself after a period of inactivity.
A row of three LEDs above the keypad show the drive's status -- red is locked, green is unlocked, and blue is admin mode.
The only thing included on the drive itself is the manual in PDF format.
For security reasons, there are several PIN requirements. They must be a minimum of 7 digits and a maximum of 15 digits, not contain all sequential numbers (no 1234567) or all repeating numbers (3333333). The alphanumeric keyboard lets you create a PIN by spelling out words, and a shift key allows you to make the PIN even harder to guess.
The keys are wear resistant epoxy coated to prevent the most frequently used digits from being revealed.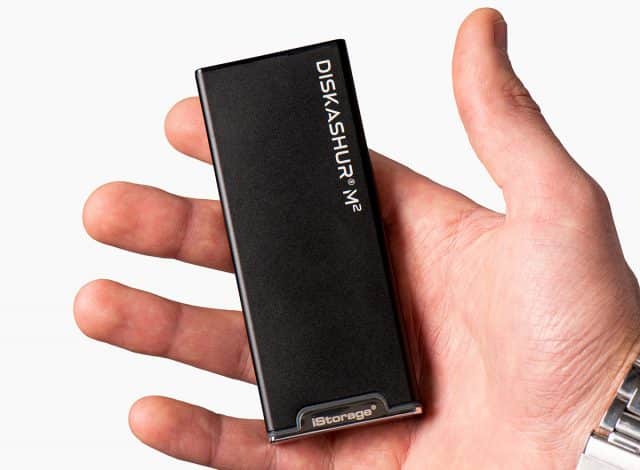 The diskAshur M2 is protected with a brute force hack defense mechanism, so after 10 consecutive incorrect entries, the drive will delete the user PIN. You can use the admin PIN to get back in (although if this PIN is entered incorrectly 10 consecutive times then all data, PINs and the encryption key will be deleted) or a one-time user recovery PIN.
The drive is also tamper-evident, so you'll know if someone has tried to break into it.
In addition, a self-destruct feature lets users pre-program the drive with a PIN which, once entered (such as when under duress), instantly deletes all data, PINs and the encryption key, killing access to the drive's contents. Just don't confuse your admin PIN with the self-destruct one!
Both admin and users can set the drive to read only (write protect) mode and if you install an OS on the drive you can boot directly from it.
The drive is very well made -- iStorage says the diskAshur M2 can survive a drop of up to 4m onto a concrete surface and withstand the weight of a 2.7 ton vehicle and I've no reason to doubt those claims. It's also water and dust resistant (IP68 certified).
If you're looking for a very secure portable solution to prevent your personal data falling into the wrong hands, then the diskAshur M2 portable SSD will suit your needs perfectly.
It is available in 120GB, 240GB, 500GB, 1TB and 2TB capacities, and priced from $169/£129. You can buy it directly from iStorage, Amazon, or other select retailers.