Get 'Microsoft 365 Portable Genius' ($12.00 value) FREE for a limited time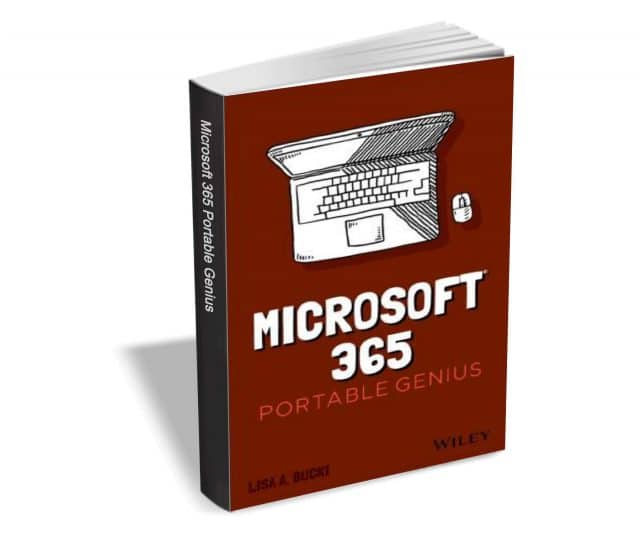 Do you want to make your Microsoft 365 account a productivity behemoth? Do you want to squeeze every last bit of awesome from Word, Excel, and PowerPoint and learn a little more about Outlook, too? Microsoft 365 Portable Genius has you covered.
A seasoned tech expert and trainer, author Lisa A. Bucki shows you how to build Word documents, Excel workbooks, and PowerPoint presentations the right way, as well as how to use high-impact design techniques to make your documents pop.
This book answers 11 key questions about how to make the most of Microsoft 365, providing genius tips as it leads you through the essentials. You'll learn how to:
Tackle common skills like creating files, adding basic content, navigating in a file, making selections, copying and moving content, and saving files
Build a new Word document by using outlining, bullets and numbering, columns, and other features for creating and enhancing content
Enhance Excel workbook files by organizing data on different sheets, filling entries, creating range names, and entering powerful, accurate formulas
Develop a PowerPoint presentation by choosing the right layout for each slide and adding content to placeholders, and then transform it into an on-screen show with transitions and animations
Add punchy design and branding by using text formatting, themes, and graphics in your files
Use lists, tables, and charts to make data easier to interpret
Create, send, reply to, and organize email in Outlook, as well as add contacts Share file contents on paper or digitally
Check out the Online Bonus Appendix at Wiley for more genius coverage of topics including additional Excel formula review techniques, essential Excel functions, theme colors and fonts changes, and WordArt
Whether you have used Office in the past or are new to its subscription successor Microsoft 365, Microsoft 365 Portable Genius provides the expert guidance you need to work smarter in the suite.
Microsoft 365 Portable Genius, from Wiley, usually retails for $12, but BetaNews readers can get it entirely free for a limited time.
All you have to do to get your copy for free is go here, enter the required details, and click the Download button.
The offer expires on February 2, so act fast.