TEAMGROUP teases insanely fast T-FORCE CARDEA PCIe 5.0 NVMe 2.0 M.2 SSD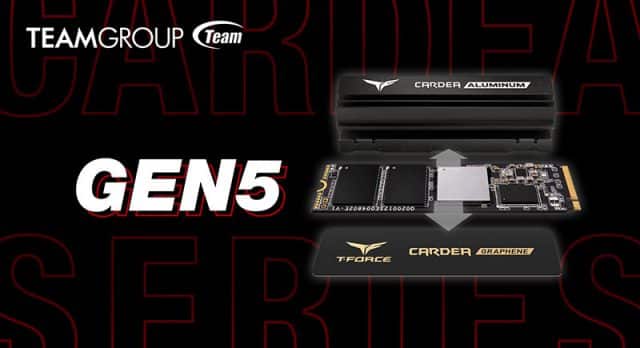 The vast majority of consumers don't own a computer with PCIe 4.0 support, so almost no one is currently reaping the benefits of a PCIe 4.0 solid state drive. Hell, most consumers don't really need anything more than a meager SATA SSD these days. Enthusiasts that desire the "latest and greatest" are the only ones truly clamoring for hardcore PCIe 4.0 SSD performance -- mostly just for bragging rights.
Of course, the computer industry will continue to push boundaries in an effort to avoid being stagnant. And so, PCIe 5.0 is on the horizon -- even though it is largely unnecessary. TEAMGROUP is happy to manufacture such an SSD, and today, it teases exactly that. Under the company's T-FORCE gaming brand, a PCIe 5.0 NVMe 2.0 SSD should hit stores later this year.
"To meet the demand for high-speed storage driven by big data, TEAMGROUP is utilizing its years of experience in computer storage solutions to launch the newest PCIe Gen5 SSD this year. In light of the generational advancements of PCIe 5.0, the company is actively committed to developing products using cutting-edge technologies. With its expertise in R&D and dedication to product excellence, the company is excited to enter the next era of SSD storage solutions and to deliver spectacular new products to the world," says TEAMGROUP.
The company adds, "It is capable of maximum sequential read speeds of over 13,000MB/s and write speeds exceeding 12,000MB/s, and together with a maximum storage capacity of 4TB, it will be the highest performance PCIe Gen5 flagship SSD on the market when launched. The T-FORCE PCIe Gen5 SSD will support the latest NVMe 2.0 and will be enhanced using proprietary technology to improve durability and product lifespan. domains."
ALSO READ: Logitech G413 SE is an affordable mechanical keyboard for PC gamers
Other than the insanely fast read and write speeds, TEAMGROUP is pretty quiet on much else. We know the T-FORCE SSD will carry the "CARDEA" name, but an exact model number is unknown. The company also fails to disclose pricing or a full list of storage capacities, but it is safe to assume the SSD will be expensive. What we do know a bit about, however, is availability. TEAMGROUP promises to begin production in Q3 of 2022, so the SSD should hopefully show up here before the end of the year.
Please note: Some of the above links may be affiliate links, meaning we, or our writers, may receive payment if you purchase one of these items (or other items) after clicking on them.