Ukraine conflict: Anonymous (and the internet) vs. Russia [Continuously updated]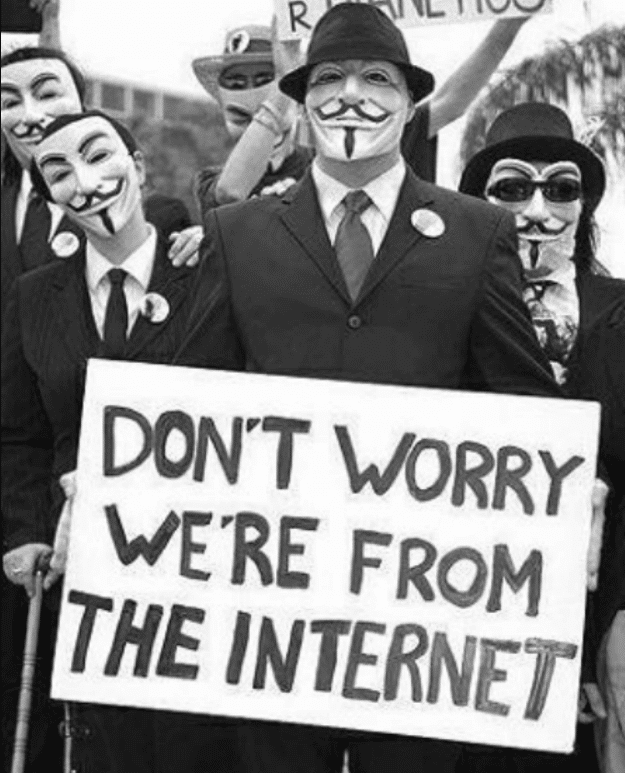 A few days ago, Russia launched a full-scale invasion of the sovereign nation of Ukraine. Likely most of you have seen at least some of the endless coverage that currently blankets the airwaves. But TV is only giving you part of the story; you can learn a lot more by nosing around online. For the past several days I have kept a running update of what hacktivist collective Anonymous has been up to. The group has been busy and they have made the Russian government even busier, hacking their various state-run 'news' services, such as RT (Russia Today). You can look back at the original post and the multiple updates that were added to it on a daily basis.
Now it's time to start again and unlike the original story, this time we are letting you know there will be updates that you'll want to check back in on. We will post them as they happen, which could be once or more in a day. We will begin with what is happening today, March 2.
SEE ALSO: In the Russia-Ukraine conflict, Anonymous is working quicker than government red-tape [Updated]
Earlier this morning, we learned that someone at Google is being especially unhelpful to the Ukrainian cause, in fact actively working against those trying to get the truth out to the people in Russia who are living in the middle of an overwhelming disinformation campaign orchestrated under Putin's orders.
That announcement came not long after MSN had pointed out that Google Maps and reviews were being used to help get information to people.
Anonymous also posted several images of a leaked document that show that Putin had this planned out a long time ago, and had already given the order a month before the invasion began. That was the time when he was claiming he had no plans to do anything and entered into talks with various world leaders under false pretenses.
Update 1:
While everyone is worried about the people of Ukraine during this time, those who have friends and family located in the nation with the unfortunate Russian border, are suffering more than most.
A Twitter feed called Duty2Warn, which focuses on current news, has made an announcement regarding communications service Frontier that has allegedly sent out an announcement to its customers promising free calls to Ukraine, now through March 11. We have sent an inquiry to Frontier to verify this, although there is really no reason to doubt it.
Update 2:
As of today, March 3, Anonymous has announced (although it hasn't taken responsibility for the act), that the Russian Space Agency has been hacked.
Problems continue to mount for the Russian leader and, to a certain extent, his main ally, Belarusian leader Alexander Lukashenko.
Update 3:
This evening, March 3, Anonymous is announcing the Crimean government website has been successfully taken offline. Crimea, for those who don't know, is a district in Ukraine, which Vladimir Putin seized back in 2014 in his ongoing attempt take to put the old USSR back together.
Update 4:
This morning March 4, Anonymous is announcing that the personal data of Russian soldiers who are or have fought in Ukraine have been released to the internet. Many may consider this a questionable move, as the soldiers are following the orders of Vladimir Putin at penalty, not only of death, but the death of their families.
Update 5:
Today, March 5, the fight in Ukraine continues unabated. In the tech news from this invasion the fight also continues.
Anonymous has set up a new way for people to help and it has posted instructions.
Meanwhile, The Times of London is reporting the Ukraine president Zelensky has survived three assassination attempts during this week.
And a Russian private jet is being tracked and appears headed for the United States.
You can also track the private jets of all of the Russian oligarchs on Twitter at: https://mobile.twitter.com/ruoligarchjets
Update 6:
Late Saturday after (EST US), March 5, Anonymous has announced it has taken down the website FSB. Ru. This is the Russian Security Services.
The Electronic Frontier Foundation (EFF) has published a guide to help Ukrainian and Russian users to stay safe with the Telegram app. You can find that here.
Update 7:
Sunday morning, March 6, began with news a lot of people have been waiting for. For the past several days the cries have been forthcoming for Visa and Mastercard to pull out of the Russian market, and today many people got their wish as each company issued a statement late Saturday that all transactions taking place in Vladimir Putin's nation would no longer be accepted. You can read the lengthy statements, if you wish from Visa and Mastercard.
One wonders now if this will finally push holdouts McDonalds and Burger King to follow suit. Transactions for the two just became much more difficult, given that the current value of the Ruble is less than one penny per US dollar. Other holdouts such as Pepsi and Coca Cola may stick it out longer.
After being caught and widely shamed for buying a load of Russian oil at a big discount, Shell had to release the following statement via its Twitter account.
Anonymous, meanwhile, released a statement regarding its attacks, reassuring everyone that it was doing everything it could to minimize effects on regular citizens.
In a follow-up to yesterday's post, regarding the Russian jet that seemed to be bound for the US, it landed at Dulles, outside of Washington DC. It was here to pick up the recently expelled Russian diplomats and return them to Russia.
Update 8:
A lot can change in a day, and this one has been no exception. As of the late afternoon, Sunday March 6, several services have made big announcements and we've learned about more of Vladimir Putin's plan for his own country.
It began with TikTok blocking Russian users. That sounds bad on the surface, as people have been uploading videos and news about what is going on there, but the service gave a compelling reason in its official statement.
Just hours later, it was reported that Netflix will cease business in Russia, stranding approximately one million subscribers there.
In a Facebook post, we learned that the Chief of General Staff in Belarus has resigned "Due to the mass refusal to take part in hostilities...Belarusian army does not have the ability to staff any battalion group."
Meanwhile, Reuters has reported that Italy has seized villas and yachts from Russian oligarchs totaling a whopping $156 million dollars.
Finally, it has been learned of Putin's plans to take Russia off the internet, isolating the people to only what state-run media approves for them. Anonymous announced that it plans to take action on this as well, shortly after Nexta TV, Eastern European news and media service, released documents confirming the plan
Update 9:
As today dawns here in the US on March 7, it is well into the day over in Ukraine, and the news didn't stop during the night.
Yesterday, Russia released a video Vladimir Putin at a luncheon surrounded by associates. This likely came in response to the multiple pictures released of him meeting with people while sitting at the far end of a long table, at least twenty feet from any person. There were many problems with the video, which Eastern European news service Nexta helpfully pointed out.
In much scarier news, CNN's Natasha Bertrand announced that Russia has shut down internet and mobile services to the nuclear power plant, Zaporizhzhia. The force is also not allowing inspectors in.
Finally, Anonymous announced the take-down of various Russian media services which it then used to begin rebroadcasting war footage from Ukraine.
Update 10:
It is early morning, Tuesday March 8. Here is what has happened since our last update. Things are moving quickly as always.
Anonymous has commandeered over 400 live camera feeds inside of Russia and is using them to broadcast news of what's really going on in Ukraine.
In perhaps the biggest news, Ukraine says it has killed the Russian commanding general of the nation's 41st army. The victory was announced by award-winning journalist Christo Grozev. It was learned because Russia had apparently lost its secure communications.
This perhaps came about after Russia took out local cell towers.
Ironically, Era is Russia's own system, which they hyped a lot when it was released last year. Did they not give a course on how it works to the people they were equipping with it?
Update 11:
Today, March 9, more news continues to come out of Ukraine. A hacktivist group there called ILIT300 (International Legion Information Technology Battalion 300), affiliated with Anonymous, has activated a large "phone bomb" aimed at Russia.
According to Cryptosphere, "ILIT300 developed a lightweight unmanned dialer software that can extract millions of Russian phone numbers from Excel spreadsheets." It is using this to send out real information from inside Ukraine to the Russian people, who are largely being kept in the dark, inside the new Iron Curtain
The International Atomic Energy Agency has lost all monitoring of the infamous Chernobyl nuclear site, apparently cut off by the Russian army.
And on a lighter note, which we all need right about now, you have perhaps seen the numerous photos of Ukrainian farmers towing off various Russian military vehicles with their tractors, but yesterday's photo came with an amusing caption.
Logitech has joined other companies in stopping product sales in Russia, and says: "In parallel to our humanitarian efforts, we recently took an important additional step and are pausing shipments into Russia. We hope this pause will be temporary and that the conflict in Ukraine will come to an end soon."
Update 12:
Today, March 10, day 13 of the Russian invasion into Ukraine was, once again, not without events, both encouraging and horrifying.
A video feed from a Ukrainian drone was released, although we can't be sure if the footage was intended to find its way online, as the source seems to be a cobbled together system, like the one a US teen put together to track Elon Musk's private jet or, more recently, the one put together to track the private jets of the Russian oligarchs.
At any rate, the feed released shows the results of a strike on one of the several Russian convoys attempting to navigate Ukraine.
Tesla, one of a handful of car makers who had not yet made any announcement regarding the Eastern European conflict, apparently had something in the works for a few days. The company is pledging to pay every Ukrainian employee three months of salary if they return to their home country to fight the ongoing war.
Update 13:
The latest news kicks off with a major leak of Russian information. This was a hack which DDoSecrets is taking credit for and it involved the release of 800GB of information from Roskomnadzor, an organization that handles the censoring of information that gets to the Russian people via the country's media.
As these files are combed through by people around the world it will be interesting to see what comes out of all that data.
Yet another major bank has pulled all business out of Russia. JP Morgan has ceased all operations within the nation. "In compliance with directives by governments around the world, we have been actively unwinding Russian business and have not been pursuing any new business in Russia," the company announced.
And we've learned that Russia is once again trying to hide what's really going on. This time, via a take down of major Ukraine ISP Triolan.
Update 14:
Yesterday was a very busy day in the ongoing conflict between Russia and Ukraine (and most of the rest of the world), albeit from a bit of a distance, for reasons that may be obvious to most.
We start with Air Astana, the Kazakhstan airline (and former major UCI team sponsor) which has announced that it is ceasing all flights to, from and even over Russia due to the cancellation of insurance on such flights.
In music news, Pink Floyd and David Gilmour have pulled all music post 1987 from every streaming service in Russia. Let's hope that both it works better for them than it did for Neil Young with Spotify, and that Putin is a big 'Dark Side of the Moon' fan, because it's one of the few of their albums he'll be able to listen to.
Ukraine Weapons Tracker has posted another birds-eye view of a drone strike on a Russian convoy near the Ukraine capital of Kyiv. They specify that they have not yet verified this footage.
And finally, YouTube expanded its block on Russian state-run media to include all nations.
Update 15:
It is afternoon on Saturday, March 12 here in the US, but mid-evening now in Ukraine and it's been another day of news with a tech slant coming out of Eastern Europe.
We begin with Google, which, in conjunction with the Ukrainian government, is adding an air raid warning system that will alert all Android users, according to Eastern European news service Nexta.
Anonymous, which made a lot of noise early on in the conflict with all of its quick actions to make life as difficult as possible for the Russian government and military, has not just gone away. The hacktivist group continues to have its hand all over the problems Russia is having even now.
The group's latest act is to jam the radio frequencies of the Russian military, a job made a bit easier by Russia itself the other day when it took out its own secure communications by mistake.
The group is also touting more than seven million messages that have been sent in the last week to Russian citizens in an attempt to communicate the real news about what is going on within Ukraine, even as Putin tries to tighten his new "Iron Curtain."
Update 16:
It's Sunday morning, March 13, already afternoon in Ukraine. Things didn't stop happening while we all slept (an hour less for those in the US -- you did remember daylight saving time, didn't you?
Since the last update, two Russian websites have been breached and begun leaking data. This time it comes courtesy of v0g3ISec. The names of the sites and the data that has been "freed" are not yet known.
To little surprise, Russia has begun restricting access to rights group Amnesty International, which currently hosts a petition to stop Russia's attack on Ukraine. This news comes from Netblocks.
And just to give everyone a chuckle, Portugal last night had a plan for a little joke that was unlikely to sit well with those either in the Russian embassy or in the Kremlin in Moscow.
Update 17:
Good morning, on Monday March 14. As Russia is apparently serious about peace talks (the country is set to default on two massive loans on Wednesday), there wasn't a lot of news in the past few hours.
However, that didn't stop them from blocking access to Instagram, apparently a platform they had neglected before, for some odd reason.
Russia also hit back at Ukraine with an attack on a large internet provider within the Ukraine and and made "hardware" go missing.
Update 18:
Monday was a bit of a dark day for reporting on current events in Eastern Europe. After a former New York Times reporter was killed in Kyiv on Sunday, another reporter, this one from Fox, was seriously injured there on Monday.
However, the media is still managing to get the news out of there, and also get real news into Russia, where a majority of people still believe what state-run TV and radio are telling them, and are unable to verify otherwise because of extensive blocks placed on the internet within the "Iron Curtain."
That didn't stop one brave woman from getting her message out, at least briefly, on Russia Channel One, the Kremlin's premier broadcast station.
Shortly after that clip was released and went viral online, the woman was identified as Marina Osyannikova, an editor for the station and it was quickly found she had made a video before executing the stunt.
Her current status, as far as it is known, is "detained by police for questioning."
Ukrainian Weapons Tracker also released another video, again a bird's eye view of an alleged strike on a Russian convoy.
In a little bit of lighter news, Anonymous found a new game created by a reddit user that allows you to play along with the latest Ukrainian fad.
Update 19:
A lot has happened since the previous update. Some good news and some not so much. That's be expected in an ongoing conflict -- war, in all senses, except for the fact that Vladimir Putin never actually declared it as such and as made the word a crime in Russia, punishable by jail if you use it there.
The big news is that after disappearing for a few hours, with not even her whereabouts known by her lawyer, the brave woman who held up the sign live on Russia's flagship state-run news channel, appeared in court today, still alive and seemingly well.
As opposed to the new draconian law that had her facing up to 15 years in jail, the judge used old sentencing guidelines and fined her a whopping 30,000 rubles. While that sounds extreme, and it would have been a hefty fine a year ago, it now equates to roughly $275. Yes, the ruble's value has sunk that low.
A hint may have been found in two things when she exited the courthouse. One, she was allowed to talk to reporters, a rarity, and two, she emphasized she acted alone, and was not part of a conspiracy. Perhaps a bit of a deal was made that allowed Putin to save face.
Her day wasn't all good, though, as Russia's main social media network took down her video.
Hacktivist group Anonymous continues to play games with the Russian government, disabling two of its official websites.
The group also began freeing the Russian nuclear company Rosatom of a few gigabytes of its data. Before you worry, the collective points out that the site is NOT connected to the plant itself.
Finally, while it seems pointless given the current state of it, Anonymous has also taken down the Russian stock exchange website. Yes, the one that hasn't opened since pre-invasion and likely won't open at all, at least in the month of March.
Update 20:
Yesterday, Wednesday, March 16, 2022, news was slightly slower out of Ukraine, as peace negotiations continued. However, it seems unlikely that a man who, later in that day said of the event "I am convinced that this natural and necessary self-cleansing of society will only strengthen our country, our solidarity, cohesion and readiness to meet the challenge," is really interested in negotiating seriously.
With that said, Anonymous was once again firing on all cylinders as it took out more of Russia's communications network.
The group did not stop there, also commandeering security cameras in an effort to get word to the citizens of Russia about what is really going on in the former Soviet state.
Finally, another entity relayed a message, this one for all out there, about the security software you or your business may be using -- it may be compromised.
Update 21:
It's Friday morning, March 18, and we hope you've all recovered from your night o' Guinness. Unfortunately, the dawn brought very little good news for Ukraine, aside from Russian troops seemingly stalled miles from Kyiv and not moving.
But during the course of the day, we got a video released by Arnold Schwarzenegger, and the "Governator" had a message for the Russian people about what is really going on in the country that lies to their east. Many have worried this message will not get to the ears it was meant for, but Anonymous has offered a solution.
Update 22:
Saturday morning, March 19, in the ongoing battle in Ukraine. In a follow-up, Schwarzenegger's video which we highlighted yesterday has apparently penetrated the Iron Curtain, mostly through Telegram, which inexplicably has not yet been taken down there as of now. He is a voice the people know and respect, from his multiple trips there, filming a bit of a movie on-location and opening a Planet Hollywood in Moscow. We also have to assume this video made it the most important destination -- Vladimir Putin has an official Twitter account (unclear if he pays any attention to it) and he follows 22 Americans, one of whom is the Terminator. Two others include Elon Musk and Barrack Obama.
Next, I'll give you the frustrating news. Burger King has publicly declined to take its Whopper and go home. The company has some 800+ stores in the country, although these are licensees.
In some good news for Ukraine, PayPal has opened the country's banks for customers to link Visas and Mastercards issued by them with the service.
Finally, in another bit of good news, Reuters caught Russia launching a rocket early this morning that is not destined to hit any country. Instead, this one is headed to the ISS, carrying three Russian cosmonauts on board to continue the mission there. It is also scheduled to bring back a NASA astronaut who has finished his tenure on board. Let's hope in the interest of this one small global coalition, he is also free to return to the US once he's back on terra firma.
Update 23:
Saturday, March 19 was a bit slow in the Russia-Ukraine conflict, at least in terms of the tech side of things. A lot happened elsewhere, but that's all stuff you can catch on CNN, Fox, MSNBC or whatever your preferred news outlet happens to be. However, both stories we came up with today may provide some mirth amidst everything dismal coming out of Eastern Europe.
We start with the ridiculous. News Service Insider Paper is reporting that Russia has labeled both Google and its subsidiary YouTube as terrorists. Or, to be more precise, "Guilty of terrorist activities." It's a badge of honor Google will share with Facebook and Twitter, which the nation already filed lawsuits against.
In other news, Anonymous highlighted an amusing "accident" that occurred in Prague. For this update, we'll leave you with the eerily blood-colored red paint in the picture.
Update 24:
It's Monday morning, March 21 in the US and the ongoing conflict in Ukraine continues, now entering its fourth week.
In a bit of big news, Clearview AI plans on helping Ukraine out by supplying the nation with its software. This will help the military with the all-important task of surveillance. While Ukraine seems to be having little trouble with that, given the number of targets it has hit, the extra help certainly will aid them in the fight.
BBC Cyber Reporter Joe Tidy also uncovered a video showing Russian TV, multiple channels, being taken over in real-time to broadcast footage of the war happening in Ukraine -- something the Russian people are not regularly getting to see, as Putin tries to keep them in the dark.
Update 25: 
On Tuesday morning March 22, we have a few things to let you know about -- it's been a busy 24 hours on the Ukrainian front. As the weather warms the war slows. It seems that Russia's military vehicles are bogging down in the mud, leaving them as sitting ducks for a well-aimed missile or another type of heavy arms fire. 
Anonymous was once again active, this time commandeering an untold number of Russian printers and printing hundreds of thousands of pages of real information about what is going on in Ukraine. 
Vintage UK music newspaper NME (New Music Express) announced that the full 2008 Queen concert from Kharkiv, Ukraine is now available to everyone on YouTube to raise money for the cause. No Freddie Mercury for the purists, but you get former Bad Company singer Paul Rodgers filling in. You can read the announcement here.  
According to news source Insider Paper, Russia has apparently officially banned both Facebook and Instagram. Didn't they already do this? Well, it was announced, but a court has made it official today.
And we also got an update on Russian Oligarch Leonard Blavatnik's whereabouts and it seems he is in the United States as of this morning.