DuckDuckGo brings its private web browser to Mac in beta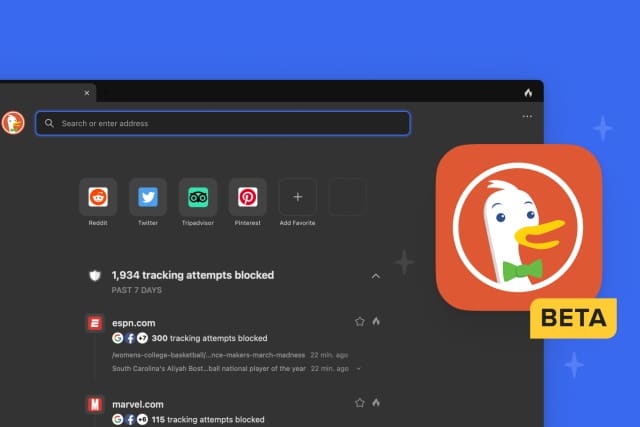 Towards the end of last year, we learned that 2022 is the year that DuckDuckGo's privacy-focused web browser is coming to the desktop.
Today the company has launched the beta version of DuckDuckGo for Mac -- meaning macOS users will have another alternative to Chrome et al before people running Windows 11. The DuckDuckGo browser is billed as offering a high level of security, fast performance, and privacy by default which is more than just a replacement for Incognito Mode.
See also:
The launch of the macOS version of the DuckDuckGo browser comes after the success of the mobile app. The company says that a Windows version will be arriving soon, for now though it is Mac users who are in luck -- but you'll have to join a waiting list if you want to try out the beta.
There are three pillars to DuckDuckGo for Mac:
DuckDuckGo for Mac gives you privacy by default. With one download you get our built-in private search engine, powerful tracker blocker, *new* cookie pop-up protection on approximately 50% of sites (with that % growing significantly throughout beta), Fire Button (one-click data clearing), email protection and more -- all for free. No complicated privacy settings, just simple privacy protection that works by default.
DuckDuckGo for Mac is really fast! By using your computer's built-in website rendering engine (the same one Safari uses), and by blocking trackers before they load (unlike all the major browsers), you'll get really fast browsing. We're already faster than Chrome on some graphics performance (using the Motion Mark 1.2. benchmark) and as an additional benefit, by blocking trackers, DuckDuckGo uses about 60% less data than Chrome!
DuckDuckGo for Mac is built for security. Our built-in Smarter Encryption ensures you navigate to the encrypted (HTTPS) version of a website more often, and our tracker blocking means less exposure to third-party scripts that could try to access your data. And we design our product so that in-app data, like history, bookmarks, and passwords, by default are only stored locally on your device and aren't accessible to DuckDuckGo.
Announcing the beta version of DuckDuckGo for Mac, the company explains that anyone who is interested in trying out the browser will need to wait in line. It shares the following instructions for joining the private wait list:
Download the DuckDuckGo mobile app (or update to the latest version)
Open Settings > DuckDuckGo for Desktop (in the Privacy section).
Click "Join the Private Waitlist".
When you're granted an invite code, you'll get a notification from the app. The notification will take you to an invite code and a link to the download page to be opened on your desktop/laptop.
More information is available here.