Samsung T7 Shield is a fast and durable USB-C SSD you can beat the crap out of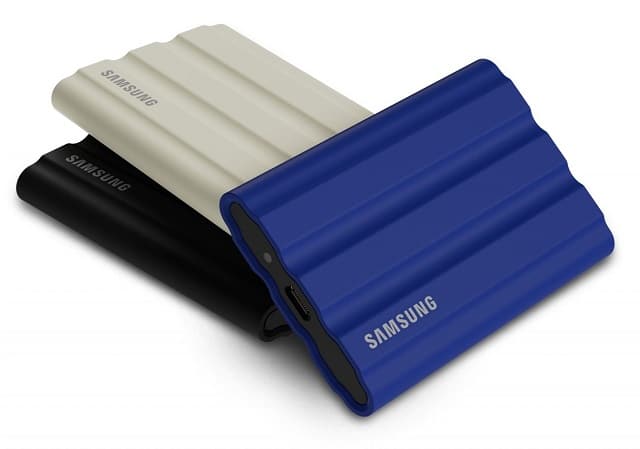 Portable solid state drives are a great way to store data. Not only are they fast, but because they don't have moving parts, they are more durable than external mechanical hard drives too.
But what if you want a portable SSD that you can really abuse? Well, the Samsung T7 Shield is a durable USB-C SSD you can beat the crap out of. Don't misunderstand, you shouldn't purposely try to damage the small (88 x 59 x 13mm) drive, but Samsung says you can drop it from nearly 10 feet without worry. That means it will likely survive falling from a regulation basketball rim. But no, you shouldn't intentionally slam dunk it.
"Carefully engineered by Samsung from the inside out, the T7 Shield is shock-resistant from drops of up to three meters, as well as IP65-certified as dustproof and water resistant. Despite the new rugged design, the T7 Shield is compact and lightweight, weighing a mere 98 grams. Additionally, the T7 Shield has strengthened security (256-bit AES, Advanced Encryption Standard) with hardware encryption so that consumer data can be safely protected even if the T7 Shield is lost," says Samsung.
ALSO READ: Add 1TB storage to your Apple MacBook Pro (2021) with Transcend JetDrive Lite 330
The company adds, "The T7 Shield delivers a read speed of 1,050 megabytes per second (MB/s) and a write speed of 1,000 MB/s, which are the fastest transfer speeds currently available based on the USB 3.2 Gen2 standard. It is approximately twice as fast as its predecessor, the T5, and up to 9.5 times faster than external hard disk drives (HDDs), saving consumers, digital creators and professionals valuable time."
The Samsung T7 Shield can be purchased immediately using the below links. It is available in two capacities (1TB or 2TB) and three colors (beige, black, or blue). The smaller capacity drive can be had for around $134.99, while the larger is $239.99.
Please note: Some of the above links may be affiliate links, meaning we, or our writers, may receive payment if you purchase one of these items (or other items) after clicking on them.