Kamo 4 adds VPN technology to block more online snoopers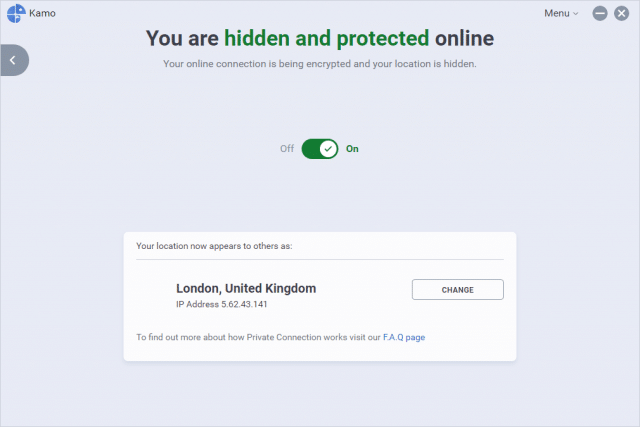 Piriform Software, best-known for its CCleaner cleaning product for PCs and Macs, has released Kamo 4.0, a major new update to its Windows privacy tool.
Kamo 4.0, which blocks online trackers through a range of tools built into a single application, has added location masking through the implementation of a basic VPN, which masks the user's IP address and exact geographic location via an encrypted connection through another server in their own country.
The tool is the most basic form of VPN implementation there is: a simple on/off switch with no means of choosing which server is accessed.
The feature joins Kamo's other features, all designed to mask a user's online presence from a range of threats. A dashboard provides an at-a-glance view (and rating) of the user's current privacy, while buttons beneath provide options for setting a range of anti-tracking settings, from protecting individual browsers to switching off intrusive Windows telemetry settings.
The app's main claim to fame is its patented anti-fingerprinting technology -- rather than attempt to block intrusive behavior, the tool instead creates randomized fingerprints to throw off trackers. To further disrupt their behavior, new fingerprints are generated on a random schedule.
A 14-day trial of Kamo 4.0, which is fully functional except for the new VPN tool, can be downloaded now for PCs running Windows 7 SP1 or later. The Windows Privacy component works only in Windows 10 or later. A 12-month subscription covering a single PC can be purchased for $24.95.