How to use ChatGPT for movie and TV show recommendations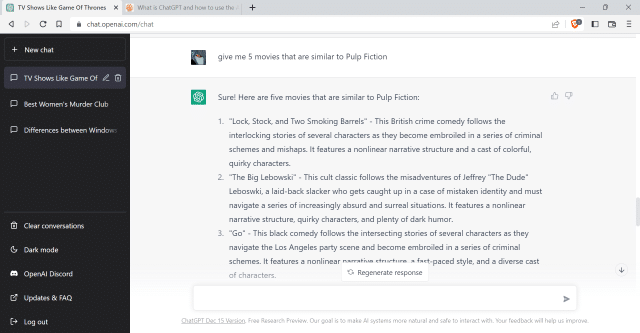 It seems that almost everyone is talking about (or with) ChatGPT these days. ChatGPT, for those who do not know, is a language model developed by OpenAI. It is optimized for dialogue and text in general, and works similarly to chatbots, only more human-like and not limited to certain keywords.
ChatGPT is used for numerous tasks, including getting answers for knowledge-based questions, research, ideas for novels, getting answers for homework and exams, and more.
SEE ALSO: We wanted to know what features Windows 12 might have to offer, so we asked an AI
While there are some limitations, notable that the majority of data comes from 2021 and earlier, it is also well suited to give recommendations.
If you have used an online streaming service in the past, especially those for TV show and movie streams, you may have noticed that the provided recommendations miss the mark quite often.
You can ask ChatGPT for recommendations. When asked for five TV shows that are similar to Game of Thrones, it returned The Witcher, Vikings, Outlander, The Tudors, and The Crown. Good but not excellent recommendations. If you modify the request to "Give me 5 recommendations for TV shows that are similar to Game of Thrones and include dragons", it provides the better matches: The Dragon Prince, Eragon, The Last Airbender, Merlin and Kulipari: An Army of Frogs.
It is possible to adjust the results even more, e.g., by excluding animated shows and making sure that dragons are characters and not displayed on a banner, by adding specific themes, characters, actors and other information.
Similarly, you could ask ChatGPT to give a number of recommendations for your favorite movies and TV shows. It is always possible to add more details to the request to exclude certain types of genres or suggestions.
Other options include listing movies by popularity (top 10 Star Wars movies, movies by Quentin Tarantino), the top grossing movies (in a country and year), or movies that received an award. All of these can be combined to give excellent recommendations based on user input.
Makes me wonder why no streaming service has started to use ChatGPT or a similar technology for its recommendations.
ChatGPT does not know about movies produced after 2021. Another limitation is that the service does not know which streaming services have specific movies or shows in their database.
'How to use ChatGPT for movie and TV show recommendations' first appeared in Weekly Tech Insights, a free weekly newsletter that you can sign up to here.