Microsoft releases Windows 11 Build 25281 with multiple improvements to Windows Spotlight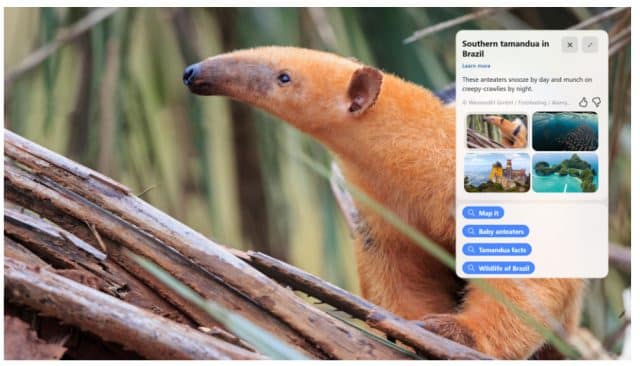 The latest Windows 11 build for Insiders in the Dev Channel sees Microsoft experimenting with changes to Windows Spotlight.
That's not all, of course, there is also a visual update to the graphics settings page, and the usual round of fixes and known issues to be aware of.
SEE ALSO: Windows Vienna is the new version of Windows Vista you didn't know you needed (install it now!)
Rather than just making a tweak to Spotlight, Microsoft is "beginning to try out different treatments" for the feature, which the company says will "include richer UI around displaying the title and description and learning more information about the image displayed on your desktop via Spotlight." Ways of switching to different pictures with previews, a full-screen experience, and a minimized experience are all going to make an appearance, although not everyone will see the same changes.
To enable Windows Spotlight, right-click on the desktop and select Personalize and then choose the new Spotlight theme. 
Other changes and improvements include:
[Settings]
Aligning with the new Windows 11 design principles, Microsoft has redesigned the graphics settings page under Settings > Display > Graphics to help you get to graphics configurations such as 'GPU preference' and 'Auto HDR' with greater ease. The functionality of these settings remains unchanged from prior versions of Windows, but Microsoft now has a more streamlined visual appearance.
When removing a paired Bluetooth device from Settings > Bluetooth and Devices, it will no longer pop up a prompt to confirm before removing it. 
Fixes include: 
[Taskbar & System Tray]
Updated the printer icon in the system tray when printing something, so it better aligns with other modern icons.
When navigating the taskbar using WIN + T and arrow keys, the position of the app icon should now be called out by Narrator (for example, File Explorer might say "one out of fifteen", if it's in the first position and there are 15 app icons on your taskbar).
[File Explorer]
Updated the error dialog when network discovery is off so that it points to the correct location to enable it.
Fixed an explorer.exe crash which could happen when closing File Explorer.
[Settings]
Fixed an issue where SSID wasn't being populated on the properties page for your Wi-Fi in Network & Internet Settings.
In the scenario where you are prompted with the UAC dialog when switching a network between private and public, that UAC dialog should now come to the foreground rather than being behind other windows.
Fixed an issue where Quick Settings might not be able to re-open after going to the Wi-Fi section and closing the flyout.
[Windowing]
Right clicking a snap group in Task View and selecting "show this group on all desktops" shouldn't crash explorer.exe anymore.
[Other]
Fixed an issue where Narrator wasn't announcing when the @ mentions window popped up in Outlook.
Fixed an issue that could cause some app uninstalls to get stuck and fail the uninstall in the last few builds.
Fixed an issue which was causing the Windows print queue window to crash sometimes in recent builds.
Fixed an issue which could cause SQL Server Management Studio to fail to launch.
NOTE: Some fixes noted here in Insider Preview builds from the Dev Channel may make their way into the servicing updates for the released version of Windows 11.
Known issues in this build include:
[General]
Using Windows Hello to sign in with facial recognition may not work on Arm64 PCs. A workaround for this is to use the Hello PIN path.
Some users are experiencing longer than expected update times installing recent builds. We are actively investigating this issue.
Microsoft is investigating reports that some Insiders are experiencing freezes when using the browser and certain other apps after the previous Dev Channel flight.
[Taskbar & System Tray]
The taskbar is sometimes cropped in half when using the tablet-optimized taskbar. You may also see this issue on secondary monitors.
[Search on the Taskbar]
The following known issues only apply for Windows Insiders who received one of the different treatments for how search looks on the taskbar that began rolling out to Insiders with Build 25252:
There is an issue where you will be unable to change taskbar search box to show as icon only via taskbar settings in some cases. To work around this issue, first change to a different option and then after, you should be able to choose to show as icon only.
[Task Manager]
Some dialogs may not render in the correct theme when applied from Task Manager Settings page.
The data content area of the Processes page may flash once when theme changes are applied in the Task Manager Settings page.