Microsoft looks to reinvent search, brings the power of AI to Bing and Edge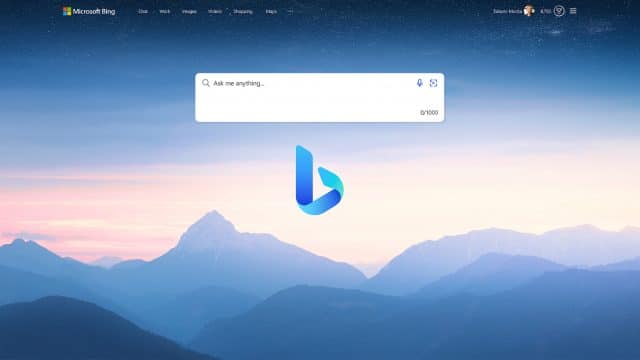 ChatGPT has taken the internet by storm, becoming the fastest growing app ever. While Google has chosen to ride the AI wave with its own tool called Bard, Microsoft has taken the route one approach of integrating an AI model into its own products built with the help of ChatGPT creator OpenAI.
Today, the software giant announces its plans to reinvent search by making Microsoft Bing and Edge, your "copilot for the web."
Making the announcement, Yusuf Mehdi, Corporate Vice President & Consumer Chief Marketing Officer says:
Today, we're launching an all new, AI-powered Bing search engine and Edge browser, available in preview now at Bing.com, to deliver better search, more complete answers, a new chat experience and the ability to generate content. We think of these tools as an AI copilot for the web.
This is what the new addition will bring to Bing and Edge:
Better search. The new Bing gives you an improved version of the familiar search experience, providing more relevant results for simple things like sports scores, stock prices and weather, along with a new sidebar that shows more comprehensive answers if you want them.
Complete answers. Bing reviews results from across the web to find and summarize the answer you're looking for. For example, you can get detailed instructions for how to substitute eggs for another ingredient in a cake you are baking right in that moment, without scrolling through multiple results.
A new chat experience. For more complex searches -- such as for planning a detailed trip itinerary or researching what TV to buy -- the new Bing offers new, interactive chat. The chat experience empowers you to refine your search until you get the complete answer you are looking for by asking for more details, clarity and ideas -- with links available so you can immediately act on your decisions.
A creative spark. There are times when you need more than an answer -- you need inspiration. The new Bing can generate the content to help you. It can help you write an email, create a 5-day itinerary for a dream vacation to Hawaii, with links to book your travel and accommodations, prep for a job interview or create a quiz for trivia night. The new Bing also cites all its sources, so you're able to see links to the web content it references.
New Microsoft Edge experience. We've updated the Edge browser with new AI capabilities and a new look, and we've added two new functionalities: Chat and compose. With the Edge Sidebar, you can ask for a summary of a lengthy financial report to get the key takeaways -- and then use the chat function to ask for a comparison to a competing company's financials and automatically put it in a table. You can also ask Edge to help you compose content, such as a LinkedIn post, by giving it a few prompts to get you started. After that, you can ask it to help you update the tone, format and length of the post. Edge can understand the web page you're on and adapts accordingly.
"AI will fundamentally change every software category, starting with the largest category of all -- search," said Satya Nadella, Chairman and CEO, Microsoft. "Today, we're launching Bing and Edge powered by AI copilot and chat, to help people get more from search and the web."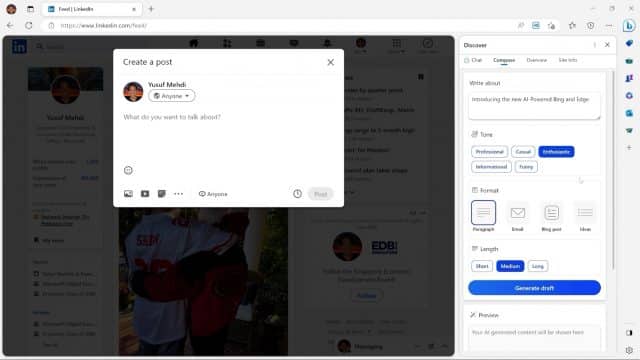 Microsoft is aware that integrating AI into Bing could create issues, but Mehdi says:
Together with OpenAI, we've also been intentional in implementing safeguards to defend against harmful content. Our teams are working to address issues such as misinformation and disinformation, content blocking, data safety and preventing the promotion of harmful or discriminatory content in line with our AI principles.

The work we are doing with OpenAI builds on our company's yearslong effort to ensure that our AI systems are responsible by design. We will continue to apply the full strength of our responsible AI ecosystem – including researchers, engineers and policy experts -- to develop new approaches to mitigate risk.
The new Bing is available today in a limited preview on desktop, and through Bing.com. The preview is expected to be made more widely in the coming weeks, and is also coming to mobile.