Minisforum NUCG5 mini PC has a carbon fiber body and dual Thunderbolt 4 ports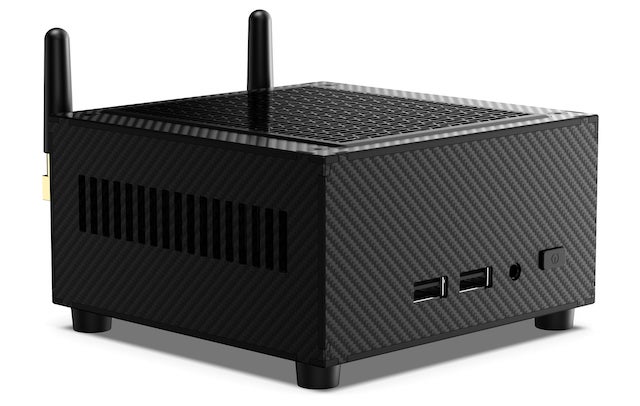 Minisforum is a well-known manufacturer of miniature computers. The company has many models with differing specifications and features. Quite frankly, it can be hard for consumers to choose, as there are so many options!
Today, Minisforum unveils yet another tiny PC, and it is one of the company's most impressive offerings. Called "NUCG5," this little Windows 11 desktop is powered by a 12th generation Intel Core i5 processor and comes with either 16GB or 32GB of RAM. While the specs are quite nice, there are three things that really make this model stand out -- the beautiful carbon fiber chassis, external Wi-Fi antennas, and two ThunderBolt 4 ports.
"The NUCG5 is equipped with the Intel Core i5-1240P processor. This CPU features 12 cores / 16 threads, and has a frequency of 3.3 GHz to 4.4 GHz. It also integrates the Intel Iris Xe Graphics. At just 0.7 liters in volume, the NUCG5 has a compact and robust body. The carbon fiber composite used for NUCG5's case is sturdier and lighter than metal and plastic," says Minisforum.
ALSO READ: YEYIAN launches 34-inch Ultrawide 2K SIGURD 4000 curved gaming monitor
The company adds, "The NUCG5 has two Thunderbolt 4 ports, two HDMI 2.0 ports, two USB type-A ports (3.2 and 2.0), and one 2.5-Gbps Ethernet port at the rear to meet your needs for connecting different peripherals. At the front of NUCG5, it has two USB 3.2 Gen2 ports and a 3.5mm Combo jack for plug-and-play devices. The NUCG5 also supports Wi-Fi 6E and Bluetooth 5.2 for convenient wireless connections."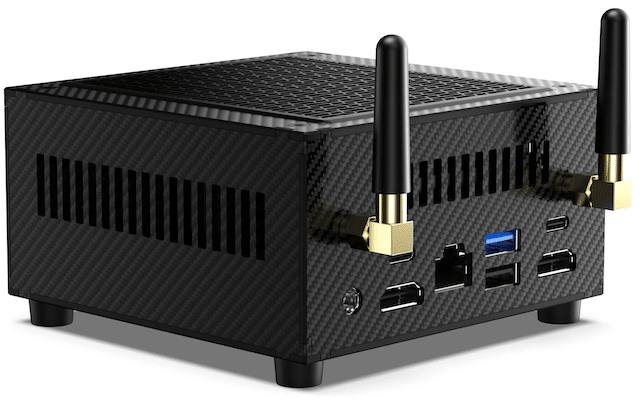 Minisforum shares specifications below.
Processor
Intel Core i5-1240P Processor, 12 Cores/16 Threads
(12M Cache, up to 4.40 GHz)
Graphics
Intel Iris Xe Graphics eligible (Graphics Frequency 1.30 GHz)
Memory
DDR4 Dual channel (SODIMM Slots×2, up to 64GB)
Storage
M.2 2280 PCIe3.0 SSD (up to 2TB)
Wireless Connectivity
M.2 2230 WIFI Support (Wi-Fi. BlueTooth)
Video Output
① HDMI 2.0 ×2 (4K@60Hz)
② Thunderbolt 4 ×2 (4K@60Hz)
Audio Output
①HDMI 2.0 ×2
② 3.5mm Combo Jack ×1
Ports & Buttons
RJ45 2.5 Gigabit Ethernet Port ×1
Thunderbolt 4 ×2
USB3.2 Type-A ×2 (Front)
USB3.2 Type-A ×1 (Rear)
USB2.0 Type-A ×1 (Rear)
3.5mm Combo Jack ×1
HDMI 2.0×2
Power
DC 19V (Adapter Included)
Operating System
Windows 11 Pro
Product Dimension
109.5*110.5*61.9 mm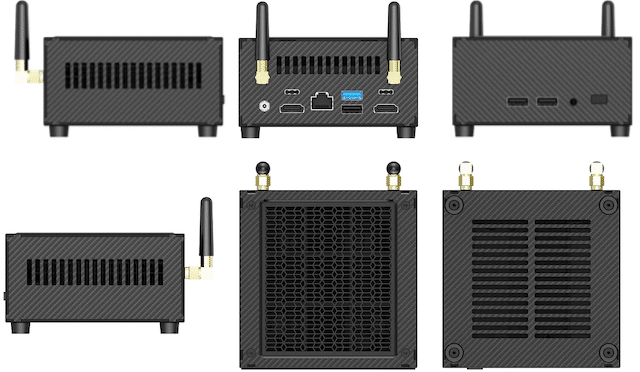 The Minisforum NUCG5 can be ordered from the company immediately here now, but it won't begin shipping until next month. The 16GB/512GB model costs $579, while the 32GB/512GB version is just $50 more. Even if you don't need 32GB of RAM now, the paltry $50 price difference makes it a no-brainer for future-proofing.
Please note: Some of the above links may be affiliate links, meaning we, or our writers, may receive payment if you purchase one of these items (or other items) after clicking on them.