Kubuntu Focus Team launches NX GEN 2 mini Linux desktop PC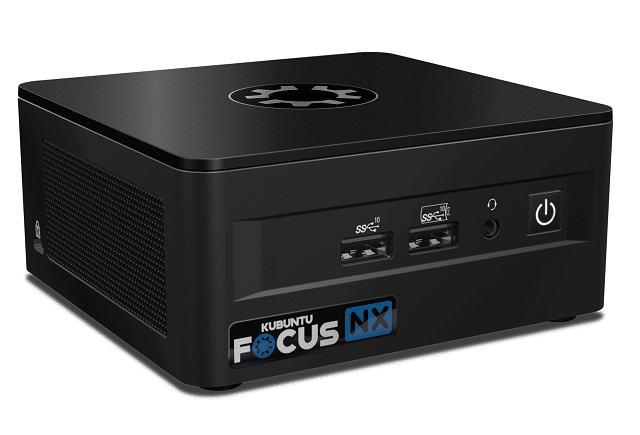 Installing a Linux-based operating system on an existing computer has gotten far easier over the years. Long gone are the days where replacing Windows with Linux had to be a frustrating experience. Still, for many people, installing a Linux distribution is a scary task. Thankfully, there are many computers being sold with Linux distributions pre-installed.
Today, The Kubuntu Focus Team launches its latest such Linux PC. The "Focus NX GEN 2," as it is called, is a NUC-like desktop that comes with Kubuntu 22.04 LTS pre-installed. The diminutive computer is powered by a 16-core 12th-Gen Intel Core i7-1260P. The second-gen Focus NX can be configured with up to 64GB of DDR4-3200 RAM, up to a 2TB NVMe boot SSD, and up to a 4TB secondary SATA SSD.

"We feel the NX GEN 2 is a great replacement for 2- or 3-year-old high-performance systems: its CPU performance is excellent, yet it is far quieter and uses much less space and power. The second generation improves on the first with better single- and multi-core performance, greater expandability, and updated ports," says Michael Mikowski, Kubuntu Focus Team General Manager.
ALSO READ: YEYIAN launches 34-inch Ultrawide 2K SIGURD 4000 curved gaming monitor
Mikowski further says, "Of course, the excellent hardware is only half of the story. Like with all our systems, we constantly test and distribute hardware optimizations through regular package upgrades. For example, the hardware-support subsystem for the NX GEN 2 adjusts the iGPU configuration to minimize flicker and maximize performance. We also ensure the system and kernel configuration is eGPU-ready and tested."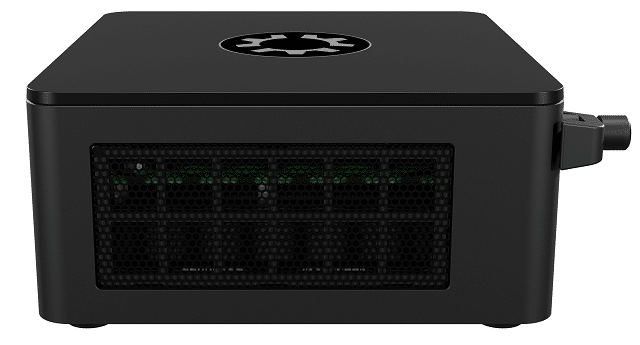 The Kubuntu Focus Team shares ports and features below.
1 x Intel Wi-Fi 6E AX211 Gig+, up to 2.4 Gbit/s 802.11 ax
1 x Bluetooth 5.3
3 x USB-A 3.2 (2 in front, one in rear)
1 x USB-A 2.0 (rear)
1 x Audio Jack 3.5mm Headphone + Mic (front)
2 x Thunderbolt 4 / USB-C with DisplayPort 1.4a (rear)
2 x HDMI 2.1 (rear)
1 x RJ-45 Intel i225-V 2.5 GbE LAN (rear)
1 x Kensington Lock Mount
1 x Cable Management Bracket
1 x VESA Monitor-Mount Bracket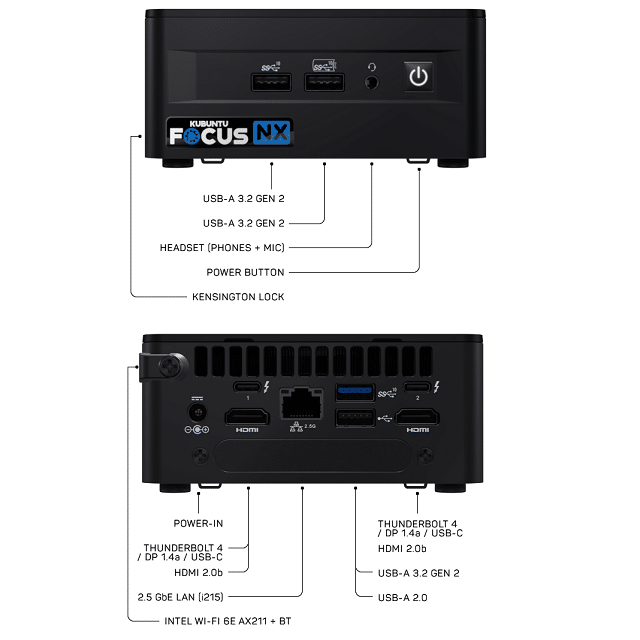 The Focus NX GEN 2 can be purchased here now. Pricing starts at just $955, which gets you 8GB of RAM, a 250GB NVMe SSD, and a 1-year warranty. You can choose to increase memory, storage, and warranty for an added cost.