Lenovo ThinkStation PX, P7, and P5 have chassis co-designed by Aston Martin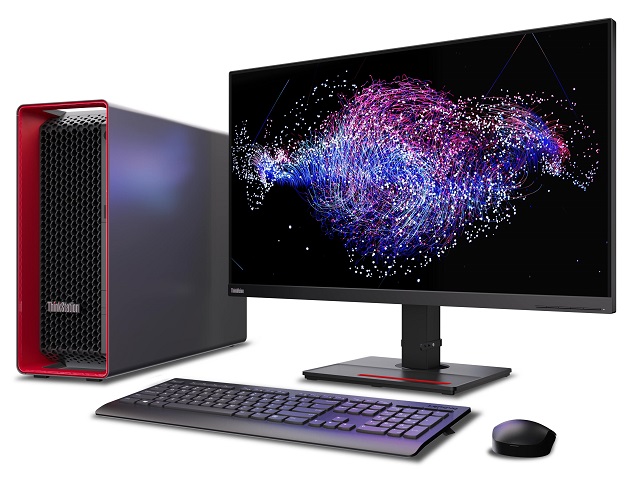 Today, Lenovo launches a trio of new ThinkStation computer models -- the PX, P7, and P5. All three feature a chassis that the company co-designed with famed car-maker Aston Martin. The front of each workstation is inspired by the iconic grill of Aston Martin's DBS grand tourer, and it is framed by beautiful red plastic.
All three new ThinkStation machines are powered by high-end Intel Xeon processors and professional NVIDIA RTX graphics cards -- up to three depending on model. These computers feature PCIe 5.0 slots, USB-C, and Wi-Fi 6E. You can get 10 Gigabit Ethernet on the P7 and PX, but the P5 is limited to Gigabit.
The PX, which is the top model, comes with two physical Xeon processors -- it is an absolute beast. The P5 can be equipped with up to 512GB of DDR5 RAM, while the P7 maxes out at 1TB. The beastly PX can accommodate an insane 2TB of DDR5 memory! You can choose between Windows and Red Hat Enterprise Linux (RHEL) for the operating system.
"These new workstations feature the latest processor technology from Intel ranging up to 120 cores and support for high-end NVIDIA RTX professional GPUs. Additionally, the new workstations boast all-new groundbreaking chassis designs and advanced thermals, as well as BMC capabilities for streamlined remote system monitoring. From virtual reality and mixed reality experiences and virtual production, to machine learning, data science, computer aided engineering (CAE), reality capture and AI, these next-generation workstations meet the ever-increasing demands for more power, performance, and speed in a scalable and future-proofed way for this new hybrid-work world," says Lenovo.
The company adds, "To bring this trio of workstations to life, Lenovo partnered with its customer Aston Martin, a renowned high-performance automotive manufacturer and leader in the ultra-luxury vehicle market, to co-design the new ThinkStation chassis. In line with Aston Martin's design philosophy, the collaboration sought to reflect Lenovo's iconic red design language, provide the highest possible performance, and enable enhanced levels of customization. Designers from Lenovo and Aston Martin worked collaboratively to craft the ultimate performance machines."
The ThinkStation PX, P7, and P5 will all be available for purchase in May 2023, but Lenovo has not yet revealed pricing. With that said, the cost for all three models is sure to be quite high regardless of configuration -- as in many thousands of dollars. Keep in mind, these workstations are meant for hardcore industries that truly need the horsepower, such as engineering and data science. They are not intended for home use or gaming.