Kingston announces overclockable FURY Renegade Pro DDR5 Registered DIMMs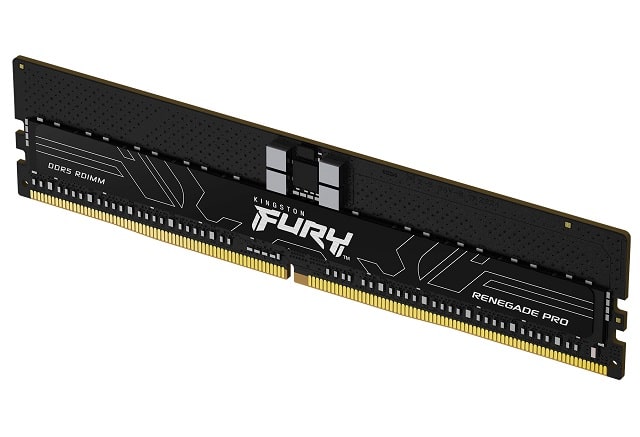 If your server, desktop, or workstation can use DDR5 Registered DIMMs, today is your lucky day. You see, popular memory-maker Kingston has announced impressive new Renegade Pro DDR5 RDIMMs under its "Fury" line.
What makes these sticks particularly impressive is they can be overclocked. Kingston will be offering the FURY Renegade Pro DDR5 RDIMM kits in various speeds (4800MT/s, 5600MT/s, and 6000MT/s) and capacities (16GB, 32GB, 64GB, 128GB, and 256GB).
"FURY Renegade Pro DDR5 RDIMMs provide the high bandwidth and increased reliability that users like creators, engineers and data science professionals require to meet the workload demands of the latest applications, all without sacrificing the data integrity and superior quality grade found with server-class memory. DDR5 Registered DIMMs feature on-die ECC built into the DRAM memory component and support module-level ECC, capable of detecting and correcting multi-bit errors," explains Kingston.
ALSO READ: Lenovo ThinkStation PX, P7, and P5 have chassis co-designed by Aston Martin
The company adds, "With Plug N Play at 4800MT/s, Kingston FURY Renegade Pro DDR5 RDIMMs enable users to automatically overclock without having to mess with settings. Or they can choose from one of the Intel XMP 3.0 certified and motherboard qualified four and eight channel kits at speeds up to 6000MT/s with factory-tuned timings, speeds, and voltage."
Kingston shares specifications below.
Capacities
Singles: 16GB, 32GB
Kit of 4: 64GB, 128GB
Kit of 8: 128GB, 256GB
Speeds
4800MT/s, 5600MT/s, 6000MT/s
Latencies
CL32, CL36
Voltage
1.1V, 1.25V, 1.35V
Operating Temperature
0°C to +95°C
Dimensions
133.35mm x 31.25mm x 3.80mm

The Kingston FURY Renegade Pro DDR5 Registered DIMMs will be available here very soon. Pricing starts at $124.99 for a single stick of 16GB 4800MT/s, and goes up from there depending on the capacity and speed you select.
Please note: Some of the above links may be affiliate links, meaning we, or our writers, may receive payment if you purchase one of these items (or other items) after clicking on them.