Windows 11 Build 23419 can show seconds in the system tray clock -- but the new feature comes with a warning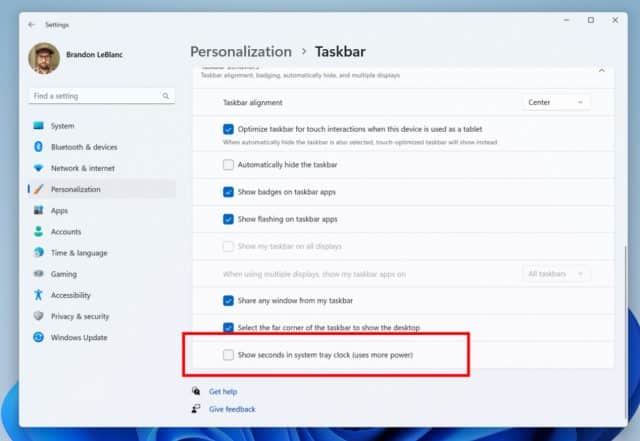 It's business as usual for Windows 11 Insiders in the Dev Channel as Microsoft today releases a fresh test build for the new operating system.
Windows 11 Build 23419 comes with several new features, including introducing the ability to show seconds in the clock on the system tray. This welcome-sounding addition won't appeal to everyone, however.
This feature can be enabled by toggling the option listed under Settings > Personalization > Taskbar in the Taskbar behavior section. You can also right-click on taskbar to quickly get to taskbar settings. Microsoft is beginning to roll this change out so not all Windows Insiders will see this change right away. It's worth noting, however, that this setting will use more power.
SEE ALSO: Microsoft launches DALL-E-based, AI-powered Bing Image Creator
The new build also comes with some new features in Task Manager that aid the collection of live kernel memory dumps (LKDs).
Microsoft says: "To capture a live kernel memory dump (LKD), go to the Details page in Task Manager, right-click on the System process and the context menu should light up to show Create live kernel memory dump file to capture a Full live kernel or Kernel stack memory dumps."
Captured sumps will be written to: %LocalAppData%\Microsoft\Windows\TaskManager\LiveKernelDumps.
There is also now a USB4 hubs and devices Settings page for users under Settings > Bluetooth & devices > USB > USB4 Hubs and Devices.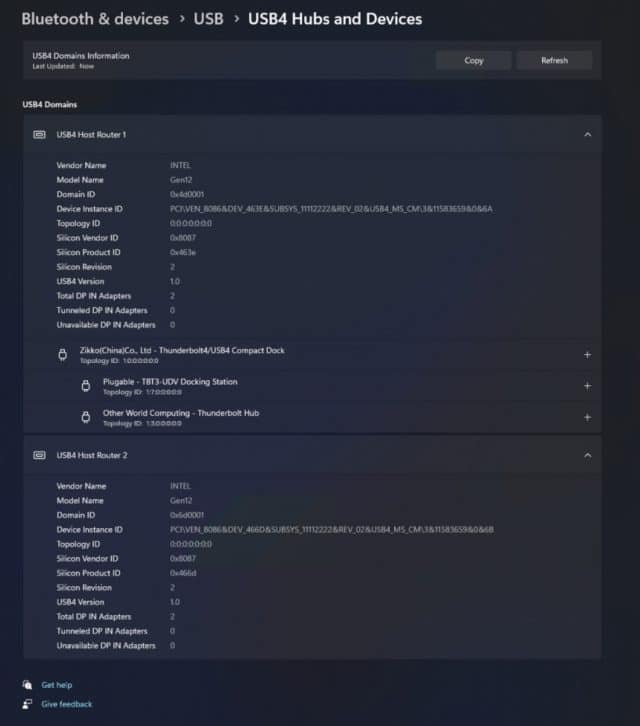 Changes and Improvements
[General]
The new features for app defaults in Windows 11 as mentioned here in this blog post are included in this build. The features for app pinning are coming in a future flight.
[Start menu]
Microsoft is trying out a small change with some Windows Insiders where the "Recommended" section of the Start menu is changed to "For you".
[Taskbar & System Tray]
The glanceable VPN status show overlayed over an active network connection into the system tray when connected to a recognized VPN profile now displays in your system accent color.
[Search on the Taskbar]
Once you have access to the new Bing, the search box on the taskbar will include a button that opens the Bing chat experience in Edge. If you don't have access to the new Bing, the search box on the taskbar will feature a dynamic search highlight button. Microsoft is beginning to roll this out to Insiders, not everyone will see it right away.
[Voice access]
The redesigned in-app help page in voice access introduced with Build 23403 now includes all commands and the supplementary information accurately.
[Settings]
As part of the deprecation of Microsoft Support Diagnostic Tool (MSDT) and MSDT Troubleshooters, Microsoft has begun redirecting some of the troubleshooters found under Settings > System > Troubleshoot and in other areas of the OS to the new Get Help troubleshooting platform.
Pressing the print screen key will now open Snipping Tool by default. This setting can be turned off via Settings > Accessibility > Keyboard. If you have previously modified this setting yourself, your preference will be preserved.
[Developer]
Fixes in this build include:
[General]
Improved the experience on logon after booting up by reducing the performance impact of startup apps.
[Taskbar & System Tray]
Fixed an issue that was causing Narrator to read the position before the name on system tray icons.
Fixed an issue causing the show hidden icons flyout to open behind things like OneNote flyout and live captions.
Fixed an issue which could cause explorer.exe crashes related to drag and drop.
[Search on the Taskbar]
Fixed a search crash from the last flight.
[File Explorer]
Fixed an issue which could cause explorer.exe to crash when opening Home if certain content was visible in the Recent section.
Made some improvements to the performance of loading File Explorer in the case where there's a disconnected network drive visible in the navigation pane.
[Start menu]
Fixed an issue where dragging content across an open Start menu folder could cause a crash.
[Input]
Fixed an issue where after using voice typing your PC might not enter modern standby.
[Live captions]
Fixed the issue causing live captions to not work for Chinese Traditional on Arm64 devices.
[Task Manager]
Fixed an issue where some of the details in the Performance page wouldn't display properly until you resized the window or changed pages back and forth.
NOTE: Some fixes noted here in Insider Preview builds from the Dev Channel may make their way into the servicing updates for the released version of Windows 11.
Known issues include:
[Search on the Taskbar]
There is an issue where some people may not see the search box on taskbar and/or the settings to adjust the search box experience on the taskbar after updating to Build 23403.
[File Explorer]
Insiders who have access keys in File Explorer:
Access keys will appear inconsistently if no button is pressed. Pressing a button will cause them to reappear.
Insiders will have issues with the following commands on recommended files in File Explorer:
Clicking on the Share command will currently bring up the Windows share sheet (non-OneDrive).
Clicking on the "Open File Location" command will pop an error dialog that can easily be dismissed.
Clicking on the "Remove from list" command will result in no actions.
[Live captions]
On ARM64 devices, enhanced speech recognition support installed through the Language & Region settings page will require restarting live captions if you switch languages in the live captions Caption language menu.
Certain languages shown on the Language & Region settings page will indicate speech recognition support (e.g., Korean) but don't yet have support for live captions.
When adding a language through the Language & Region settings page, language feature installation progress may become hidden, and you may not see install completion of "Enhanced speech recognition" (required by Live Captions). (You can use the language's "Language options" to monitor progress.) If this happens, there may be an unexpected delay before the live caption setup experience detects this and lets you continue.
Captioning performance may be degraded in non-English languages and missing out-of-language filtering in non-English (United States) languages which means that incorrect captions will be shown for speech not in the caption language.